MCGI ARTICLE

Sri Lankan National Wishes More of MCGI's Presence in His Homeland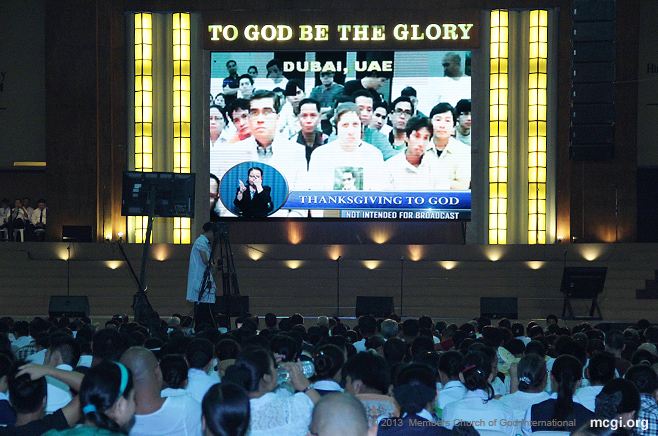 The global propagation efforts of the Members Church of God International (MCGI) are set to be intensified in the island country of Sri Lanka.
This endeavor is a fruit of a conversation between Bro. Estephan Rode, a Sri Lankan national, and Bro. Eli Soriano, Presiding Minister to MCGI, on April 27, 2013 during the consultation segment of the Church's weekly Thanksgiving.
The consultation portion of the service is where MCGI Leaders Bro. Soriano and Bro. Daniel Razon hear the various concerns of both members and guests. Bro. Rode from the Locale of Dubai talked to Bro. Eli via live video streaming as other members across the globe viewed them.
Bro. Rode is adamant in his belief that what Bro. Eli preaches is the truth: "It's something we can propagate in Sri Lanka."
A country south of Asia, the Democratic Socialist Republic of Sri Lanka is home to a number of religions with Buddhism and Hinduism as the most dominant among over 20 million people.
According to the International Evangelist, there is a 100% chance that the Church will put up a television program in Sri Lanka. Bro. Eli added the propagation of God's words in all nations is part of the commandment of the Lord Jesus Christ, reading Matthew 28:19 that talks about preaching to all nations the Gospel of salvation.
Presently, Sri Lankan households are reached via the satellite services and internet-based evangelization programs of the Church. However, with the yearning of an individual who cares not only for his soul but for his fellowmen's as well, a nationwide television program will be put up to serve a larger audience.
Based on the Church's experience in its evangelical missions in foreign shores, one inquiry can pave the way to a pile more from the rest of the populace. This explains why the Church's evangelization works in South and Central America have expanded in an almost unprecedented pace in a short time. MCGI is now eyeing to reach Mexicans with its growing satellite broadcasts of the Spanish-language version of The Old Path television channel.
At the end of their conversation, Bro. Eli asked for divine intervention to make this yet another undertaking an immediate reality: "May God guide you, and let us pray that the word of the Lord may be in your country very, very soon."
(Words by Emmy Borromeo)
(Photography by Rovic Balunsay)