MCGI ARTICLE
A Mother's Love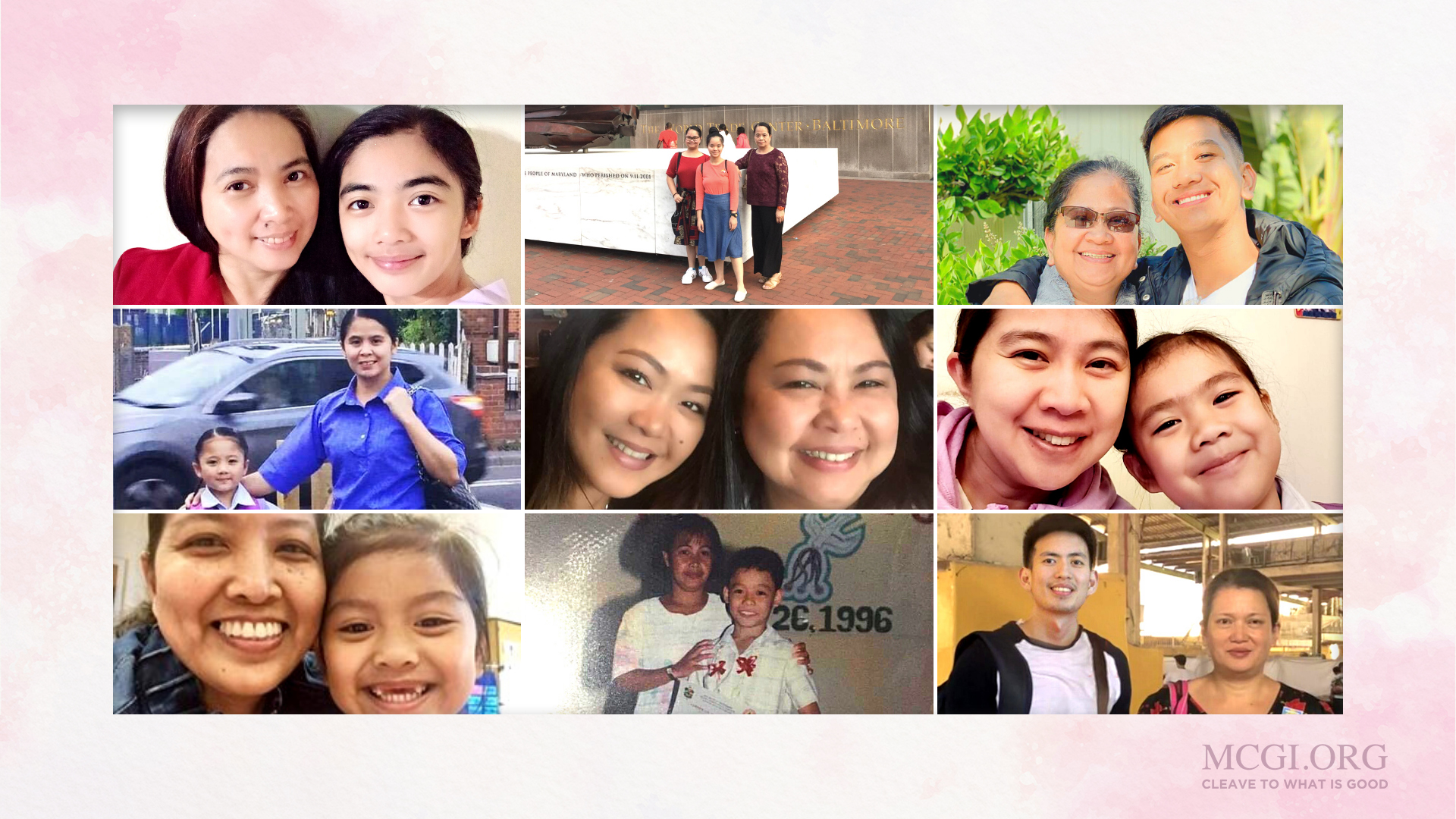 A woman becomes a mother on the day that she conceives a child. For nine months, she has to endure certain inconveniences and discomforts, while observing care and caution for the sake of the child in her womb. But all the travails that go with child-bearing are readily forgotten the moment she gives birth to her child. Nothing is remembered but the joy and bliss that the little fragile creature brings.
A mother's love can be felt in the simplest of things, from home-cooked meals to folded laundry, and warm hugs to comforting words. Though there are days when these small efforts go unappreciated, a mother's love is one of the truest forms of love one can have. A virtuous woman, according to the Bible, is described in Proverbs 31:10-31.
In the Members Church of God International (MCGI), mothers are celebrated and loved every day. Watch these messages of love and appreciation of some of our brethren and children in the Church for their mothers, each expressing their gratitude to God for having them in their lives.
"Great are mothers for humanity,
they should not only be remembered for one day."
Funny
"She is always so funny and exciting. She is so sweet."
When asked for a word to describe her mother, little Sherilean Salvador said her mother is funny. Her mother never fails to make her laugh and smile, that is why she is thankful to God for her.
Behind her tired eyes, a mother makes time to craft creative activities just to get her child excited. Seeing her child happy is consoling. From silly faces to amusing jokes, a mother will do anything to put a smile on her child's face.
Thy father and thy mother shall be glad, and she that bare thee shall rejoice.
(Proverbs 23:25, KJV)
Nice
"I hope you stay strong and healthy forever and ever."
For Dhanes Mangiliman, her mother is someone she and her family can't live without. As she's the person who looks after them, she describes her mother as nice.
The selfless acts of a mother show the great care she has for her loved ones. She is a heroine. Even though it could mean less comfort for her, a mother finds power in taking care of her loved ones and making sure they are safe and secure. It is through kindness that she is able to fulfill her duty as a caretaker of the household.
Her children arise up, and call her blessed; her husband also, and he praiseth her.
Compassionate
"My mom really means the whole world to me."
Without the love, care, and support of Ron Rodriguez's mother towards him and his siblings, he believes they wouldn't be where they are today. He is thankful to God that they were able to achieve the things they want in life through his mother.
From a child's first crawl to his first few steps, until he leaves her sight to pursue his dreams, a mother will always be his support, even as he has achieved his goals.
She looketh well to the ways of her household, and eateth not the bread of idleness.
Protective
"She's not just a mother but also a friend to me."
For Sofia Louise Rodriguez, her mother is someone she can completely rely on. She knows her as her first teacher and is proud to say that until today, she still learns a lot from her.
Mothers teach us lessons that they have already learned themselves. They go through the pain to spare us from the things they have suffered. It is in a mother's nature to protect her child at all cost.
She openeth her mouth with wisdom; and in her tongue is the law of kindness.
Survivor
"I pray that God will bless you with a long, happy, and healthy life."
Survivor — this is how Elisa Dallo describes her mother. She always includes her mother in her prayers, for her to have a long, happy, and healthy life.
Scars that heal, tears that dry, and broken hearts that mend are the things that mothers experience. Although they undergo immense pressure, they are able to handle problems with calm and grace with the help of God. They are beautiful survivors that smile through all kinds of pain.
Strength and honour are her clothing; and she shall rejoice in time to come.
Compassionate
"My mom is a constant source of love, comfort, and support."
For Maru Oritz, she is indebted to her mother for the sacrifices that she had made. According to her, those are debts she cannot repay. She will always be thankful to God for her mother.
A mother is the best gift God has for a child. For a child to have someone who will love him through and through, in spite of his shortcomings, is a blessing to thank God for every single day.
Can a woman forget her sucking child, that she should not have compassion on the son of her womb? yea, they may forget, yet will I not forget thee.
(Isaiah 49:15, KJV)
Hard-working
"My mom is an inspiration to my life."
Mark Elliar knows that his mother worked very hard abroad for their family. This got him and his siblings to study, eat, and have what they need and want. She continues to be his life's inspiration.
A mother loses time for herself to work for the needs of her family. In order to provide for her children, a mother sometimes does the most painful thing — leave her children. As time passes, children often forget the efforts of their parents, unmindful of the sleepless nights and tiring days parents go through to give only the best for their children.
Give her of the fruit of her hands; and let her own works praise her in the gates.
Caring
"My mother is everything to me."
Jeffrey Eaily vividly recalls how at one time he got sick, his mother never left his side. For that and a whole lot more, he considers that his mother plays an important role in his life.
In times of sickness, a child will always look for his mother. She is a child's thermometer, medicine, doctor, and everything in between. Throughout a person's life, a mother's care is a source of comfort for any ache or pain.
As one whom his mother comforteth, so will I comfort you; and ye shall be comforted in Jerusalem.
(Isaiah 66:13, KJV)
Love
"My mom is a hero because she helps me when I am hurt."
Elisa Remanases described her mother as love. Elisa says her mother showers her with love and care especially when she is hurt. She is her hero.
When an infant wakes up in the middle of the night, he finds solace in his mother's soft embrace. When play-time gets reckless, mom speeds to her child's rescue. During our most pain-stricken days, a mother's care is always ready to offer relief. A mother's love can stop the loudest of tantrums and cover the deepest of scars.
She is not afraid of the snow for her household: for all her household are clothed with scarlet.
Love Your Parents Everyday
"Every day is a day to love a father and a mother!"
Friends may come and go, relationships can turn sour, but the love of a parent to a child lasts a long time. Though such love is repaid by fits of rage and protest, a parent will always treat his child with gentleness.
Thank God every day for your parents and tell them how much you love them. Pray for them always.