MCGI to Give Away 8,000 Free Bibles to Worldwide Bible Exposition Guests in Ang Dating Daan's 36th Anniversary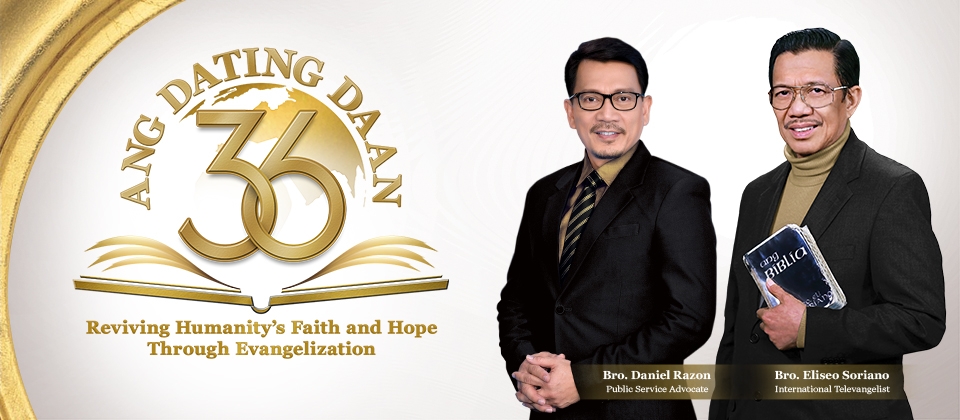 As part of the celebration of the 36th anniversary of the religious program Ang Dating Daan, the Members Church of God International (MCGI) will give away 8,000 copies of the Bible on its Worldwide Bible Exposition on Friday (December 9, 2016).
The event will be held at the Mall of Asia (MOA) Arena at 6 p.m. (PHT) with the theme: Reviving Humanity's Faith and Hope Through Evangelization.
Bro. Eli Soriano and Bro. Daniel Razon, Overall Servant and Assistant Overall Servant to MCGI, respectively, aim to restore mankind's connection and communication with God. One way of doing it is by giving away free copies of the Bible.
Bible-giving: A Genuine MCGI Initiative
Ever since the first Bible Exposition was conceptualized by Bro. Daniel in the 1990s, Bible-giving has been a part of MCGI's gospel propagation. Besides encouraging attendees and guests to make reading the Holy Scriptures a habit, this practice also allows them to verify whether the verses Bro. Eli is citing can indeed be found in the book.
For MCGI's commitment and drive to distribute Bible free of charge, the Philippine Bible Society awarded Bro Eli a Certificate of Appreciation on March 30, 2005 for being "a regular donor and major distribution partner."
The Undisputed Bestseller
The Guinness Book of World Records says the Bible is the best-selling book of all time. With an estimated 5 billion copies sold, it outsells its closest rival, the red-covered booklet Quotations from the Works of Mao Zedong, by 4.2 billion copies.
As a collection of 66 books, the Bible never loses its popularity and ubiquity throughout generations. For centuries, scholars, writers, pastors and ordinary people alike in most societies have been using the knowledge and wisdom contained in this book as guidelines for a virtuous life, as well as for inspiration and enlightenment.
But being the undisputed bestseller comes with a price. Nowadays, the Bible is under attack by atheists and nonbelievers who question its authenticity and the scientific basis of its content. Worse, many "Christian" pastors erroneously interpret the Bible, causing their faithful to lose track from Biblical virtues. Many of them have lost their faith in God while some turned back to their wicked ways.
Basa!
This expression (usually with emphasis) has been associated with Bro Eli Soriano and the program Ang Dating Daan (The Old Path). Both the expression and the program have become so popular in the Philippines that the question-and-answer format was spoofed by a comedy show in the late 1990s.
The book that Bro. Eli wants his viewers to read is the Holy Bible, his sole source in preaching the gospel worldwide. For him, the Bible contains stories and the message of God's love for mankind and is filled with astounding wisdom to satisfy virtually any question known to man.
This Bible is Bro. Eli's primary reference to answer queries regarding salvation, religion, and even health and science, or almost any topic for that matter. His God-given ability to host a Q&A segment on live broadcast without script is the unique formula behind Ang Dating Daan's success and enduring appeal among its avid listeners and viewers.
The Special Worldwide Bible Exposition, which will be simulcast in more than 1,360 MCGI satellite monitoring centers in the Philippines and abroad, intends to restore the faith and hope in God in a world that has turned perilous and depressing through the rightful preaching of the Bible.
Written by Anthony T. Chua
Recommended