MCGI ARTICLE
Brazil-Hosted MCGI Three-Day First Quarter International Thanksgiving Draws Tens of Thousands Congregants
Members Church of God International (MCGI) concluded its Brazil-hosted thanksgiving from April 3-5, 2015 with thousands of congregants filling multiple venues across the globe.
As in previous quarterly International Thanksgiving to God (ITG), this first quarter edition brought new biblical wisdom for its attendees, this time about some deeper mysteries surrounding Noah's Ark and Christ's resurrection.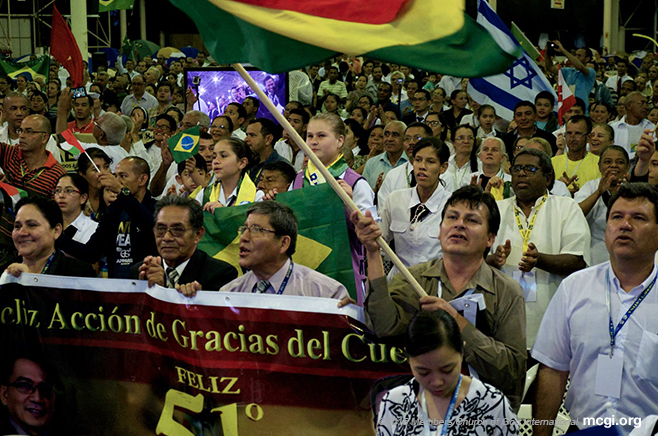 MCGI Overall Servants Bro. Eli Soriano and Bro. Daniel Razon delivered the topics that discussed in-depth the wide scope of God's salvation since ancient times.
Contrary to World Belief
Contrary to common belief, Bro Eli revealed through the Bible the possibilities of people who were saved – during the biblical deluge – other than Noah and his family.
Bro. Eli and Bro. Daniel read verses from both the Old and New Testaments to prove the many ways by which God saves man.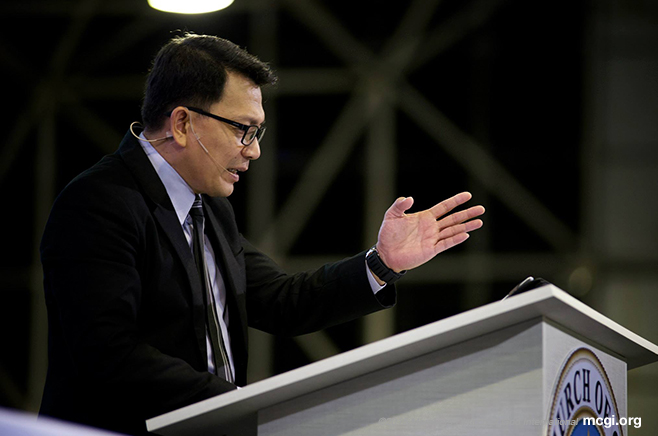 In light of the topic, the MCGI preachers reminded the entire congregation of the importance of showing mercy to others, citing James 2:13 which reads:
For he shall have judgment without mercy, that hath showed no mercy; and mercy rejoiceth against judgment. (KJV)
Meanwhile, the lesson about Christ's resurrection touched on how "the greatest Person who ever lived on earth" can remain alive in Christians despite the attempts of many to eradicate or kill Him in their lives.
Other Takeaways
MCGI brethren of various races from different parts of the globe once again met in Brazil, the host venue for the recent ITG.
The first ITG-hosting in the South American country was during the start of the jubilee celebration of Bro. Eli's service to God on April 7, 2014.
In preparation for the international event, Bro. Leo Santos, a Church member from Brazil, not only prepared physically, but also spiritually – lessons he has learned from Bro. Eli Soriano and Bro. Daniel Razon in previous Thanksgiving to God topics.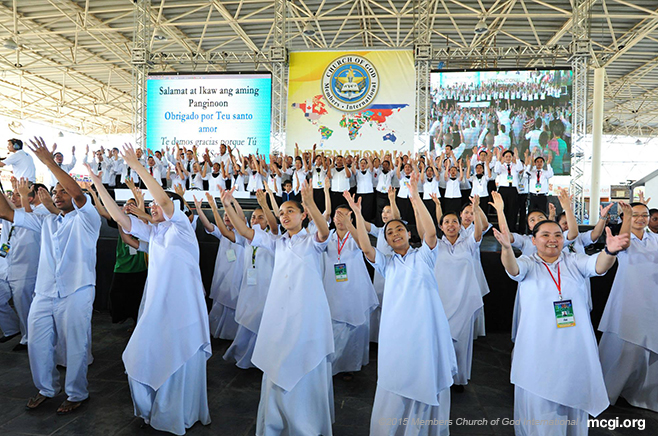 "I learned that we must clean our hearts. We must learn to forgive our brethren if they did something wrong against us, so our sacrifice may be acceptable to God," Bro. Leo told MCGI.org News.
The Overall Servants delivered the topics in Filipino, English, Portuguese and Spanish with the aid of interpreters, catering to the mixture of races in the South America venue alone.
Exuding joy could be seen from members' faces, especially from the Philippine delegates who had not seen Bro. Eli personally since he went to preach the Gospel abroad in 2005.
Sis. Bernice Atienza, a sister hailing from the North America division, gushed as she recounted her experience seeing Bro. Eli for the first time. She traveled for 20 hours to reach the main venue in Brazil, all the way from the United States.
"My experience was phenomenal because I was able to see Bro. Eli and Bro. Daniel for the first time, and the brethren from all over the world," Sis. Bernice said in an interview. "Language was not a barrier – everyone spoke with love and happiness." She was baptized in 2012.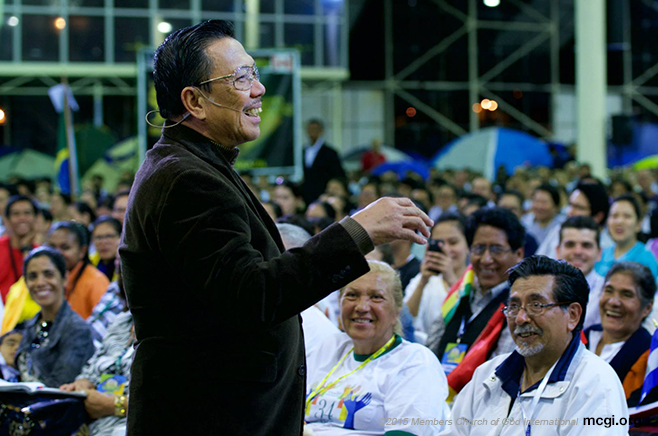 Members were also treated to hearing Bro. Soriano's new composition titled, "Kay Palad Ko" (How Blessed I Am). Bro. Daniel said that Bro. Eli's song of praise has only been written of late.
As with other Church services, the bulk of time during the ITG was spent on studying the words of God, despite language and time-zone differences.
The Servants expressed that they are exploring new ways to help with the live and direct translation of their preaching from Filipino and English to different languages.
During breaks, Bro. Eli and Bro. Daniel opened consultation segments wherein members could ask the Servants their questions about faith or spirituality.
Other remote points worldwide, including MCGI's Philippine headquarters: the ADD Convention Center in Apalit, Pampanga participated via Internet and satellite.
(Written by Rigor Arellano)