MCGI ARTICLE
Bro. Daniel Razon's 30th Year in Service to God and Humanity Packs Full House at ADD Convention Center
December 6, 2013 – Thousands of members of the Church of God International (MCGI) filled the Ang Dating Daan Convention Center in Apalit, Pampanga to offer songs of thanksgiving to God.
The thanksgiving event's main celebrant is MCGI Vice-Presiding Minister Bro. Daniel Razon, who celebrated his 30th year of service to God and humanity on November 28, 2013.
Representatives from neighboring countries of Dubai, United Arab Emirates, Hong Kong, Singapore and even Australia went home to the Philippines to attend the thanksgiving celebration live.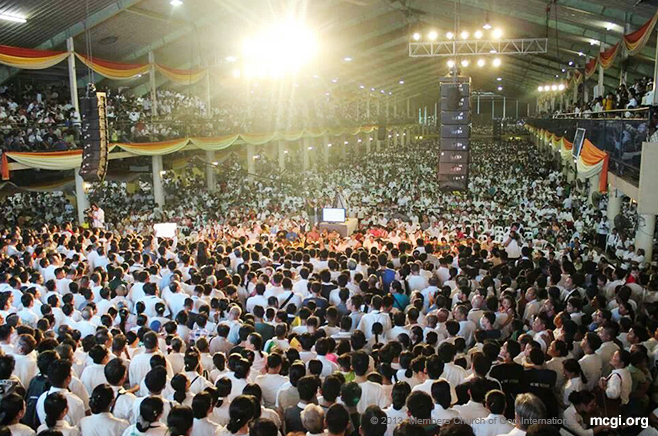 Songs of Praises
Aside from the numerous brethren in Pampanga who offered thanks to the Almighty, celebrators from various respective remote areas in the Philippines and all over the world also took part and sang songs of praise during the special celebration.
Bro. Daniel's two youngest sons graced the stage in Pampanga to sing a special thanksgiving song to God for their father's birthday.
"Happy birthday, Pa, I love you. Thank you for giving us all of what we need and not what we want," said Bro. Joshua Razon. "Thank God for giving us a father like you," the 5-year old son of Bro. Daniel.
Immediately following the crowd-pleasing number was the thanksgiving to God offering of Presiding Minister to MCGI Bro. Eliseo Soriano together with his household.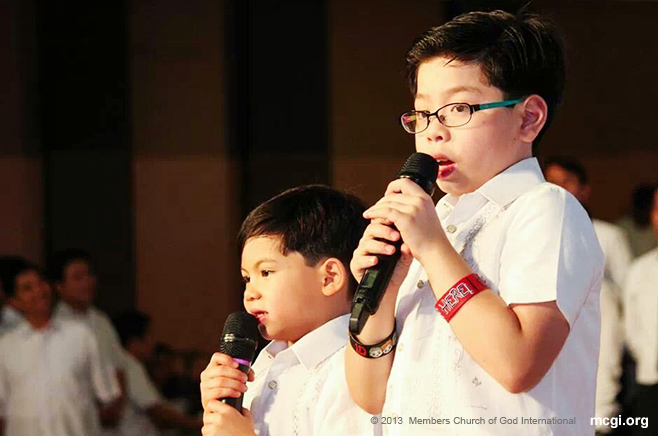 Singing a heartwarming adaptation of the popular song "The Prayer" in the vernacular, the group led by Bro. Eli sang all the way from South America. They prayed for another year added to Bro. Daniel.
Bro. Daniel's mother, Sister Beth Razon expressed her love and greetings to Bro. Daniel Razon all the way from South America.
"We may not always be together, but I hope, in God's mercy, we will be together in life everlasting. Happy birthday, my son, you are beloved by us, and your whole household. Thanks be to God," remarked in the vernacular by Sis. Beth.
Bro. Daniel, after singing his offering of thanks, expressed gratitude to God for everyone who celebrated his birthday with him.
"Thanks be to God for the gift of brethren like you in spirit, for parents in the Lord who serve with us. Though I am far from my biological parents, I am amongst many God-fearing parents who serve the Lord," stated Bro. Razon.
Before concluding the biblical discussion for the night, Bro. Eliseo Soriano gave his heartfelt spiritual birthday greeting to Bro. Daniel.
"We wish Bro. Daniel a very happy birthday in spirit. I can honestly say that he is my son in faith to God," said the International Evangelist. "Thanks be to God for another spiritual birthday. May it be God's will to add more years to those who care for the ministry, led by Bro. Daniel and all of the Church workers."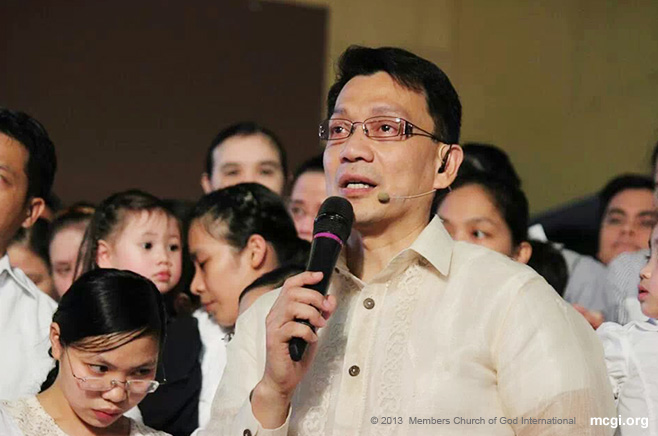 Other Highlights
In just a regular baptism week, MCGI debuted 129 newly baptized brethren. One of which is local celebrity Joshua Dionisio.
Some of the new members of the Church hail from Peru, Venezuela and Mexico, which are the fruits of MCGI's fortified broadcast efforts in all corners of the world via tri-media and satellite efforts spearheaded by Bro. Eli Soriano and Bro. Daniel Razon.
Bro. Miguel Perez from South America, on his thanksgiving testimony, mentioned that upon seeing Bro. Eli's e-mail address, he contacted him right away. "Thanks be to God, I received his answer very quickly. And God blessed me. He gave me doctrines, wonderful doctrines that tell the truth," stated Bro. Miguel.
"Listen to Bro. Eli, ask your doubts," said Sister Maria Isabel Vazquez Lara, another newly baptized sister who hails from Mexico. MCGI broadcasts have recently started in Mexico, and a locale chapter has been recently been opened for the country's listeners.
"I am grateful to God because I am one of the first ones here in Mexico," remarked Sister Lara.
(Words by Pauline Arellano)