MCGI ARTICLE
Bro. Daniel Welcomes Councilor Monsour Del Rosario to MCGI Headquarters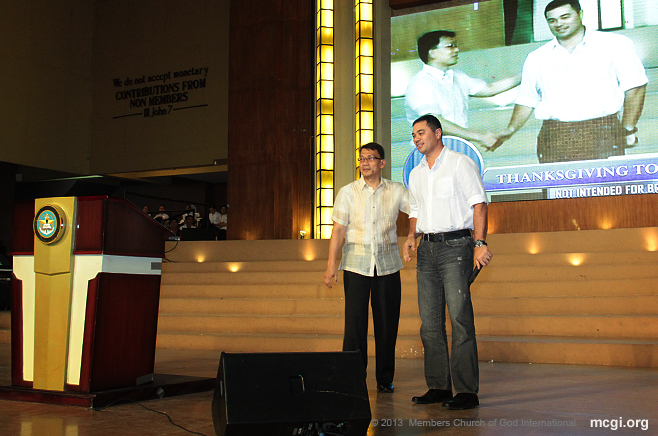 Bro. Daniel Razon welcomed Makati City Councilor Monsour Del Rosario who visited the ADD Convention Center and took part in the weekly Thanksgiving service of the Members Church of God International (MCGI) on June 29 this year.
Immediately after delivering the first part of the day's thanksgiving sermon, the Vice-Presiding Minister to MCGI introduced Councilor Del Rosario before the congregation. Bro. Daniel regards the city councilor a good friend of his.
The honorable councilor took the stage to express his appreciation to the group and gratitude to Bro. Eliseo Soriano and Bro. Razon.
"First of all I would like to thank our beloved God. Without Him, I wouldn't be here in front of you all … and I've already been gone a long time ago," said Councilor Del Rosario. "I would like to thank everyone for the support you've given me, especially those of you from Makati, Bro. Daniel and Bro. Eli."
"Bro. Eli, thank you very much; even though we have not met personally. I feel I've known you quite well because Kuya Daniel always tell me about you," addressed Del Rosario, who admitted about not having personally met the international preacher.
Del Rosario revealed that he was introduced to Kuya Daniel through his show business friend, Dinky Doo. The world-champion athlete and former actor further described the kind of preaching that Bro. Eli and Bro. Daniel deliver.
"It's somehow enriching to listen to them [Bro. Eli and Bro. Daniel]," expressed Councilor Del Rosario. "I don't get to hear people talk the way they [MCGI Leaders] talk; and to be reminded of how I should live my life, which is temporary. Those reminders are needed every now and then."
Even from afar, modern technology has allowed the international evangelist to carry out his obligations, including preaching simultaneously to those in Apalit, coordinating centers in the Philippines, and over 200 chapters in six continents.
In the 1990s, Del Rosario quickly rose and became a household name after starring in several local action films that brought inspiration and entertainment to many and broke blockbuster records.  He is a decorated world champion in Taekwondo and currently serves as a member of the Makati City council for the first legislative district since June 30, 2010 under the UNA Party.
(Written by Stacey Tee)
(Photo by Rovic Balunsay)