MCGI ARTICLE
Bro. Eli Bids Prayers for Chile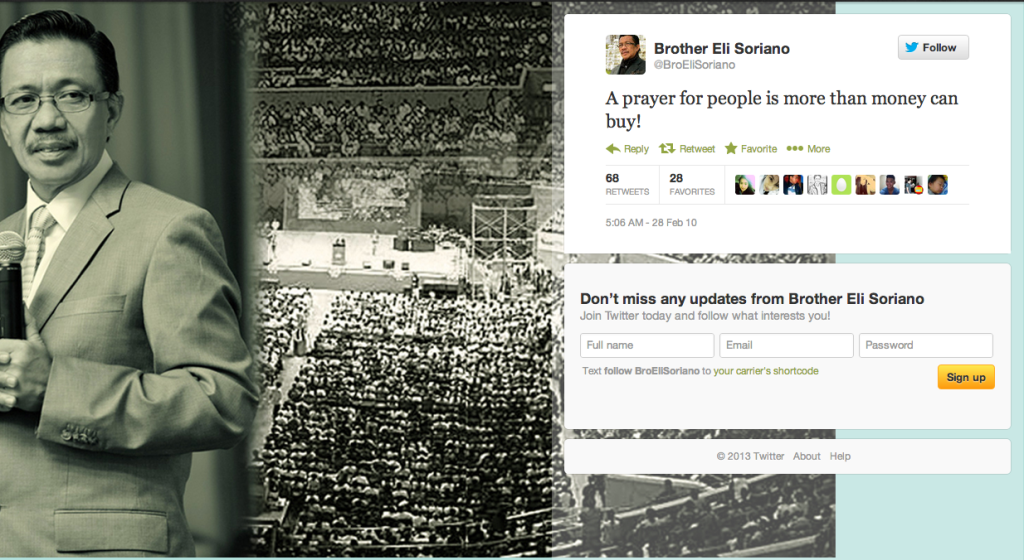 "A prayer for people is more than money can buy!"
Direct from his Twitter page, Bro. Eli Soriano tweets a message to his online visitors to pray for the victims of an earthquake that hit Chile Saturday, February 27.
He begins his call with a "Let's all pray for the people of Chile!", seven hours after the quake hit the country situated at the southern coast of Latin America. At the same time, he tweeted "May they find solace in believing that nature teaches us of a power that be", to console and lift the Chileans' spirits up.
Reports gathered from The Los Angeles Times says Chile was struck on Saturday by an 8.8 magnitude quake that killed more than 300 people and destroyed many infrastructures in Santiago, its capital city. The earthquake momentarily immobilized the big mining companies situated near the epicenter of the tremor. Collapsed bridges lobbed and squashed cars and trucks causing relief operations to damaged areas more difficult. An estimated 500,000 homes were badly shattered and more than a million people were affected. The numbers are expected to increase as more people are hauled from the rubble. Aftershocks are seen to follow and may cause further damage to properties [See Maps of the Chile Earthquake from the NYTimes.com here]. Following this Central Chile was declared a "state of catastrophe".
More powerful than the one that devastated Haiti in January, Chile's quake reached as far as Brazil and triggered a tsunami in Japan and Hawaii, with columns of water still rushing halfway around the world. Though little damage was reported in these areas, officials sent warnings that a bigger surge of water could follow and that other nations around the Pacific must prepare.
In the Philippines, the Philippine Institute of Volcanology and Seismology alerted residents of possible water surge and asked those living near the coasts to keep distance from the shoreline. Besides Hawaii and Japan, the Philippines was also struck by a tsunami when the magnitude-9.5 quake hit the same area of Chile in 1960.
(Written by: Hazel Chavez-David)