MCGI ARTICLE
Bro. Eli Reiterates Call for 'Division Effort' When Crafting ASOP Music Fest Entry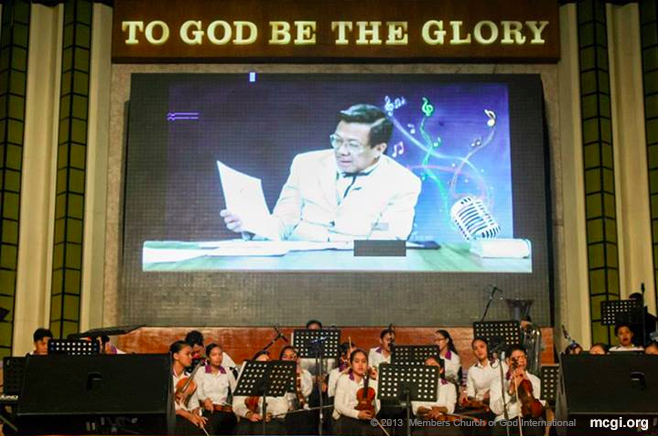 Pampanga, Philippines — Bro. Eliseo F. Soriano reiterated the importance of concerted effort in crafting songs of praise in the A Song Of Praise (ASOP) Music Festival on December 24, 2013.
The biannual songwriting event's main judge, Bro. Eli, remarked that if composers, lyricists, and musicians from different Church regions worked together, the songs produced would be perfect.
Of Perfect Songs
The Presiding Minister to the Members Church of God International (MCGI) first made the call for the same motion from the organizers during the December 2008 edition of ASOP Music Festival.
He moved that it be a "division effort," where ASOP Committees per Church division all around the world would work on a song entry for it to be the best.
Bro. Eli and Vice-Presiding Minister Bro. Daniel Razon launched ASOP in 2004 to encourage members Church-wide in making more original praise songs for God.
Of David, Of Solomon
Bro. Eli, host of MCGI's religious program The Old Path (Ang Dating Daan in the vernacular), also highlighted the importance of adding biblical creativity in songwriting. He cited David in Psalm 22:6: "But I am a worm, and no man; a reproach of men, and despised of the people," and said how the preacher used such words in exalting God.
He also mentioned that songs are an expression of human emotions. To give a more imprinting example, Bro. Eli even sang The Last Leaf by the Cascades as a song that leaves something to ponder on.
In the Bible however, he added that the Songs of Solomon express love, while King David's psalms express deep gratitude to God.
"It must have wisdom," remarked Bro. Soriano about songs of praises. In terms of judging, Bro. Eli added that the bulk of scores goes to the lyrics as the songs are for praising God. "A good song has valuable lyrics," he noted.
The group effort includes a screening committee that will see the song entries firsthand to correct possible errors in melody and lyrics.
The Winners
Salamat Amang Banal (Thank You Holy Father) by Bro. Noel Santos and Sis. Emily Schaff from Germany emerged as the winning song.
Bro. Pablo Buan's May Ngiti O Luha Man (In Smiles or Tears) was proclaimed 1st Runner-Up while Bro. Jude Abarca's Dahil Mayro'ng Ngayon followed his fellow representative from Singapore as 2nd Runner-Up.
For 3rd Runner-Up, Sis. Loida Dumandan from South America claimed the prize with her entry, Purihin Ang Ngalan Mo (Praise Your Name). Sis. Sally Morgan's song, Dahil Ikaw Ang Aking Dios (Because You Are My God), from Australia won fourth place.
The winners received plaques and cash prizes, tax-free. The winning song won P100,000, while succeeding entries got 50,000, 30,000, 25,000 and 20,000, respectively. Bro. Eli also gave non-winners 10,000 each as consolation prizes.
The next ASOP Music Festival is expected to be in March 2014, before the International Thanksgiving on April 5-7, 2014.
(Written by: Rigor Arellano)