MCGI ARTICLE
Bro. Eli Soriano Triumphs with Two Awards for Controversy Extraordinary Blog
Manila, Philippines – Bro. Eli Soriano's expository Bible-based blog was lauded as the "Overall People's Champion Award" and the "People's Choice Award in the Society and Politics Category" during the recently concluded Philippine Blogging Awards held on November 21, 2015.
The international preacher pens the award-winning blog "Controversy Extraordinary", which tackles intriguing issues on religion, faith, and morality using Bible verses as well as historical facts as bases.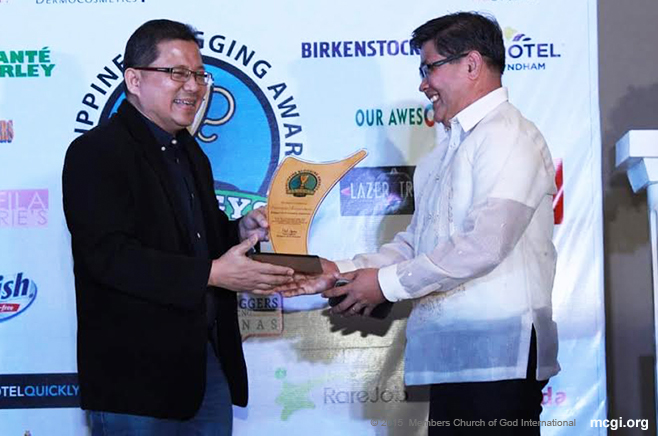 "In behalf of Bro. Eli Soriano, we dedicate this blog to all of you," remarked Katulong ng Pangangasiwa (Helper of the Ministry) Bro. Danny Navales, during the Philippine Blogging Awards or Bloggys.
"Although Bro. Eli is out of town right now, he is extending his gratitude to the award-giving body for this recognition, and to everyone who continues to support his blogs," Bro. Danny said after accepting the award during the Bloggys 2015 awards night. "Thank you so much, and of course, to God be the glory!"
On Bro. Eli's latest blog post entitled "Blogging for Truth and Exposing Evil," the preacher expressed his gratitude for the blog's latest award.
"Thanks for the award. My best appreciation to the organizers of the Philippine Blogging Awards 2015 for whatever award is in store for my blog site. They told me "it is a surprise." May God bless you!," opened Bro. Eli in his blog.
The "Overall People's Champion Award" was Controversy Extraordinary's surprise award for the night, which was due to the number of votes Bro. Eli's blog received.
"They are the People's Champion – they got around 4,000 votes while other Peoples' Choice awardees got hundreds of votes. So far, his blog, ControversyExtraordinary.com, caught our attention," remarked Bloggys 2015 Awards director Mr. Paul Agabin.
Bro. Eli, who preaches and tends to the spiritual needs of Church members in different parts of the globe on a daily basis, conveyed his motivation on why he continues to write blogs.
"I just want to reiterate and inculcate in the minds of my readers one thing I feel from the bottom of my heart. I write not to be awarded honors from humans," Bro. Eli as Mr. Controversy blogged, adding, "The most pleasing feeling for me is when a person – even if he is the poorest of the poor – is enlightened by the words of God that I never forget to present in each of the blog I compose."
At present, Controversy Extraordinary has subscribers and visitors from over 215 countries. It remains to be the top ranking religious blog, and has reached 3 million views in the span of just three months. #