MCGI ARTICLE
Bro. Eliseo Soriano Leads MCGI Senior Citizens in Thanksgiving Offering to God
Pampanga, Philippines – The beloved elderly population of the Members Church of God International (MCGI) sang and swayed in the ADD Convention Center's main stage in Apalit, Pampanga for a special thanksgiving offering to God.
Leading the thanksgiving presenters was Presiding Minister Bro. Eliseo Soriano, who invited the Church's senior citizen members – aged 60 years old and up – to offer a heartfelt thanksgiving to God for His safekeeping and kindness through decades of service.
Bro. Eli made the invitation during the International Thanksgiving to God (ITG) held last December 21-23, 2013.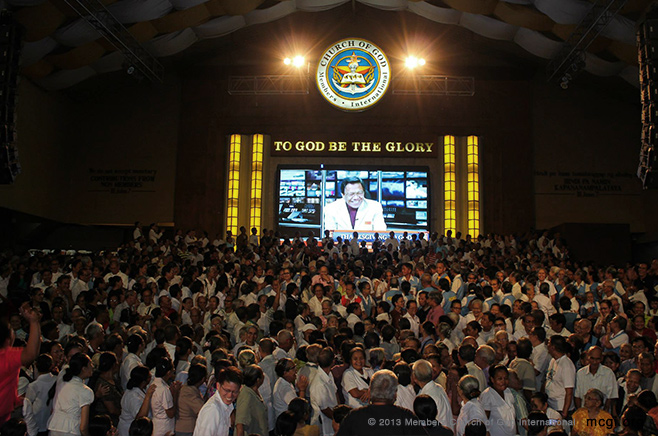 During the senior citizens' thanksgiving celebration, Bro. Eli Soriano stated that as the youth and middle-aged members of the Church offer songs of praises to God, the elderly members should all the more be consistent in their thanksgiving offerings.
"For us to reach the age that we are considered to be senior citizens, aging 60 and above, it means that we have seen so much of God's safekeeping," said Bro. Eli, adding "more so when we became members of the Church, we were able to see more of His goodness in our lives."
Hence, according to Bro. Soriano, it is but rightful for this group of members to give thanks to God. "It is only righteous for us senior citizen brethren to thank God," remarked the international evangelist.
Decades of God's Love
Bro. Eli, who is situated in South America, marveled with the rest of the brethren all over the world at the number of senior citizens who offered thanks to God.
"Look at God's love for the senior citizen members; there is a large population of senior citizens in the Church. It means, these people are being kept safe by God everyday, and they are still strong – they can still stand," stated Bro. Eli.
Aside from the senior citizen members who filled the stage in Pampanga, senior citizens in various coordinating centers in the Philippines and all over the world also sang their gratitude to the God of Israel.
One of the senior citizens who offered thanks is Sis Asing, a member from Magalang, Pampanga, told her remarkable story.
According to Katulong ng Pangangasiwa (KNP) Bro. Ricardo Erese, after hearing Bro. Eli preached, Sis Asing wanted to be baptized immediately. However, Bro. Eli told her that she was not yet ready.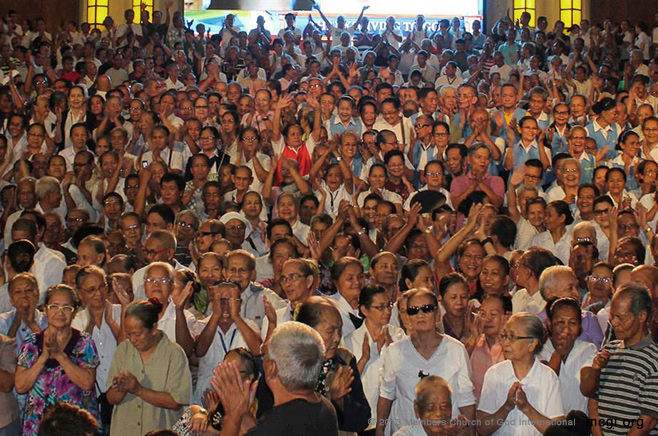 Bro. Candong told Sis Asing's story to the whole congregation. "Sis Asing said, 'Bro. Eli knew what was inside me, that I was not ready [to receive baptism],' stated Bro. Ricardo. "Though they did not converse, Bro. Eli asked me to indoctrinate her once more. And so she was indoctrinated a second time, and it was then that she was baptized."
Today, Sis Asing has been faithfully serving in the Church for 33 years. "After the re-indoctrination, she was successfully baptized, and that was from1980 until now," remarked Bro. Soriano.
After Sis Asing's baptism, her siblings were soon baptized in the Church, and have been serving for decades as well.
Until Life Everlasting
Bro. Eli expressed his gratitude to God for having kept the elderly members of the Church safe throughout the years.
The preacher stressed the importance of seizing the good opportunity to give thanks to God while we are still given the opportunity to do so. "We do not know if in the coming years, there will be some among us who will be gone, or if we will be lesser in numbers, but that is the appointed time for all of us, which is written on Hebrews 9:27."
And though life on earth perishes, Bro. Eli gave a message of hope for the thanksgiving presenters to look forward to life everlasting with God in heaven.
"Our hope, in our advanced years, is that we pass away with hope in life everlasting: that in the coming of our Lord Jesus, we will once again awake in eternal life," remarked the international evangelist.
"May you all remain steadfast until the end, trusting God and His kindness, power, and His great deeds in our lives," wished Bro. Eli. "I wish you everything that is good from above." 
(Written by Pauline Arellano)