MCGI ARTICLE
Citizen Group Thanks MCGI Servants For Macabebe Medical Mission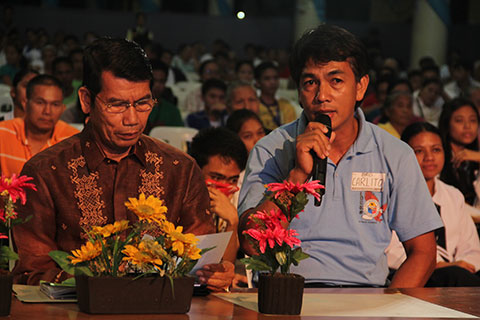 A private group of concerned citizens expressed gratitude to the ADD Foundation, the official charity institution of the Members Church of God International, for the medical mission it mounted in a barangay in Macabebe, Pampanga last month this year.
Lito Baluyot, a representative volunteer of the Intrepid Movement of People Against Crime and Terrorism (IMPACT), visited the ADD Convention Center to thank Bro. Eli Soriano and Bro. Daniel Razon during the Bible Exposition last July 27, 2012.
"Thank you very, very much to your Foundation. Through you, many residents from our barangay were assisted. We hope this won't be the first and last time that you will help us," said Mr. Baluyot, a resident of the town of Macabebe, in the Pampanga province, Philippines. In the July 22 medical mission by MCGI in Mr. Baluyot's barangay, there were up to 1,517 Macabebe residents, including townsfolk from adjacent places who were rendered assistance.
For his part, Bro. Eli also offered to provide assistance to IMPACT whose personnel according to Mr. Baluyot neither receive allowance nor compensation because of their volunteer status. "We can help [you] in different ways like with your uniform or your fare allowance God willing," the Overall Servant to the MCGI continued.
IMPACT is a private organization that aims to unite Filipinos to stand against crime and other matters deemed offensive to the law. The non-profit group aims to revive "bayanihan," which is one of the trademark Filipino values that promote unity and the concerted effort among neighbors.
Bro. Daniel, on the other hand, affirmed what the International Evangelist said, indicating that the MCGI group "have medical missions everyday and clinics which are open daily for you." Bro. Daniel suggested to Mr. Baluyot that a meeting with IMPACT may be held soon to thresh out more public service works they can do together.
As the charity and public service arm of the MCGI, the ADD Foundation Incorporated provides medical, dental, legal and other forms of assistance to the public, especially to the marginalized members of society.
(Written by: Apple Arco)