MCGI ARTICLE
Community Prayer Broadcast Aimed at Edifying Faith Launched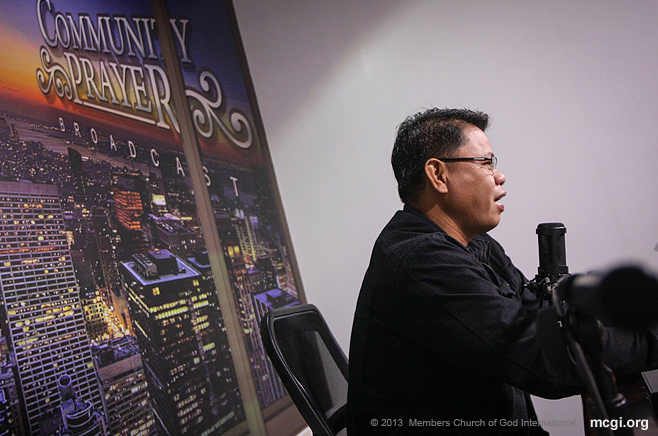 A 24-hour interactive satellite broadcast service was introduced recently by Members Church of God International (MCGI) in an effort to keep congregants abreast with the latest Church news, events, advisories and a whole lot more.
"The basic principle is to edify our brethren's faith," said Bro. Daniel Razon, Vice-Presiding Minister to MCGI of the new service called Community Prayer Broadcast or CPB. which was piloted on July 24 this year.
CPB is also aimed at widening MCGI's outreach efforts through interactive programming that is relevant to the spiritual needs of Church members anytime and anywhere they may be. Katulong ng Pangangasiwa and Tagapangasiwang Pampook serve as regular hosts.
Major segments of CPB beside the hourly community prayer include songs of praise request, features and interviews with Church members, brethren greetings, and many of the likes. Timely and general information are also provided such as weather reports, health tips, current events.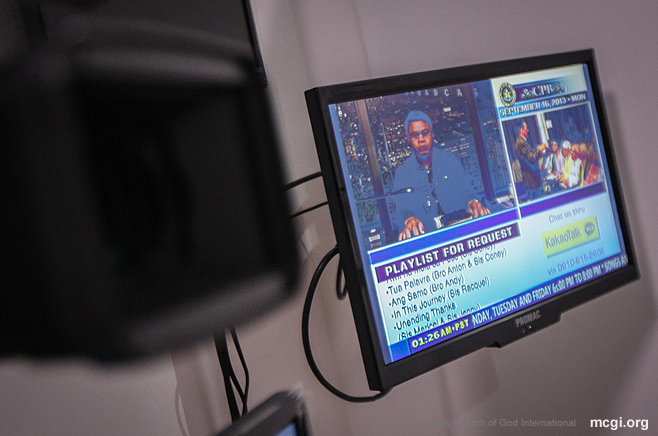 In keeping Church members updated with the Church calendar of activities, reminders are provided related to schedules of International Quarterly Thanksgiving, Bible Expositions, Mass Indoctrination, A Song of Praise Music Festival, and more.
CPB also airs television and radio shows as they happen, such as Good Morning Kuya of UNTV, as well as Dear Kuya of UNTV Radyo La Verdad.
Since the service is exclusive for Church members, Community Prayer Broadcast is only available for viewing in all major coordinating centers. Individually members only need to login their MCGI One accounts and visit https://link.mcgi.org.
(Words by Jojie-Ann Alabarca)
(Photos by Kenji Hasegawa)