MCGI ARTICLE
MCGI Receives Plaque of Appreciation from the Embassy of the Republic of the Philippines in Malaysia
The Members Church of God International (MCGI) received a Plaque of Appreciation from the Philippine Embassy and Philippine Overseas Labor Office in Kuala Lumpur, citing the organization's initiatives aimed at protecting and promoting the welfare of the Overseas Filipino Workers (OFWs) in Malaysia.
During the Gabi ng Parangal at Pasalamat (A Night of Recognition and Thanksgiving event last January 12 this year, the Philippine Embassy in Malaysia recognized MCGI for its "invaluable support, selfless, and sustained involvement in the implementation of various programs, services, and initiatives for the protection and promotion of the welfare of the Overseas Filipino Workers (OFWs) in Malaysia."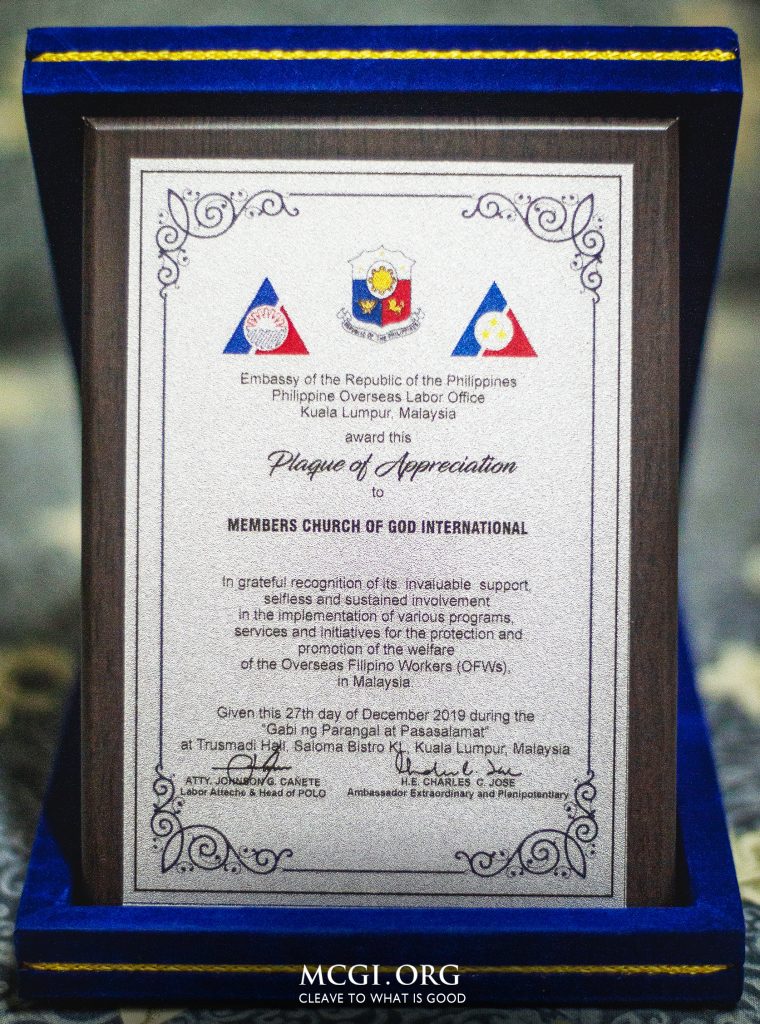 Many brethren in the Church of God International in Malaysia, who are members of the Federation of Filipino Associations in Malaysia (FFAM) Marshalls, actively participate in many charitable events and notable celebrations held by Overseas Workers Welfare Association and the Philippine Embassy.
MCGI Malaysia also offers free photography services in all events held by FFAM.
Other Notable Awards in 2019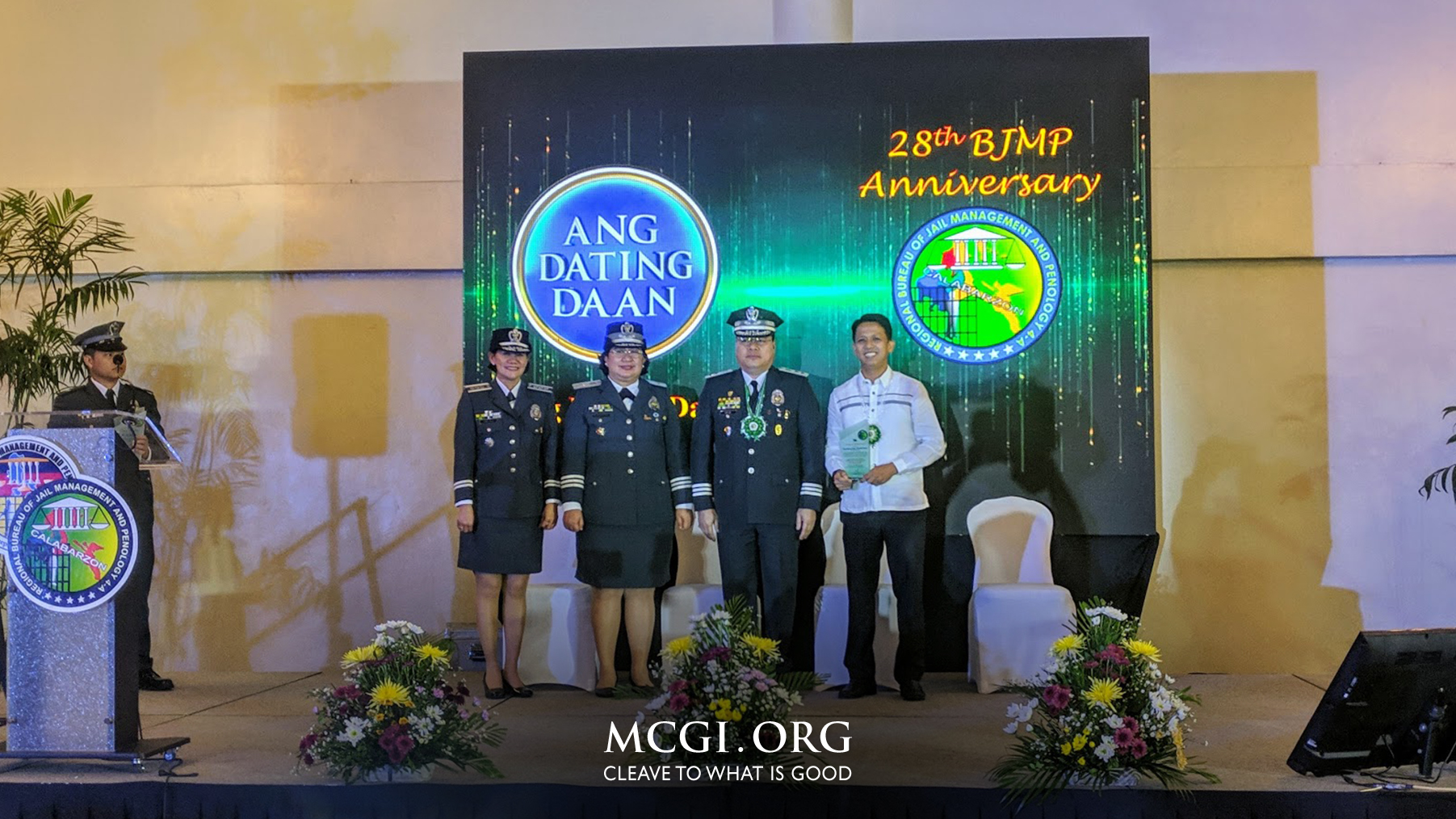 The year 2019 was notable for MCGI as the group reaped different awards from different award-giving groups for the religious group's evangelization and charitable efforts.
Two to note are the 2019 Outstanding Religious Christian organization Award from Gawad Amerika and a Plaque of Appreciation by the Bureau of Jail Management and Penology Regional Office- Calabarzon for Ang Dating Daan's Bible-preaching efforts.
Looking Back: MCGI's Charitable Efforts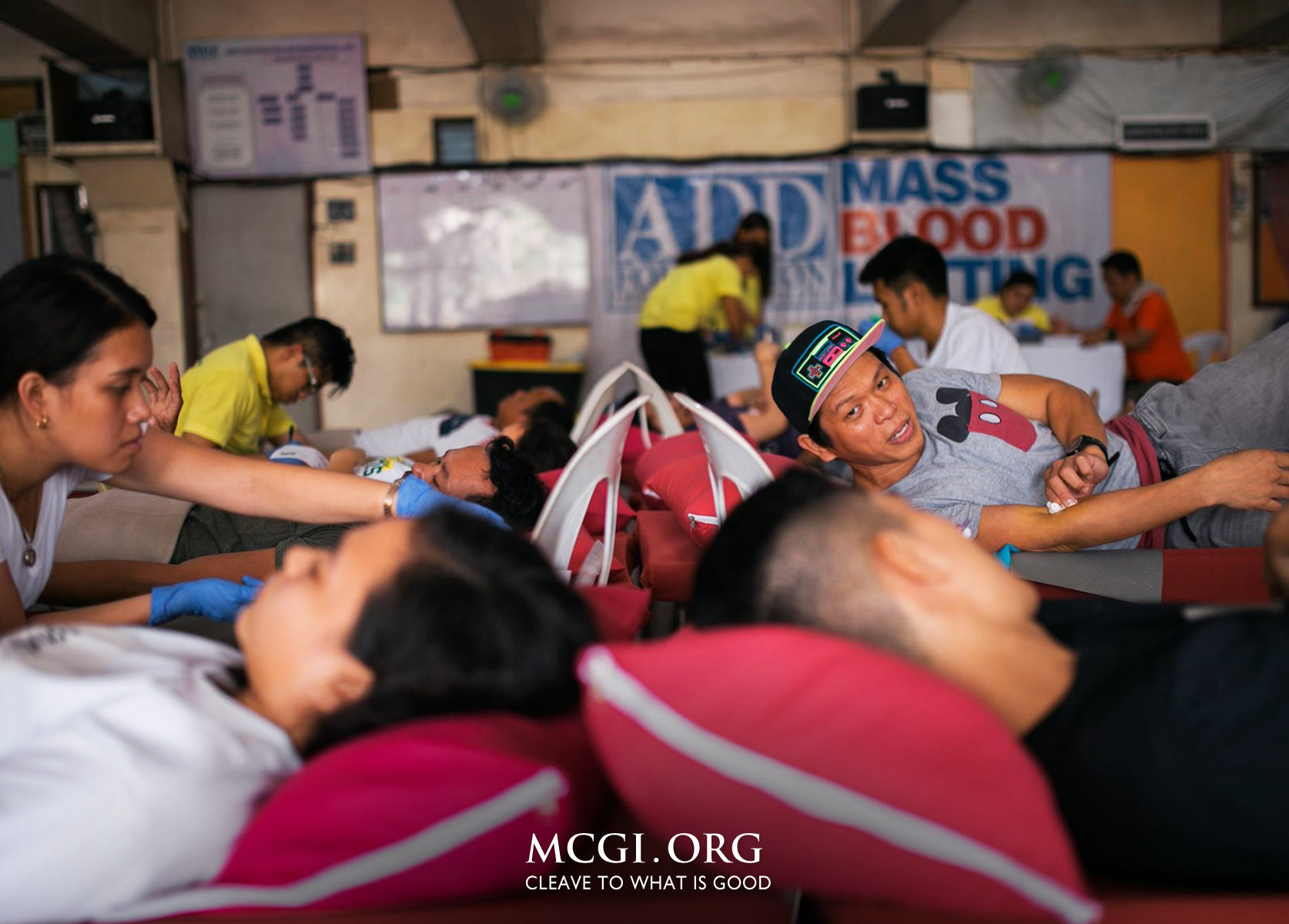 MCGI Overall Servants, Bro. Eli Soriano and Bro. Daniel Razon teach members to take every God-given opportunity to do good to all as it is written in Galatians 6:10.
For the 39th anniversary of its religious program, The Old Path, MCGI members around the globe took advantage of this God-given opportunity to host and participate in various types of charitable events as a part of their thanksgiving to God.
With the help of God, medical missions and free legal consultations were held in different provinces and remote places in the Philippines.
MCGI, known to be a regular partner of the Red Cross in different parts of the globe, continued its participation in blood drives initiated by the Red Cross.
The group has also partaken in tree planting, feeding programs, clean-up drives, and have been known to volunteer in homes for the elderly and the disabled.
MCGI will never tire in its propagation through philanthropic deeds, with the help of God.
Written by: Sis. Lalluh Adalla