MCGI ARTICLE
A Father Loves in Many Ways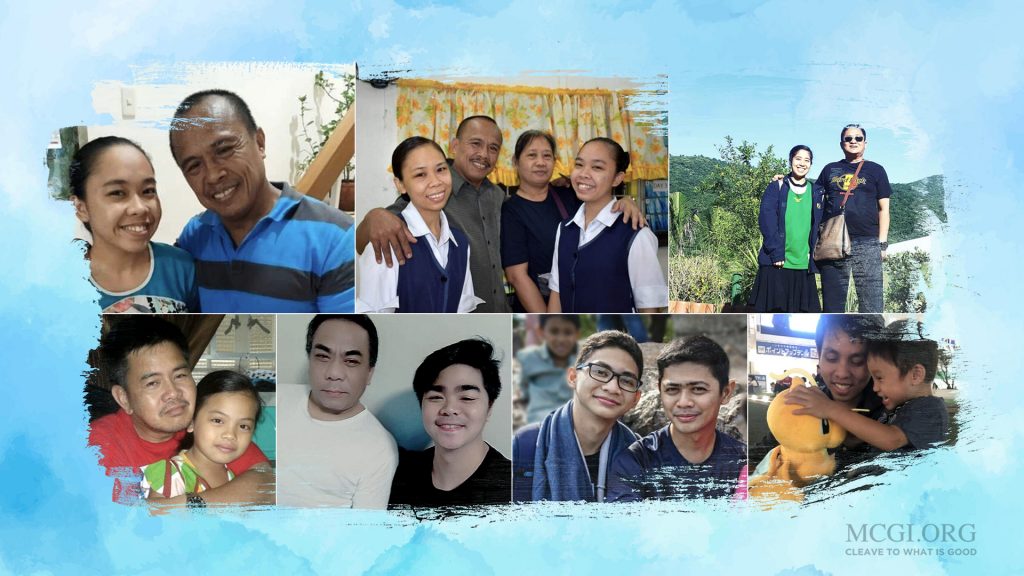 A father feels no greater love for anyone than for his children, and there are many ways by which he shows them love and affection. The moment a man becomes a father, he leaves a life of freedom to head a family. He guides and helps his children get through difficult situations. A father's love for his children is boundless and limitless.
In the Members Church of God International (MCGI), mothers and fathers are esteemed highly. They are celebrated every day — a day is not enough to celebrate a lifetime of their love. Watch these brethren and children share their fondest memories of their fathers and their thanksgiving to God for giving them a father like no other.
Kind
From juggling finances, jobs, responsibilities, and personal challenges, fathers bear the burden no one else in the family carries. Despite having worries, a father's heart will always have a soft spot for a smile on his child's face.
Little Keisuke Huidem's fondest moments with his father happen when they play games together. Despite many hardships, his dad is always kind, always finding ways to spend time with him.
The father of the righteous shall greatly rejoice: and he that begetteth a wise child shall have joy of him.
(Proverbs 23:24, KJV)
Inspiring
A loving father will go the distance to provide for his children. Though a father fears to be separated from loved ones, he will do what it takes to give them a better life.
Loreal Enriquez often spends months without her father, so she is always excited whenever she joins the family to fetch him at the airport. She is grateful because she is inspired by his continuous efforts to provide for their family.
And he shall turn the heart of the fathers to the children, and the heart of the children to their fathers, lest I come and smite the earth with a curse.
(Malachi 4:6, KJV)
Hardworking
Hardworking is how Patrick Mendoza describes his father. Though he is no longer strong like when he was young, he makes sure that his family will always have food on the table.
We may not know what goes behind such hard work, but a father's diligence and perseverance is truly one of a kind.
And he arose, and came to his father. But when he was yet a great way off, his father saw him, and had compassion, and ran, and fell on his neck, and kissed him.
(Luke 15:20, KJV)
Caring
For every grief-stricken moment, Gabriel Luna's father is the first to comfort him. No matter how difficult life may get, a father will always come to the aid of his child.
Every moment a child spends with his father is a learning moment. A father will always guide his child and teach valuable life lessons.
My son, hear the instruction of thy father, and forsake not the law of thy mother:
(Proverbs 1:8, KJV)
God-fearing
A father who is God-fearing leads his family in faith and in service to God. He loves his children wholeheartedly, a duty he has committed unto the Lord.
Sisters Bea and Bezzel Dadula are grateful to God for a father who supports them as they continue to fulfil their duties and obligations in the Church.
(For if a man know not how to rule his own house, how shall he take care of the church of God?)
(1 Timothy 3:5, KJV)
Loving
The most cherished moments of a child and a father are their adventures together. Nicole Vergara's fondest memories with her father were their trips to Brazil.
Although her father was able to take her to many places, the best so far was when he brought their family close to God. With the help of God, they are able to serve God as a family.
Children's children are the crown of old men; and the glory of children are their fathers.
(Proverbs 17:6, KJV)
"Every day is a day to love a father and a mother!"
Bro. Eli Soriano
The love of a father surmounts boundaries. He is willing to give his time and strength for the sake of his child. A parent will always give selflessly through constant effort and support, so it is important to show parents that their efforts are well-appreciated. Thank God for loving parents every single day.