MCGI ARTICLE
A First, Bro. Eli Hands ASOP Music Fest Top Prize to All Finalists
All thirteen finalists of the A Song of Praise Music Festival shared the "Song of the Year" award, a historic awarding in this bi-annual Members Church of God International (MCGI) songwriting competition.
Bro. Eliseo F. Soriano broke the "big news" during a regular Thanksgiving service on April 19 this year, two weeks after the songwriting festival was held on April 6, the second day of the International Thanksgiving to God (ITG).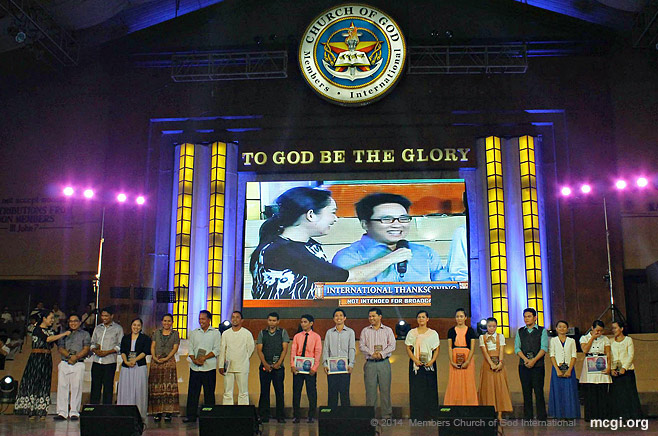 Although not unusual that two or three winners share the grand prize, declaring all finalists winners surprised everyone. It was a move that was made so much special because the Presiding Minister celebrated his baptism jubilee on April 7 this year.
Organizers said that over half-million cash prizes will be split to all winning composers, lyricists, and interpreters.
Philippine Finalists
The Philippines was represented by finalists from the regions of Cavite, Laguna, Batangas, Mindoro and Romblon (LBMR), Central Visayas, and Mindanao.
Cavite Division was the first to perform with "Mula ng Makilala Ka," (Since I Met You), an original composition by Bro. Juanito Pascual and interpreted by Bro. Reynan Nueva.
"Dakilang Pagmamahal" (Great Love), a composition by Bro. Empol Balbin, represented LBMR Division.
The song titled, "We Sing You Praises", composed and interpreted by Sis. Naomi Sorianosos with Sis. Jenny Gonzales, represented the Central Visayas region.
Rounding up the four songs hailing from the Philippines is "Sana ay Pakinggan" (Please Hear Me) from Mindanao Division's Bro. James Almaden and performed by Sis.Nicole Ann Villagonzalo.
Asia and Oceania Finalists
Mongolia's entry entitled "Budhing Walang Kapaslangan" (Clean Conscience) is one of the three finalists from Asia/Oceania Division. The song's composer is Bro. Boy Gan and was performed by Bro. Nestor Torres.
Vietnam's "Nais Kong Awitan Ka" (I Want to Sing To You) composed by Sis. Marjorie Navarro and interpreted by Sis. Maricel Ciricaco.
Last to be presented from the division is "Sa Puso Ko" (In My Heart) by Bro.Jude Abarca from Singapore, and performed by Bro. Gino Mendoza.
Middle East Finalists
"Ang Aral Mo Ama" (Your Teachings Oh Lord), composed by Sis. Joana Fortaleza and Sis. Roschelle Tantay and "In You My Lord," composed by Bro. Bernardo Flores, are entries from Dubai-UAE Division.
Sis. Erlyn Dondriano interpreted "Ang Aral Mo Ama" while Bro. Rigor Arellano sung "In You, My Lord".
Europe, Africa, and Israel, North and South American Finalists
Completing all 13 finalists are entries from Europe/Israel/Africa, South and North America, respectively.
Randy Mangiliman's composition, "Mapagmahal na Dios" (Loving God" represented Europe/Israel/Africa in the songwriting tilt and was interpreted by Sis Dalyn Concepcion.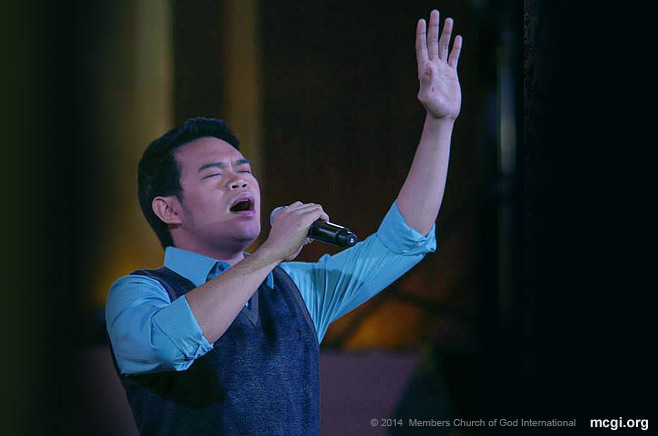 Brazil's entries include "Hanggang sa Walang Hanggan" (Until Forever), written by Sis. Loida Dumandan and performed by Bro. Mark Libradilla; as well as "Dakila Kang Manlalalang" (You Are The Great Creator), written by Sis. Fe Sunga, sung by Sis. Jelisa Trangia, made up two of South America's winning pieces.
East Coast, North America was represented by Bro. Aaron Romero's entry, "Merciful God", which Sis. Myka Cloma performed during the finals night.
ASOP Music Festival entered mainstream television to discover local and international praise song writers. ASOP TV, featuring a weekly and monthly elimination rounds, airs every Sunday on UNTV 37.
(Written by Apple Arco)