MCGI ARTICLE
MCGI Free Store in Caloocan Launches Bicycle Delivery Service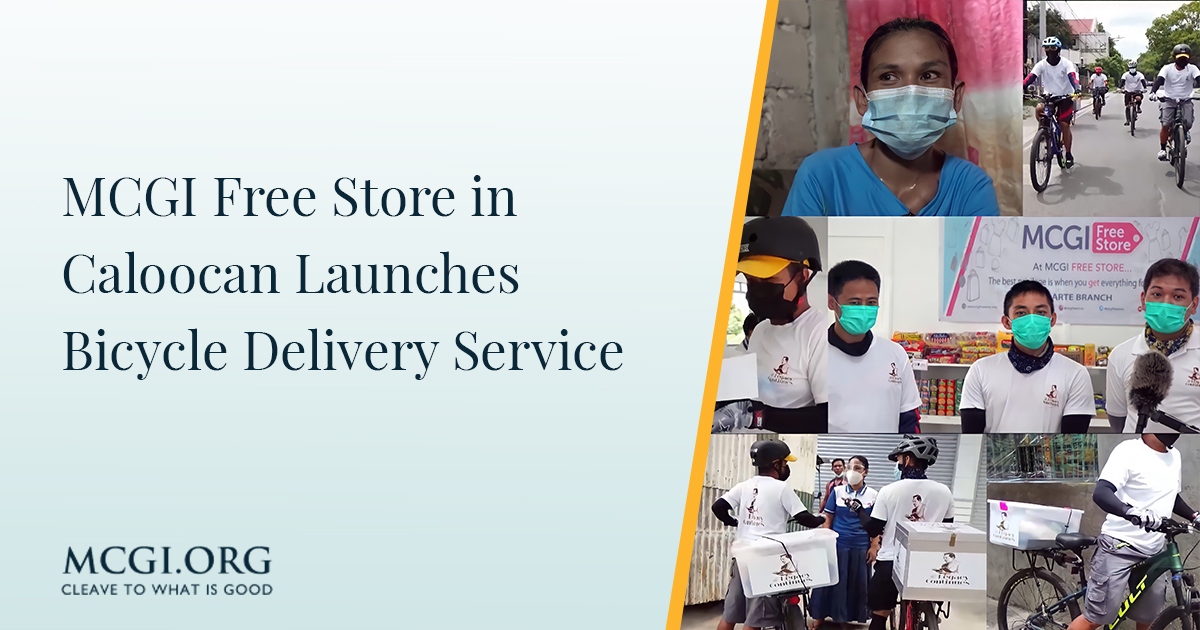 The Members Church of God International (MCGI) Free Store branch in Camarin, Caloocan City found another means of reaching out to our fellowmen in need through its bicycle delivery service. Instead of letting the beneficiaries go to the store personally, MCGI volunteer bikers are delivering the Free Store items straight to their homes.
"Ang isang bagay kasi, hindi naman talaga lahat kayang pumunta sa Free Store kaya mas maganda na naaabot natin sila, hindi lang tayo nagbibigay, talagang tayo mismo yung lumalapit para maabot at matulungan din yung mga nangangailangan. Lalong-lalo na po nakikita po namin na hindi talaga pwedeng lumabas 'yung mga pinagdedeliveran, may mga isinasaalang-alang din sila, hindi nila maiwanan 'yung mga anak, may mga sakit din. Kaya mas nakakatulong po, napakalaking bagay na tayo mismo yung nagpapa-abot ng tulong," Alex Necio, one of the MCGI Free Store volunteer bikers conveyed.
(For one, not everyone can personally go to the Free Stores, that's why it is better that we go out of our way to reach them and personally deliver to them the items they need.  Especially when we know that some eligible recipients cannot just leave their homes because nobody will look after their children or a sick family member. Thus, it's a huge help for them if we, ourselves, will personally hand them our help.)
Through referrals from their respective barangay and proper registration, indigents around the MCGI Free Store branches are provided with basic necessities. These are ready-packed grocery items worth 300 points each. The remaining 200 points out of the 500 points are then used for the other needs of the recipients which they personally select. Once identified, coordinators will call the Free Store branch.
One of the 40 bags of groceries delivered is for Erlinda Galgana's family in Barangay Bagong Silang. Erlinda and her five children live in a 20 square meter house. They don't have an electricity source; only their kitchen has light which comes from the sun. Erlinda's husband guards parking lots as his job but he only works three times a week.
She also shared her worries about their children's education. She tearfully said that she doesn't want them to be like their parents who didn't finish school.
She shared, "Minsan ano, pagka mahina ang kita niya, isang beses lang kami kumain sa isang araw, tanghali lang. Sa bagay, ang mga anak ko, hindi naman mapili sa pagkain, kahit ano inuulam; kahit nga chichirya, yun inuulam nila yun pagka ano, maski toyo ganyan, ulam nila. Pag kumita naman siya ng ano, minsan 300, binibili naman namin ng bigas tapos ulam pang-hanggang gabi na. Tapos ano, pang igib-igib namin ng tubig. Sa pang gamit-gamit naman namin ng tubig, umaabot minsan ng 15 pesos isang araw kasi." (Sometimes, when he didn't earn enough, we only eat once a day – lunch only. Good thing that my children are not picky with food, they would settle even for junk foods, or just soy sauce, for viand. When my husband earns, sometimes Php 300.00, we spend it with rice and viand that will last until supper. We also spend about 15 pesos a day for the water we use.)
While the MCGI Free Store extends help to more people in need, it benefits not only the recipients but even volunteers as well for they witness how, even the smallest act of kindness, can be life changing to many.
Erlinda's story touched the heart of one of the Free Store volunteers. Glen Manlangit is a freelance wedding videographer whose business still hasn't recovered much from the pandemic. According to him, a larger percentage of his problem seemed to have vanished after learning her story. Glen concluded, "Nakakalakas siya ng espiritu, parang nagkakaroon ako ng courage para magpatuloy pa." ("It strengthened my spirit; I found the courage to keep going.")
For more information about the MCGI Free Store, and other charitable works of the Church, please visit www.mcgi.org/public-services.