MCGI ARTICLE
Samal, Badjao and Tausug Indigents are Beneficiaries of MCGI Free Store and Feeding Program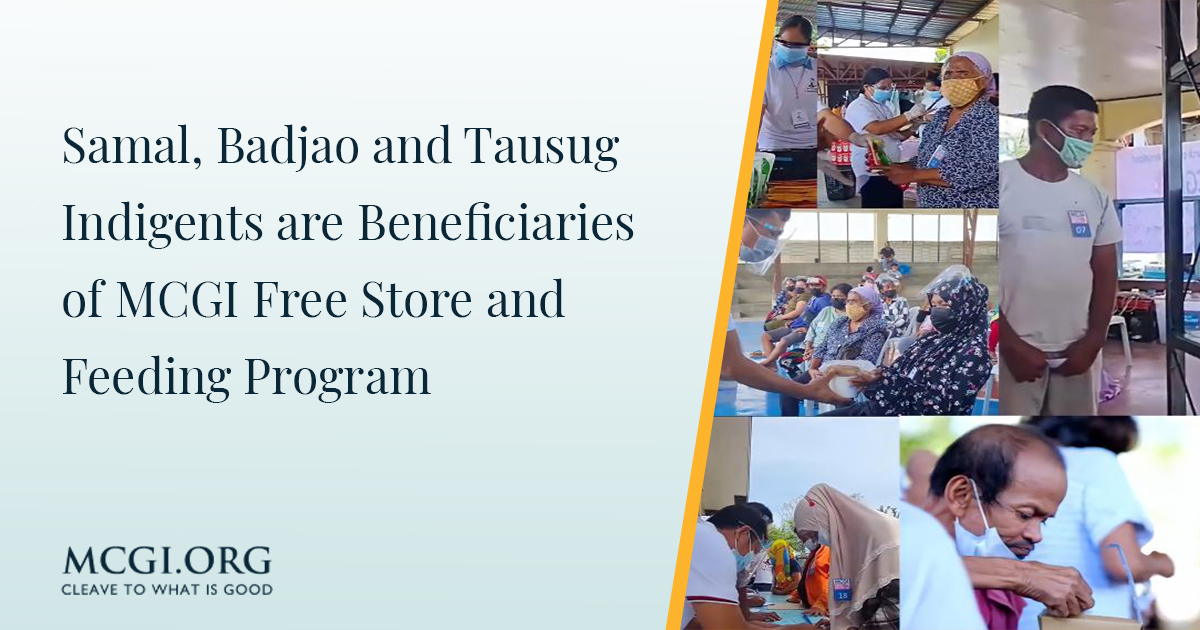 The week-long global celebration of "The Legacy Continues" event of the Members Church of God International (MCGI) was able to reach more indigent people like the Samals, Badjaos, and Tausugs in Barangay Sinunuc, Zamboanga City, Philippines. 
MCGI volunteers served these tribal groups with hearty meals and grocery items through the MCGI Free Store and Feeding Program.
Majority of the beneficiaries live near the shore, while others live in boats. Their primary sources of livelihood are fishing and diving to collect pearls.
MCGI Free Store recipient, Linda Sakandal, shared that the free grocery items she received are a big help to her family since her only source of income is selling snacks called pastil.   She uses her earnings to support her six grandchildren who are under her care. She also expressed the joy in her heart despite being poor.
Kalma Abubakar, another recipient, also expressed her heartfelt gratitude for the free grocery items and food packs she received, stating that no amount of money can compensate for the way MCGI remembered and helped them.
"Totoong hirap talaga. Kahit magpunta ako sa bahay, walang wala. Ngayon masayang masaya talaga kami na binigyan niyo kami galing dito sa… [free store] na ito. Maraming salamat talaga sa MCGI (It's really difficult.  We have nothing at home. Now, we are very happy for receiving grocery items from the free store. Thank you so much to MCGI)," said Kandra Hassan, one of the beneficiaries.  
The beneficiaries of the free store were all grateful and happy for they were able to bring home some food which their respective families can share together.  
As of April 9, 2021, the MCGI Free Store has listed a total of 649 recipients, while the Feeding Program has served 4,970 food packs in the Zamboanga Peninsula.
For more information regarding the MCGI Free Store and other charitable works of the Church, please visit www.mcgi.org/public-services.