MCGI NEWS
From East to West: MCGI's Locale Choir Music Summit and East Coast Division Music Festival Held
Two big locale choir events – the National Locale Choir Music Summit and East Coast Music Festival – were successfully held last November this year, gathering the Members Church of God International's (MCGI) choir members from East to West.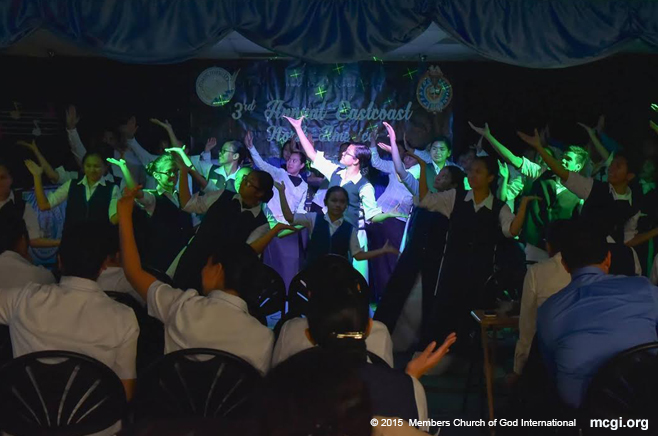 The 6th Annual National Locale Choir Music Summit (NLCMS) held last November 12 is one of the major praise song events of the Church this quarter of 2015. The theme this year is "Songs of Admonitions."
Locale choirs from different parts of the Philippines participated in the event held at the Ang Dating Daan (ADD) Convention Center in Apalit, Pampanga.
The locale choirs in the Church are composed of married men and women. Their primary function is to lead brethren in the congregational singing every Church service in their respective locales.
Aside from musical workshops aimed at enhancing choir members' vocal skills, the NLCMS is another songwriting event of MCGI. It is a yearly gathering of locale choir members wherein they present musical compositions based on a specific theme.
The National Capital Region Locale Choir went home with the grand prize for their winning piece, "Huwag Kang Mapagod" (Do Not Be Weary).
The 3rd Annual East Coast Music Festival
The 3rd Annual East Coast Music Festival in North America division held this quarter included choir participants from New Jersey, New York, Texas, and Montreal and Toronto, Canada.
Locales of New York and Chicago shared the grand champion prize in the "hymn category", while Locale of Chicago bagged the top prize in the "Tanging Awit" or Special Song category.
The winning original composition for this year was from the Locale of New York titled, "Payo ng Kaibigan" (A Friend's Advice).
MCGI Assistant Overall Servant Bro. Daniel Razon, a singer and composer of many songs of praise of the Church, expressed his hopes for the original compositions that debuted in the event.
"Hopefully, this will be a way for us to give advice. Songs serve as reminders to our brethren, and this is done through the compositions we make in our congregation," said Kuya Daniel in a video message.
The Assistant Overall Servant also noted the importance of "continuing our service to God," citing Hebrews 10:38. He also stressed the value of duties in the Church.
"Through God's will, through these kinds of advocacies, may we strengthen our works and see the significance of our duties which we have received from the Lord," he stressed. "No matter how little it may seem for others, for us, this is important in the sight of God."
Written by Rigor Arellano