MCGI ARTICLE
Gospel Songwriting Tilt of MCGI Lands on Philippine TV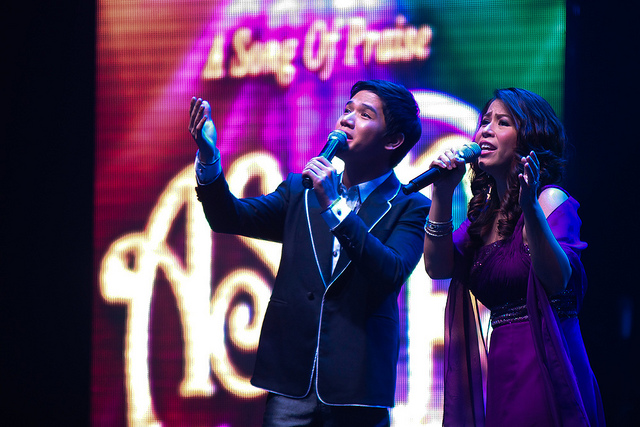 The A Song of Praise (ASOP) Music Festival has started airing on September 4 on UNTV. With over one million pesos in cash prizes to be given away, ASOP is the biggest songwriting competition for original praise songs so far in the country, if not in the world.
As a venue for songwriters to express their beliefs and adoration of God through songs of praise, ASOP hopes to be a birthplace of new or innovative music styles. It is open to all amateur and professional songwriters.
One song entry is chosen each week to proceed to the monthly finals. The winning song for the month then enters the grand finals. The champion, to be declared as Song of the Year come 2012, will receive half-a-million pesos and a trophy. Non-winners and runners-up from the weekly competitions to the championship round will also be awarded cash prizes and plaques.
Song entries are judged based on their musical content, lyrics, and general appeal. A panel of judges selects the winning song and also comments on its musicality, especially the lyrics. Award-winning songwriters Vehnee Saturno and Noel Cabangon are the show's in-house judges. The third member of the panel is usually a popular singer-performer.
Now on its third week, most of the contestants who have joined the competition so far have acknowledged their little or lack of formal training in songwriting. The distinct qualities of their songs have impressed the judges, however.
Prior to its launch as a television program, ASOP is a project launched in 2004 by Bro. Eli Soriano and Bro. Daniel Razon, Presiding and Vice-Presiding Ministers to Members Church of God International, respectively,
A grand musical concert was mounted to officially launch the arrival of ASOP on mainstream television last August 22, 2011 at the Smart-Araneta Coliseum in Quezon City.
"The songs I hear in society, in many aspects of life, I hear many songs, but none for God," said Bro. Eli who spoke via live video streaming during the concert. "Songs for God are only sung in chapel and in church — not on television, not in the regular gatherings of people," the preacher added, underscoring the very idea of the event.
Award-winning composer and lyricist Vehnee Saturno rearranged the winning ASOP pieces since 2004. These songs that congregants of the MCGI has enjoyed over the years were rendered anew during the concert by some of the country's popular local artists.
The roster of familiar singers that night boasted 2006 World Championship of Performing Arts Champion Almira Cercado of the Cercado Sisters, 2006 Pinoy Pop Superstar Champion Gerald Santos, Pop Divas Bituin Escalante, Frenchie Dy, Jinky Vidal, and Roselle Nava, and 2005 World Championship of the Performing Arts grand prize winner Jed Madela.
"I do not know if people feel the same way as I feel, but I believe that many people now still have in their hearts a portion for God," said Bro. Eli.
ASOP airs Sundays, from 7 to 8:30 pm in the Philippines. Online viewers can watch the program by visiting www.untvweb.com for live webcast. For more information about ASOP contest rules and guidelines, visit their website at www.asoptv.com.
(Written by: Cecile Vizcaya)