MCGI ARTICLE
Heartwarming Stories Witnessed Through MCGI's The Legacy Continues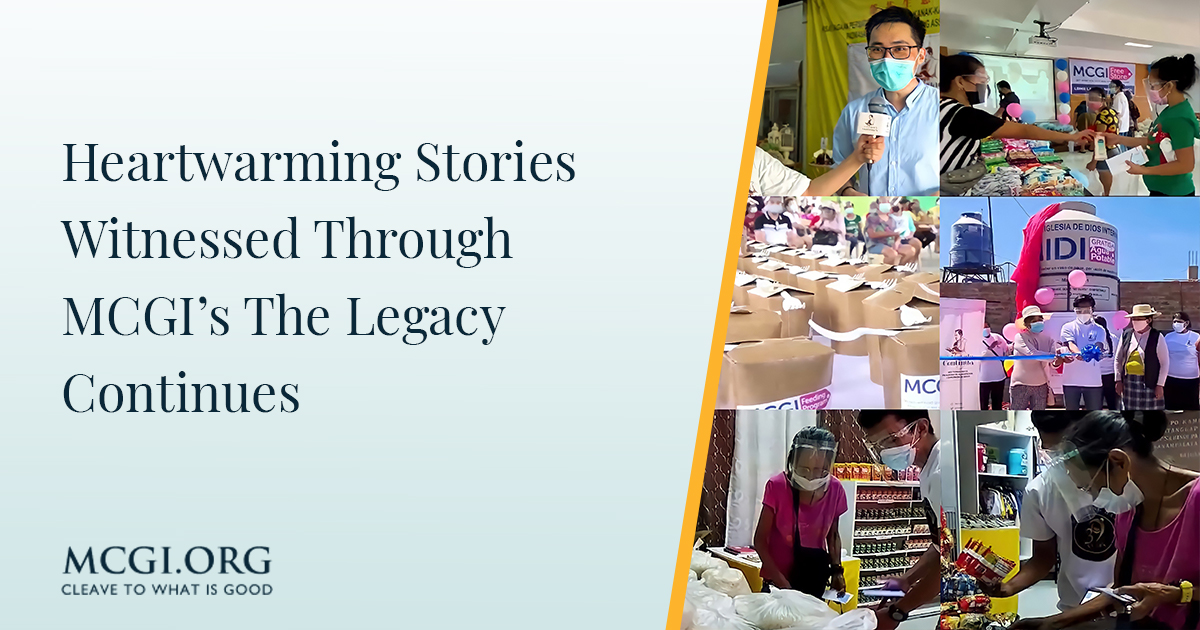 "Minsan kung titingnan mo, parang imposible na mayroong magbibigay ng libre kasi lahat nga tayo natamaan ng pandemya. Pero despite that, etong MCGI ay gumawa pa rin ng paraan para at least kahit papaano makatulong sa mga taong nangangailangan (Nowadays, it seems impossible to find people who would give things to their fellowmen for free, especially because all of us were hit by the pandemic. But despite the situation, MCGI still made a way to help people in need)," Jerry Lingaling, a recipient of "The Legacy Continues" event said. 
Mr. Lingaling is only one of those who were helped by the Members Church of God International (MCGI) during its week-long commemoration of Brother Eli Soriano's life and good deeds, as well as his service to the Almighty God. The program kicked off on April 4, coinciding with Brother Eli's 74th birthday, and continued until April 9.    
Within the five-day event, different heartwarming events were witnessed by MCGI volunteers all over the world.
The Legacy Continues beneficiaries coming from different religions and nationalities include people who lost their livelihood, those with illnesses, and persons deprived of liberty. Numerous children and the elderly also got their share of the Church's love.  
In a trending social media post, Heidee Balderamos shared the touching moment when MCGI Free Store beneficiary, Ederlinda Clariza, experienced grocery shopping for the first time. 
In another trending post by recipient Josiecarl Leblanc, she shared her story of leaving her house with only 20 pesos in her wallet but coming home with a bagful of groceries from MCGI free store. 
Similar moving stories were shared by beneficiaries of MCGI Global Feeding Program, another initiative under the The Legacy Continues event that was launched alongside the opening of the free stores.
One such account came from the frontliners of National Center for Mental Health (NCMH) in Mandaluyong City who received free food packs yet they chose to share them with their patients. 
Ester dela Cruz, Assistant Chief Dietician, NCMH, enthused the inexplicable feeling she felt to be of help especially to the less fortunate like their in-patients. She said she and her colleagues opted to give their food packs to their patients since they are receiving food allowance.  
Throughout the The Legacy Continues week-long event, MCGI served a total of 77,558 free store beneficiaries in 2,030 locations and distributed 634,063 food packs in 7,484 venues worldwide. 
More than food and groceries
MCGI had other things to share during the The Legacy Continues aside from free food and groceries. The Church also granted startup funds for microbusinesses and tablets for students.  All in all, the organization had 1,200 recipients of a startup capital for their small businesses and another 1,200 recipients of tablets for students' online classes.  
Another charity project launched was the installation of potable water systems for free in the Philippines and in other parts of the world. More than 4,000 families in nine locations in Rizal, Laguna and Camarines Sur now have access to clean water. Moreover, thousands of households in Pueblo Viejo, Colombia, Sta. Cruz, Bolivia, and other towns in Honduras and Peru can now quench their thirst and do their household chores with clean and safe water.
Thousands of beneficiaries all around the world shared their awe in the week-long event while thanking God and MCGI for initiating extensive charity projects that show God's love to everyone.
"I'm actually surprised that there is such an organization. It's such a better world if everyone is willing to cooperate together." Aaron Quay, a Malaysian Location/Event Planner, said during an interview.
At the culmination of the event, Brother Daniel Razon, MCGI servant, said that the organization will continue to give a helping hand to everyone in need even after the week-long event and even after the pandemic is over. 
"With God's help and mercy, Brother Eli's legacy of faith, hope, and most especially, love, will continue through the good works of the Members Church of God International," Brother Daniel promised. 
For more information regarding the charitable works of the Church, please visit www.mcgi.org/public-services.