MCGI ARTICLE
International Music Summit: 13th in 2013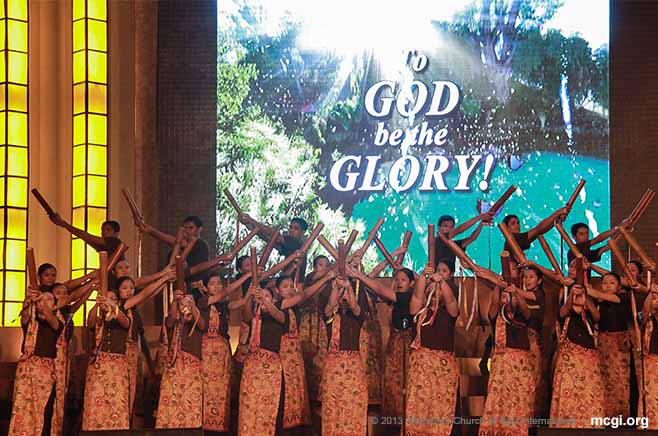 The Music Summit that Members Church of God International (MCGI) leaders, Bro. Eli Soriano and Bro. Daniel Razon started in August 2001 has reached its 13th year last May 26, 2013.
Hundreds of youth choirs congregated at the ADD Convention Center in Apalit, Pampanga and key locale chapters across the archipelago and abroad to participate in this once-a-year musical festival and learning experience.
Choral groups from Visayas and Mindanao joined via live video streaming and MCGI's satellite facilities. Participants outside the Philippines included countries from Brunei and South Korea in Asia; to Perth and Brisbane in Australia; to New York and Vancouver in North America; and London in the UK.
Through previously recorded videos from the Church leaders, the youth choirs also had the opportunity to listen to advice as to how can they perform their duties according to the will of God. "Singing is one of the few things that we can do for God… Do it with sincerity," remarked Bro. Eli through a recorded video message.
Bro. Daniel, on his part, gave his advice to the participants on performing their duties according to the will of God. He said a biblical checklist should be followed so that the ministry's endeavour of singing songs of praises will always be fruitful.
Bro. Razon used pnemonics to help remember the following virtues written in 2 Peter 1:5-8: faith, virtue, knowledge, temperance, patience, godliness, brotherly kindness, and charity.
First called as the "National Music Summit," the event's name changed to fit the growing number of youth choirs Church-wide, especially those abroad over the years.
The much-enjoyed group dynamics wherein the participants were divided into twelve groups served as the event's ice breaker. This portion was composed of cheering, speech choir, quartet and dancing presentations and a final production number of each group's interpretation of Kaibigan (Friend), a song penned by Bro. Daniel, the Vice-Presiding Minister to MCGI.
"I have learned a lot from the activities in the group dynamics. I have all the more realized the significance of unity and cooperation and the importance of looking for each member's welfare," said Bro. Roger Salvaleon, conductor of the Metro Manila Division Choir. "It is my twelfth IMS this year and so far, I can say that this is the best," he added.
Annual Themed Song Festival
This undertaking is also a venue where members of the Music Ministry from different divisions present their own compositions that revolve around a theme set by the organizers.
This year, the songs composed are about God-given duties. Bulacan Division's entry emerged as the Best Song while the Metro Manila  Division Choir grabbed the title of Best in Interpretation.
In the Foreign Ministry, the Middle East Division's entry was named the Best Song while the Best Video Presentation award went to the Division of Asia Oceania.
Special awards were also given to participating divisions: Central Division, the Most Disciplined; Bicol, Best Sopranos; North 2, Best Altos; Bataan Zambales, Best Tenors; Quezon-Marinduque, Best Basses; Cavite, Best in Harmony; Rizal, Best Choral Arrangement; Pampanga, 1st Runner-up in Song Interpretation; and Laguna-Batangas-Mindoro-Romblon, 1st Runner-up in Song Composition.
Also included in the program were the graduation rites of MCGI's Orchestra trainees, special numbers from the Bible Readers (BREAD) Choir, National Choir and Music Ministry Core, and lectures about technical know-how to help participants in improving their crafts.
Aside from this annual event, the Music Ministry leads members in congregational singing during every Church gathering, and conducts 24/7 singing duties.
They also organize and support the biannual songwriting festival dedicated to praise songs, the A Song of Praise Music Festival (ASOP). This Church-exclusive event became open to non-members through a program aired weekly on UNTV after the same name.
(Written by Emmy Borromeo) (Photography by Jerson Ona)