MCGI ARTICLE
Kindness without Borders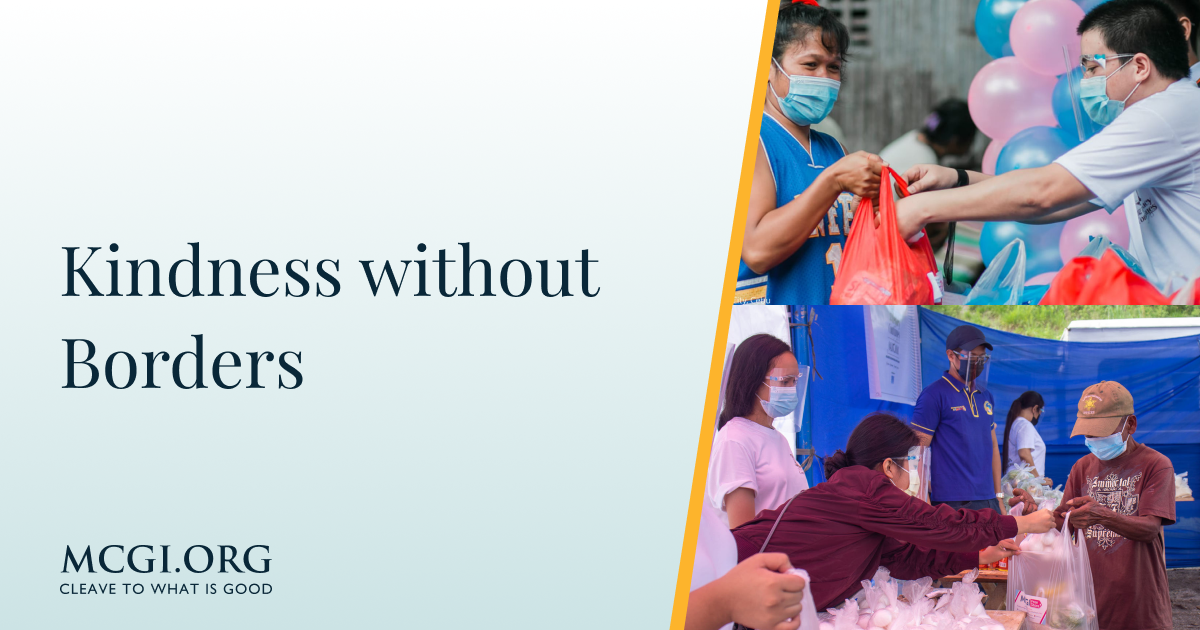 Good works bring no evil. This is one of the guiding principles of the Members of the Church of God International (MCGI) in all of its charitable efforts. The faith instilled in the hearts and minds of the brethren continuously motivates them to help people indiscriminately, that is regardless of age, race, social status, gender, or proximity.
A mother's sacrifice
At 74, Julia Tribulano still works as a Barangay Environment Officer. She makes rounds in her community to ensure that it is clean. She should have retired had it not been for her two daughters who are both differently-abled and are dependent on her.
Aside from her community work, Julia earns extra income by sewing and selling rags to support her daughters and her son who is in prison.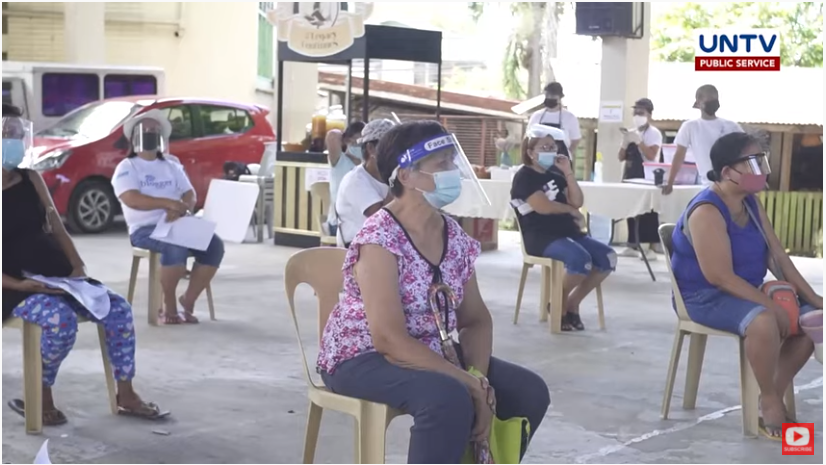 "At my age, if I do not work, we would not have anything to eat," says Julia.
 Julia was one of the 150 beneficiaries of the MCGI Free Store that served Barangay Pardo, one of Cebu City's indigent communities. She queued early during the opening of the store. The beneficiaries also received a free meal from the MCGI Feeding Program.
"I am very grateful to God for the wonderful blessing that He provided us today," she expressed.
Mercy behind bars
Breathing inside a crowded jail is difficult especially for a person who suffers from respiratory ailment. This is the case for Tina (not her true name) who has asthma for 32 years now, and is currently detained in Bulacan District Jail. Whenever she has asthma attacks, all that she does is sit down, drink water, and massage her chest until she is able to breathe comfortably. She cannot afford to buy herself a nebulizer to ease her breathing.
Her husband cannot buy one for her either, because he is in jail, too.
Thanks to the Bureau of Jail Management and Penology (BJMP) and MCGI, Tina has received her much needed nebulizer. "My suffering is relieved through the nebulizer. I am very happy because I never thought this day would come. I'm even more grateful because people I do not know remembered me."
Due to the congestion in Bulacan District Jail, many detainees are already suffering from various ailments. One of them is a senior citizen who developed heart problems after his oxygen regulator broke down. Whenever he experiences difficulty in breathing, his only recourse is to go to a corner of his cell and pray. 
Detainees have to endure different health issues. Around 36 of them have skin problems, and they have to sleep in shifts of four hours each as there's not enough space for them to lie down altogether at the same time. The lack of funds limits the jail management to attend to the medical concerns of the detainees.
To alleviate the sufferings of the ailing inmates, MCGI provided the district jail with medical supplies and an oxygen regulator. The detainees also received a hearty meal courtesy of the MCGI Feeding Program.
Aspirations in uncertain times
Florentina Cuanico has been running a small fruit stand in a little corner of Barangay Guinhalaran in Negros Island. She earns Php 800 ($16) a day, and though it isn't much, it helps her and her family to get through each day.
She started her small business after saving enough money from working as a laundry woman in Manila. But when the pandemic came, like most small business ventures, Florentina's main source of income was also badly hit. At 64, she takes the risk of getting exposed to Covid-19 just to earn a living.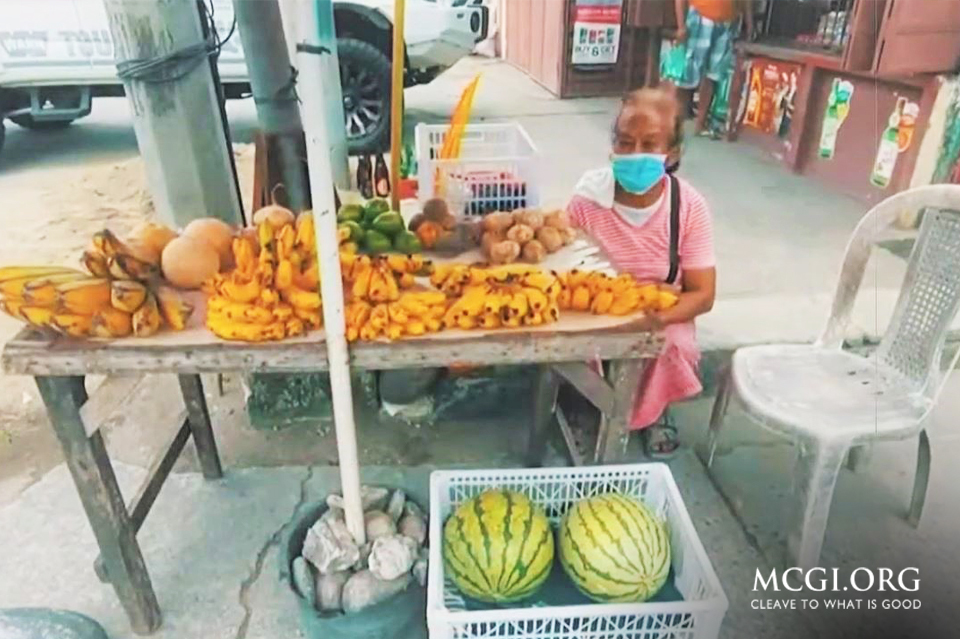 Despite her hard work, her small fruit stand is now on the brink of bankruptcy. To respond to her predicament, MCGI extended help to Florentina to revive her small business.
"We are here, with God's help and mercy, for whatever help we can give you for you to continue your small business," Brother Daniel Razon told Florentina through an online conference.
Amazed with Florentina's eagerness to continue working despite her age, Brother Daniel added, "At 64, Florentina is still determined to sustain herself through hard work. Younger people can do the same; they are more capable of working and earning for a living as they have the strength."
Local tribe gets breakfast treat
MCGI held a feeding program to a native Ati-atihan community in Bansud, Oriental Mindoro.
The local tribe's source of income is farming. Leopoldo Dela Cruz, one of those who benefited from the MCGI feeding program said that, at times, he had nothing to eat. "I kept on hoeing [the field] so I could plant sweet potatoes, cassava, and bananas. I go hungry, I experience headaches, and I suffer from pelvic pain," Leopoldo shared. The hot spring rolls and rice porridge he received were a timely comfort for his tired body from the early morning hustle.
Rodolfo Dela Cruz, pastor of Faith Christian Church located within the community, stressed how this gesture of MCGI meant for the people of his tribe. "This is a great help to us especially in this pandemic. Others have nothing to eat, not even a cup of coffee to sip. This is a great help to us, and of course, you are blessings to us."
According to Barangay Bansud officials, MCGI's charity outreach program augments their residents' needs for daily subsistence as their local government has no more available funds to sustain communities affected by the ongoing health crisis.
MCGI continues to reach far-flung areas throughout the Philippines not easily accessed by public transport, to deliver grocery staples and serve meals, especially the indigent and ethnic communities.
Sin agua, no hay vida (Without water, there is no life)
The Municipality of Talanga in Morazan, Honduras is one of the hottest places in the country. It is home to 19,000 residents who struggle with water scarcity every day.
Residents collect and store water during the rainy season, but when there is no rain and the weather is extremely hot, they buy water for their daily use. In worse situations, the residents would rather save their water supply for drinking instead of using it for other purposes, such as maintaining proper hygiene.
"En esta época de pandemia hemos sufrido mucho. A veces no tenemos dinero para comprar agua. Muchas veces, es difícil para nosotros [obtener agua]," says Roberto Cruz, one of the residents in Talanga. (In this time of the pandemic, we have suffered a lot. Sometimes we do not have money to buy water. Many times, it is difficult for us [to get water].)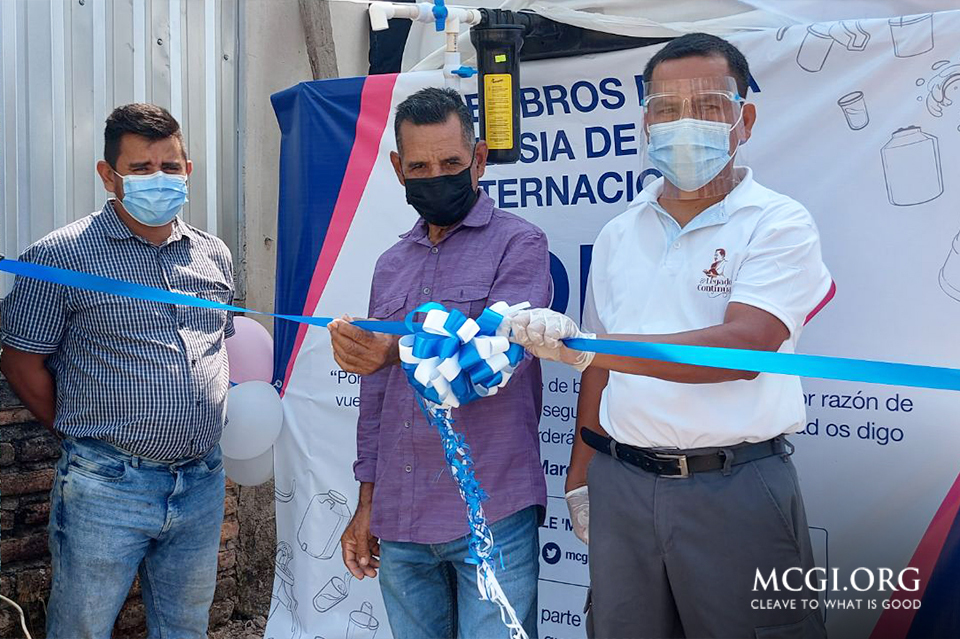 To help the Hondurans with their struggle for water, MCGI built an artesian well for the town. Now, residents can have free and clean water, even during the dry season.
"Hoy marca el antes y el después donde mucha gente de este barrio se va a beneficiar de esta agua potable que es lo más importante. Si no tenemos agua, no tenemos vida," (Today marks the before-and-after for many people in this neighborhood who are going to benefit from this drinking water which is the most important thing. If we don't have water, we will not survive) says German Ortiz, one of the residents who was present during the inauguration of the artesian well.
For more inspiring content about MCGI's charities, you may visit these sites: