MCGI ARTICLE
MCGI and UNTV Hold Medical Outreach Program for More than 900 Residents in Lipa City, Batangas
More than 900 residents of Brgy. San Jose in Lipa City benefited from the medical mission conducted by the Members Church of God International (MCGI), UNTV. and their partners in public service.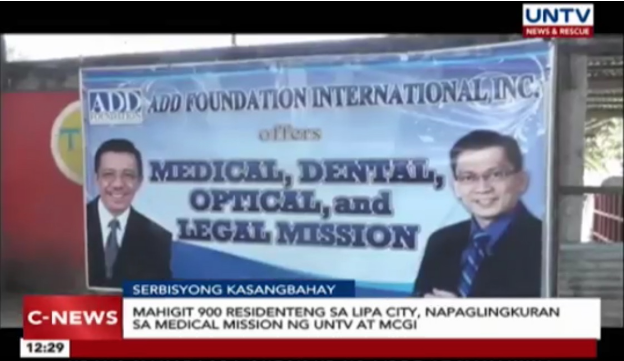 One of the beneficiaries of the outreach program was Shiela Maralit, whose child has been suffering from asthma for 11 years.
Saying that the Php300 earnings her husband earns from selling pillows combined with her part-time sewing job is never enough. Maralit said she and her husband worry daily on how they will be able to support and buy their child's medicines and other needs.
"When I had him checked up, it costs more than Php1,000 because of the medicine prescription that he will take for one month," explained Maralit in an interview.
So when she learned about the medical mission to be conducted by UNTV and MCGI in their barangay in San Jose, Maralit did not hesitate to bring right away her child to the outreach to get examined and receive free medicines.
The medical mission also includes services such as medical consultation, free tooth extraction, free haircut and many more.
According to the barangay captain Melody Endozo, the medical mission conducted in their barangay was a great deal because it helped a lot of of her barangay's residents.
"To Kuya Daniel and Brother Eli, thank you brothers and to all the doctors who are here, to the dentists and lawyers, and to all the staff of MCGI," said barangay captain Endozo.
Barangay San Jose is one of the least populated towns in the province of Batangas, where the common livelihood of the residents here is sewing.
Written by: Maikka Dungog