MCGI ARTICLE
"May Awa Ang Dios" is Song of the Year in ASOP TV Grand Finals 3
A powerful ballad about trusting God's mercy during trying times, May Awa ang Dios (God's Mercy) bested 11 other finalists to claim the Song of the Year title in the A Song of Praise Music Festival Year 3 Grand Finals on September 23 this year.
Louise Lyle Robles, an amateur composer, took home the P500,000 prize, tax free during the culmination of the year-long songwriting competition on UNTV.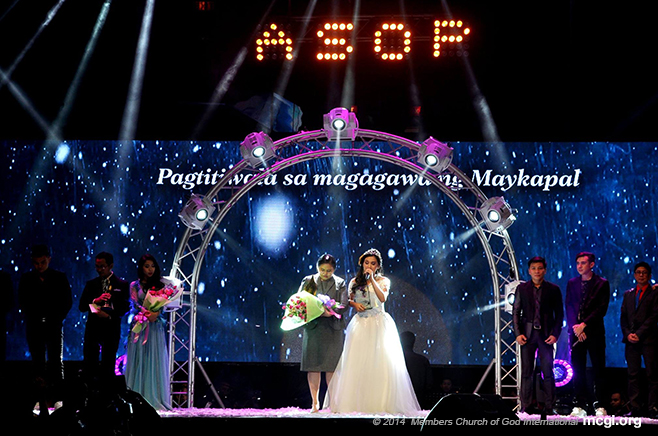 "Firstly, I thank God because He willed for me to have a part in the good advocacy of this program, ASOP TV," said Robles in an interview during a press conference before the finals night at the Smart-Araneta Coliseum.
World Championship of the Performing Arts (WCOPA) Champion Beverly Caimen interpreted the winning song. Caimen was chosen as the night's Best Interpreter, and received a 50,000-peso prize.
Other Winners
First-runner up was Sa Bawa't Araw (In Every Day) by Marlon Nabia. The song tells about appreciating everyday's blessings and was performed by Shanne Velasco.
Joining his brother among the winner's ranks was Meldin Nabia, who bagged the third-runner up position with his world music piece titled Biyaya (Grace) sung by Bayang Barrios.
Arniel Villagonza's Tanging Gabay (Special Guide), on the the other hand, took second place. A piece about reformation through God's guidance, Tanging Gabay was interpreted by popular singer-actress Rachel Alejandro.
Hangga't May Tinig Ako (As Long As I Have My Voice) written by Jinnie Adilan of Cavite was hailed as the People's Choice which was decided through text voting. Voices of 5 member Darryl Ong lent his voice for the R & B song of praise.
One-of-a-Kind
APO Hiking member and singer-songwriter Danny Javier, who sat as Chairman of the Board of Judges, had only praises for ASOP TV. "I feel truly very happy this night, that there is a program like this that gives an avenue for the natural ability of the Filipino to create songs, much more with the theme of praising the Lord."
Master Impersonator Willie Nepomuceno also expressed his appreciation of the show. "From beginning to end, I didn't regret a single second being here; it was an unforgettable experience."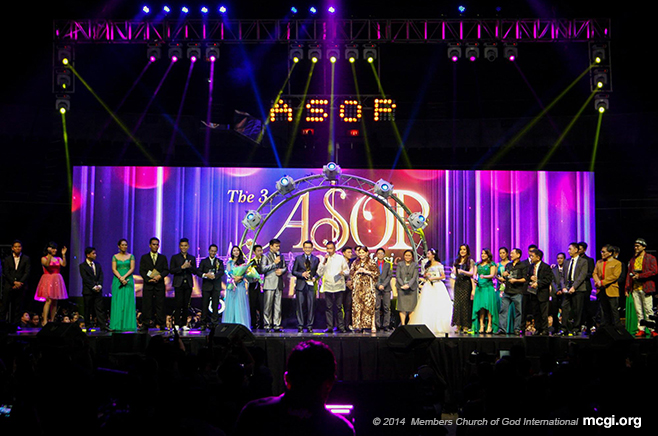 Among the judges for the night were musical director and arranger, Danny Tan (Iisa Pa Lamang, composer), and singer Wency Cornejo (Next In Line, Hanggang), who said that they were honored to be a part of the event.
Dr. Mon Del Rosario, resident judge of ASOP TV, said that judging the songs was very difficult as all are equally potent for the win, and the night could be anyone's ballgame.
On her ASOP TV experience, Robles said that it is one of the best she has had. "Apart from meeting celebrities, the most important part is that I'm able to let my song entry be heard by countless people," she added.
ASOP TV was conceptualized by Bro. Eliseo Soriano and Bro. Daniel Razon.
ASOP started as an event of the Members Church of God International (MCGI) in 2004, and was launched as a TV program in September, 2011. The contest is open to all amateur and professional songwriters in the Philippines and abroad.
A Broad Mix
This year's entries were not only written by amateur and professional composers, but also by popular Filipino artists.
Tulak ng Bibig, Kabig ng Dibdib singer Lilet Esteban wrote You Are Lord of All, which was interpreted by Freestyle's Ava Olivia Santos. Actor-director Cesar Montano composed Pagpupuring Walang Hanggan (Eternal Praise), sung by Orange and Lemons' Mcoy Fundales.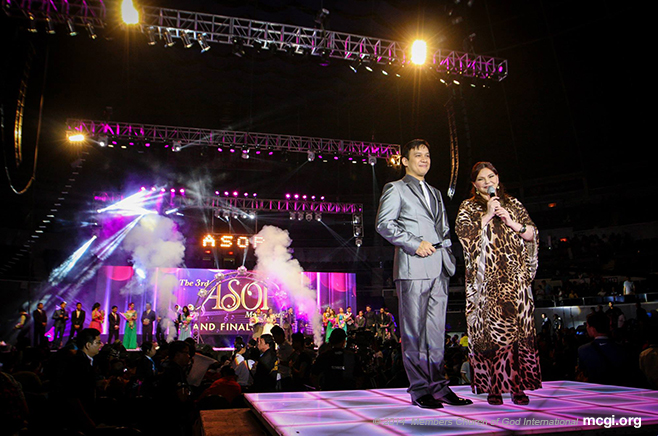 Other grand finalists were Ralph Lauren Refil's Ikaw Ang Tangi Kong Minamahal (You're the Only One I Love), interpreted by Papaya singer Gale Blanco; Oliver Narag's Kislap (Shimmer), interpreted by ASOP Year 1 grand finalist Jessa Mae Gabon; Hesus, Aking Musika composer Ricardo Sanchez's God Will Win Our Fight, interpreted by former IAxe Band vocal Jek Manuel and Sta. Maria Band lead vocal Jayson Fernandez; Jesse Bayodoc's Panginoon Kay Buti Mo (Lord, How Good You Are), interpreted by Voices of 5 member Walton Zerrudo; Empol Balbin's Awit ng Puso Ko (My Heart's Song), interpreted by Bo Cerrudo, who was included in the Manila run of Miss Saigon and other plays as well.
For non-winning participants, ASOP awarded each with a P20,000 consolation prize.
(Written by Rigor Arellano)