MCGI ARTICLE
MCGI's Special Thanksgiving for 2nd Quarter of 2018 Highlights Good Works, Accurate Bible Translations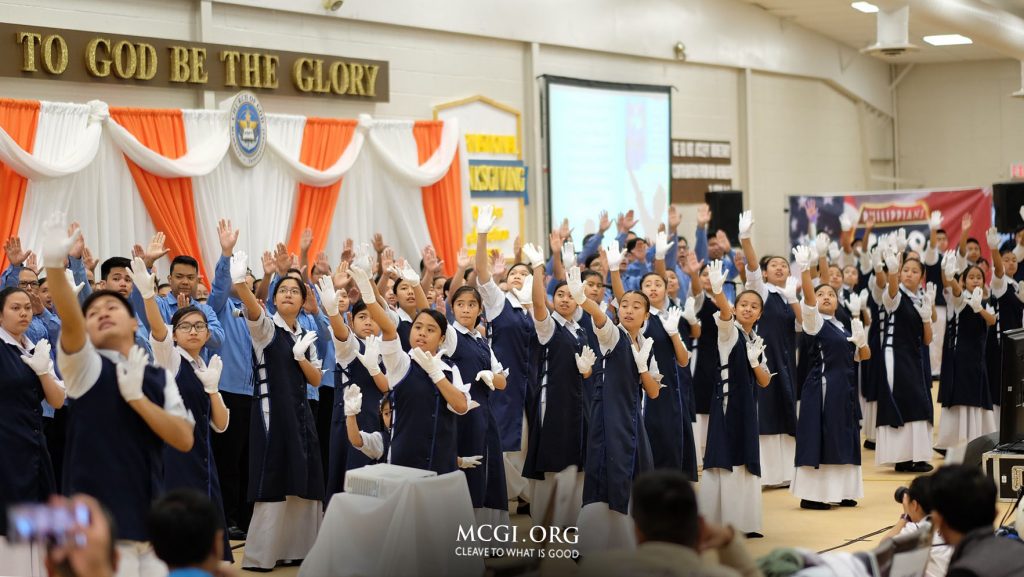 "Our good works accomplished on a day-to-day basis are considered a form of worship and service to God. Every good work we do is recorded." Colossians 3:24 to 25 was read as the biblical reference of the message.
This was the message that resonated as Bro. Eli Soriano, Overall Servant to Members Church of God International (MCGI), wrapped up the Special Thanksgiving of God's People for the 2nd quarter of 2018.
For this quarter, once again, the congregants' gratitude to the Almighty God and the Lord Jesus Christ concluded with never-before heard wisdom, and delightful thanksgiving presentations from all over the world.
A Special Thanksgiving of God's People, held for three days, is called in the vernacular as Special Pasalamat ng Buong Bayan ng Dios.
Glorious Three-Day Convention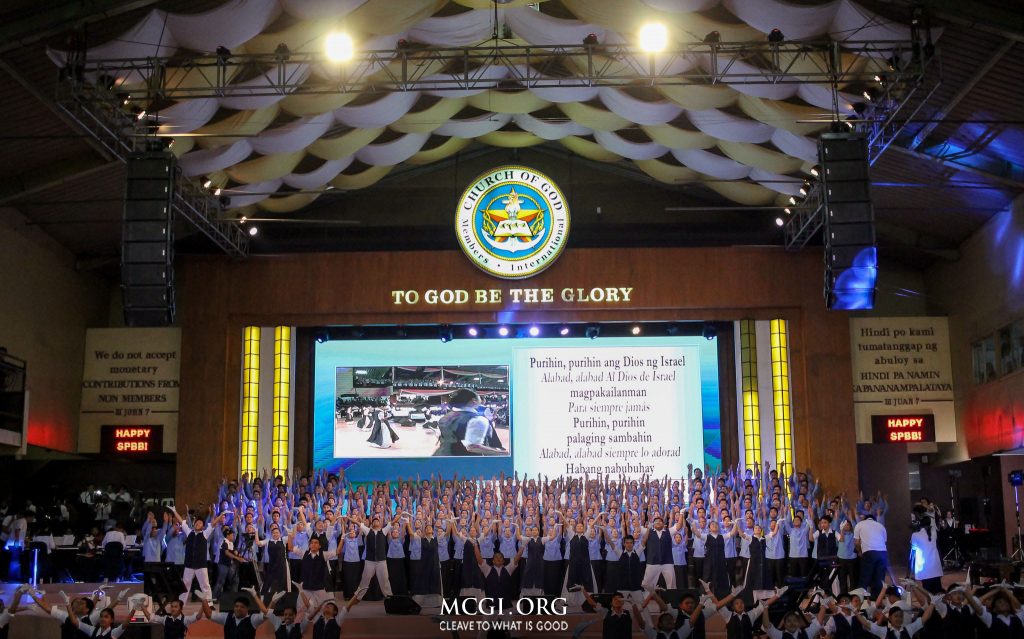 Filled with singing, dancing, and encouraging messages, the mirthful affair once again created memorable moments for each and every member of MCGI, as in every Special Thanksgiving celebration.
Tens of thousands of brethren from different regions of Luzon, Visayas and Mindanao in the Philippines convened for three consecutive days at the ADD Convention Center in Apalit, Pampanga and in all MCGI coordinating centers nationwide.
Across the world, brethren from Asia-Oceania, Africa, the Middle East, Europe, North America, South America, and Latin America, were unfazed by distances and differences in time zones just to attend the event..
Through faith, physical and spiritual obstacles were overcome just to be able to partake in the glorious event. Traveling stretches of miles and hours, hauling luggages, sometimes with kids and elderlies in tow, were not enough to hinder the spirit of a member longing to partake in the much-awaited celebration. This was evident in live video streams showing packed and crowded thanksgiving sites in various locations.
As the gathering commences, festive song and dance presentations that express how grateful brethren are, were showcased. This was led by the Music Ministry composed of the MCGI chorale and orchestra, and the Teatro Kristiano. These groups, for many years now, have been serving MCGI brethren with their musical and theatrical talents.
Sister Grace Checa of the Music Ministry, a sister in faith since 1998 and a Music Ministry core member for 17 years, shared with MCGI.org why she always makes it a point to sing on stage with the rest of the chorale members every thanksgiving celebration.
"His love and kindness toward us is immeasurable. What my small existence can offer is to honor and praise Him," said Sister Grace. "To partake in the task of leading brethren in singing songs of praises to God with the Music Ministry is a joy of my heart, that I can express my gratefulness and pay my indebtedness to the Lord Almighty."
Indeed it is a joy for brethren to use their talents and skills to offer as sacrifices of thanks to God.
One group that also made sure to put to good use their vocal talents is the National Capital Region (NCR) chorale who presented their winning Gospel Show entry "Layag, Kabataan" (Sail, Youth) to MCGI with powerful vocals, impressive choreography and colorful costumes.
Group presentations were also one of the highlights of the event. Special videos and documentaries from the Children's Ministry, the Youth Ministry, Prison Ministry, Worker's Ministry, Luzon, Visayas and Mindanao regions, Foreign Ministry, Mission Thessalonica, South America and Latin America were shown, recapping activities and events, highlighting charitable projects, evangelical missions and other programs that aim to strengthen members' faith and spirituality, as written in Philippians 4:8.
A special song presentation of Bro. Eli's household delighted members as they performed lively song adaptations to convey their heartfelt thanksgiving to God, with a cute video of their group of Kawan ng Cordero (KNC).
Digging Accurate Truths Through Hebrew Translations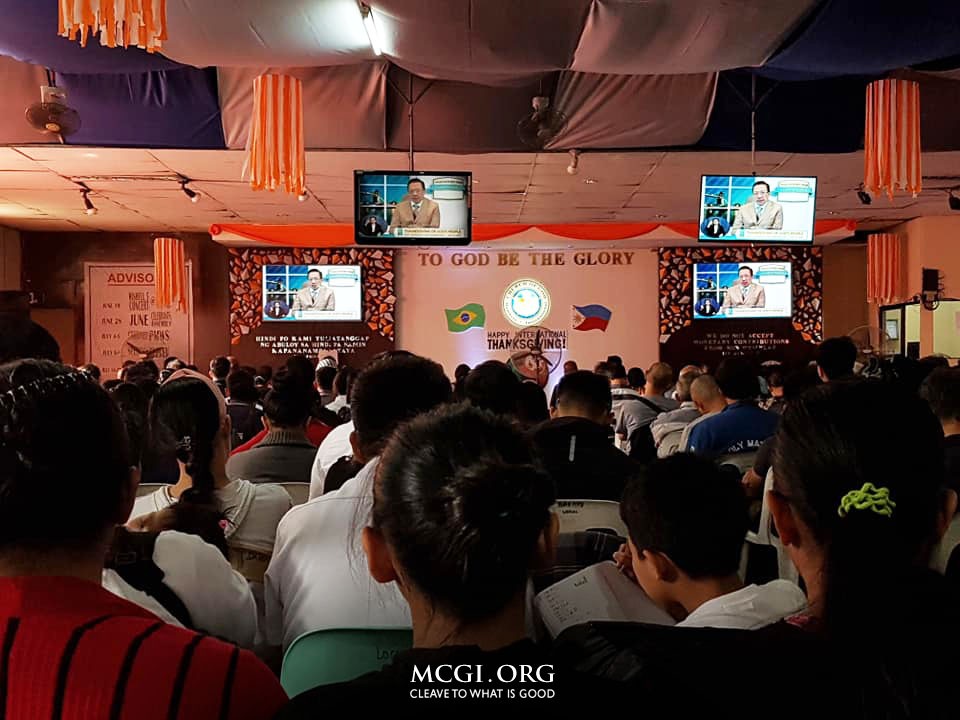 Bro. Eli and Bro. Daniel, both solid advocates of truths in the Bible, put more effort than anyone else in the religious world to study the Holy Scriptures. This quarter, new wisdom were shared to MCGI through the thorough study of God's words with the help of Hebrew translations.
According to Bro. Eli, not all translations of the words in the Holy Scriptures are correct. Therefore, "As Christians, we must know how to distinguish what's right and wrong," Bro. Eli shared.
He adds that truth-seekers must be diligent in studying God's words knowing that there is what the Bible calls "spirit of error" as written in I John 4:6 (KJV), "We are of God: he that knoweth God heareth us; he that is not of God heareth not us. Hereby know we the spirit of truth, and the spirit of error."
Bro. Eli and Bro. Daniel discussed more accurate and apt translations, not only based on context but also by referencing other verses in the Bible. They made comparisons and analysis to make sure the topic they delivered were clearly understood by brethren.
Intriguing, new truths were revealed as delivered by Bro. Eli and Bro. Daniel according to God's will, including Job's words in Job 2:10, the mystery of the Great Babylon that many religions claim to be the Catholic church, and about the book of remembrance and the book of life where God records benevolent acts and a Christian's obedience.
For this heavenly gift, MCGI once again offers another Special Thanksgiving to God a week after the three-day celebration (July 15).
Inspiring Thanksgiving Reasons
MCGI brethren offered the sacrifice of thanksgiving for plenty of reasons. From simple wishes granted, adequate daily provisions, God's safekeeping and protection, to recovery from illnesses, opportunities to show benevolence to others, incredible wisdom learned in the Holy Scriptures, God's forgiveness are just a few of the many reasons to thank the Highest.
These brethren graciously shared their reasons for thanksgiving featured on official social media pages of MCGI.org.
Spreading Good Cheer on the Internet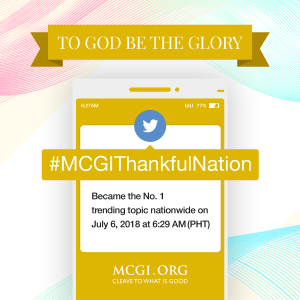 For three consecutive days, official social media accounts of MCGI featured hundreds of thankful tweets from members, in and outside of the Philippines. Through members' continuous and untiring support to filling the internet world with positive vibes, the official daily trending hashtags from Days 1 to 3 landed the number one spot between 6:29 AM to 6:39 AM PHT in the Philippines.
Trending tweets including unique reasons for thanksgiving, favorite SPBB memories and songs, plus photos of joyful brethren from around the world circulated on Twitter and Facebook from July 6 to 8.
Putting social media to good use for the benefit of many is one of Bro. Eli and Bro. Daniel's reminders, thus producing "thankful" tweets that are both inspiring and heartwarming from brethren.
For the deep wisdom learned and for understanding how God records good works, MCGI dedicate another one-day Special Thanksgiving of God's People celebration on July 15, 2018.
Written by: Apple Arco