MCGI ARTICLE
MCGI Brings Anew The Old Path TV Program in Ghana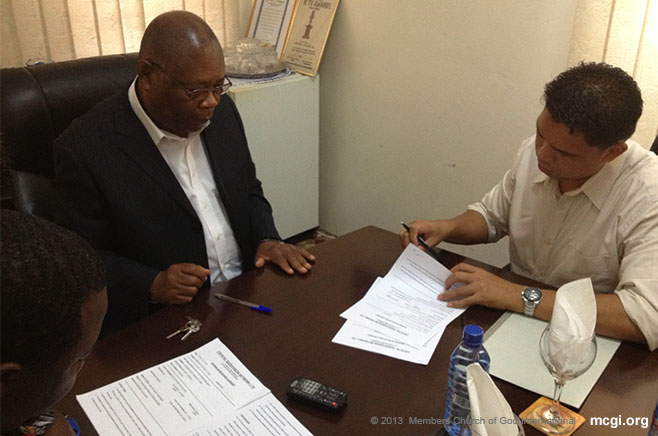 The Members Church of God International (MCGI) entered a contract with Crystal TV network to carry The Old Path television program in Ghana, Africa, intensifying the group's evangelization efforts worldwide.
Presiding Minister to MCGI, Bro. Eliseo Soriano spearheaded the signing of agreement that officially brings the phenomenal religious program via free-to-air television to the people of Ghana beginning July 1 this year.
Crystal TV is one of the channels with the widest coverage in the whole of Ghana. The Old Path's 30-minute program will be carried by Crystal TV Plus channel 47. The multi-awarded religious program will be aired daily, from Mondays through Saturdays, at 6 a.m. On Sundays, the show airs at 9:30 p.m.
Crystal TV Plus is one of the three channels owned by Crystal TV, which focuses on recreational and religious programming. The other two channels, Crystal TV Extra and Crystal TV Prime carries program focused on news and current events, sports and entertainment, respectively.
Religious programming in Ghana must adhere to the state's strict code of conduct for all broadcast materials being aired on radio and television. Incidentally upon reviewing The Old Path and the international evangelist's manner and style of hosting, the show and Bro. Eli were approved as suited for programming by Crystal TV.
Even the station's owner vouches for Bro. Eli and The Old Path, related Bro. Fred Cabanilla, who is the Tagapangasiwang Pampook in Africa. "They previewed the program and the owner [Crystal TV] said that Bro. Eli is not inciting when preaching, [rather,] he sees knowledge [in him]."
In Africa, Ghana has been identified as the most peaceful country. With a population of 24- million, the country's people are almost 100% enthusiastic about religion.
Bro. Cabanilla has seen the tremendous growth in membership since his designation to the African regions. He has high hopes for the propagation of God's words not just in Ghana, but also in the entire continent.
"I believe that with MCGI's united efforts to support evangelization, the whole continent of Africa will be reached and not only Ghana," he further stressed.
Currently, MCGI has one administrative building in Ghana and eight coordinating centers, with eleven workers overseeing African and Filipino brethren
(Words by Apple Arco)