MCGI ARTICLE
MCGI to Celebrate 3-Day International Thanksgiving to God for the 3rd Quarter on Sept. 26-28
Thousands are expected to attend the International Thanksgiving to God of the Members Church of God International (MCGI) for the third quarter. For three days, beginning this coming Friday until Sunday (September 26-28), the congregation will celebrate three months of blessings and productive works.
The ADD Convention Center, the MCGI headquarters located in Apalit, Pampanga will be the main event venue, drawing thousands of members from the National Capital Region and nearby provinces in Northern and Southern Luzon.
However, MCGI Coordinating Centers nationwide and abroad will be opened to accommodate members and visitors from other parts of the Philippines and abroad. Satellite and Internet facilities allow the seamless and uninterrupted live participation of multiple venues of a worldwide scale for three straight days.
A Quarter of Massive Charity Works
Charity works are part of the Church's efforts to help the needy. The organization maintains partnerships with government and non-government organizations whose mission is help provide social welfare and development.
In addition, UNTV, the Public Service Channel of the Philippines, is MCGI's key partner in this endeavor.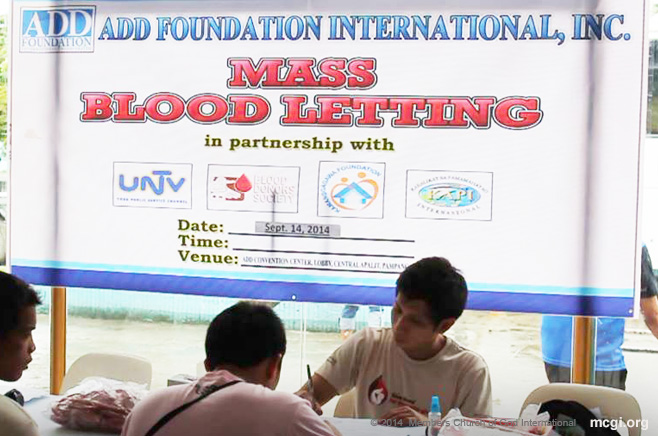 Bro. Eli and Bro Daniel Razon spearhead and support various reachout missions and public services in the Philippines through MCGI for the past quarter. Bro. Soriano is Presiding Minister while Bro. Razon is Vice-Presiding Minister, respectively.
More recently, MCGI partnered with the Philippine Blood Center for its quarterly blood drive nationwide. Last September 14, the event was able to collect blood bags from around 1,500 donors in chosen parts of the Philippines alone.
The United Arab Emirates, Singapore, and the USA, to name a few, also participated in the Church's concerted blood drive effort.
The Church's medical missions, which aim to reach out to those living in provinces and areas far away from medical institutions, have managed to bring free health services to Filipinos as far as Leyte, Visayas in the past three months.
In UNTV's "People's Day" medical reachout project, MCGI is an active participant, helping provide medicines and volunteer medical health practitioners. This year, a total of 1,786 became recipients of the public service event.
To help the typhoon-affected people of Tacloban following the onslaught of Super Typhoon Yolanda there, MCGI provided a deep-well water supply to residents across the Visayas area. This ongoing project is being completed together with UNTV.
Broadcast Efforts Grow Even Bigger
For the last quarter, the Church of God has successfully held a series of Bible Expositiona. This live question-and-answer session with Bro. Eli is held in major coordinating centers. While there are also set-ups in local towns to accommodate people who want to ask the preacher live, MCGI has deploys its Mobile Coordinating Centers in some provinces.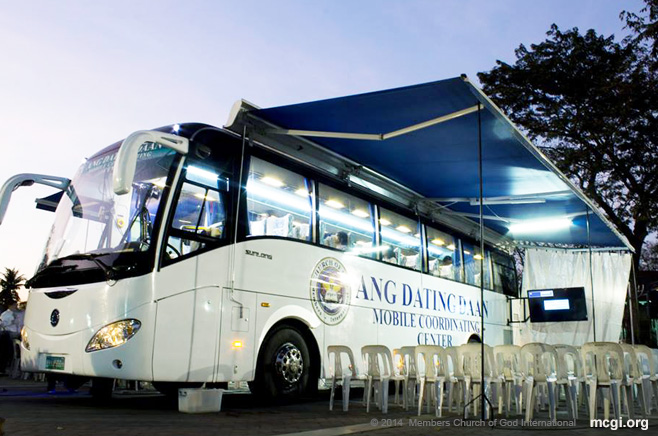 Aside from travelling to distant areas, MCGI also holds Bible Expositions in numerous provincial jails, giving those in prisons a chance to study God's words.
With MCGI's non-stop propagation efforts, thousands of individuals have been baptized in the Church during the past three months alone. In last September 19's Mass Baptism, there were more than a thousand newly-baptized members, apart from other months' Mass Baptism results.
Glory to God Alone for Achievements, Milestones
On September 22, Bro. Eli was the incontestable winner of a live debate in Brazil after beating Rubens Sodré, a Brazilian pastor. The September-21 debate started at 1 PM, Brazil time, which was 12 MN in the Philippines of September 22, 2014.
While the language used was Portuguese, the Filipino was able to disprove the arguments presented by Sodré, namely: 1) No earthly sanctuary; 2) No more divine worship; and, 3) No more priestly figure.
The live debate, which was aired over the O Caminho Antigo Youtube channel, lasted for more than four hours.
Aside from humanitarian and religious efforts conducted by MCGI brethren, the Church achieved several milestones and garnered achievements.
On August 16, MCGI's Infant Care Center reached its second year in service, while UNTV's News and Rescue Team, whose bulk of volunteers are Church members, celebrated their fourth year.
The MCGI Infant Care Center is the brainchild of Bro. Eli and Kuya Daniel that serves as a haven for abandoned and neglected infants. Meanwhile, the UNTV News and Rescue Team serves as a news-gathering group and rescue unit that aims to help first before reporting.
The organization also received the Top Donor award from the Philippine Red Cross recently for actively participating with and continuously supporting the PRC in their blood drive efforts. Awarded in the cities of Nueva Ecija, MCGI, more commonly known as the "Ang Dating Daan" group, was cited to be "a group that always wants to be of help."
(Written by Yanna Faye Ferrera)