MCGI ARTICLE
Recipients from USA and Canada Thankful to God for MCGI Feeding Program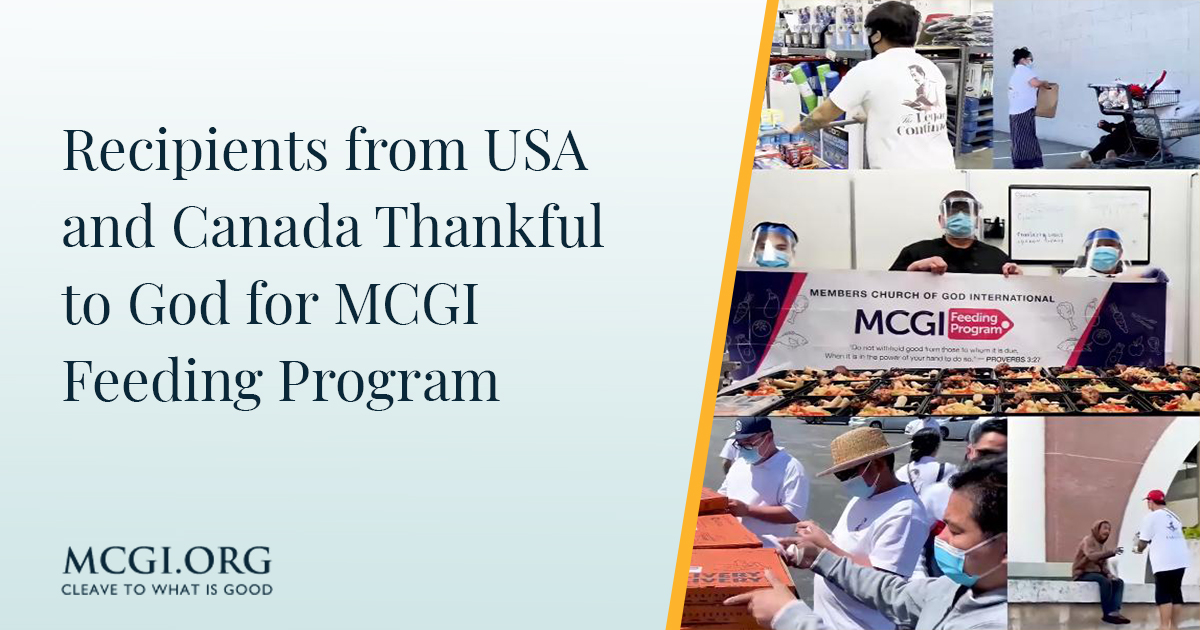 As the Members Church of God International (MCGI) goes global in its week-long "The Legacy Continues" charitable events, an expression of heartfelt gratitude poured in from our fellowmen in the United States of America and Canada. 
On the fifth day of the MCGI Feeding Program, more than 8,000 food packs were distributed in over 200 locations. 
"Thank you so much for what you have been doing. I really appreciate it. I know you do it for the Lord. It reminds me to help the unfortunate also," Rose Langi, owner of Bethany AFH, Inc. in Seattle shared.  
Meanwhile John Gaudet, a beneficiary in Grande Prairie, Canada, expressed his gratitude for the free food given to the frontliners who have been tirelessly working since the onset of this pandemic.
"I think it's a great program. It's amazing, what the Church is doing to help out the frontliners with free food, it's amazing. It's basically God-sent. For what the Church is doing, I cannot say enough [but] thank you," he said.
Recipients and partner organizations of MCGI believe that the public services of the group are acts coming from God. Likewise, the endeavor to help those who are in need during this pandemic earned the admiration of many people around the globe.
"I think that the work every volunteer does is important, especially in the Covid pandemic time, or at any time for that matter, to give back to the community as much as anybody can and for people to receive all the good blessings that you have done today," shared Jeremy and Al Williams, beneficiaries from Winnipeg, Canada. 
With God's help and mercy, MCGI will pursue the advocacy started by Brother Eliseo Soriano to help everyone while there is still opportunity.
For more information regarding the MCGI Feeding Program and other charitable works of the Church, please visit www.mcgi.org/public-services.