MCGI ARTICLE
MCGI Free Store Now Officially Open with More than 670 Branches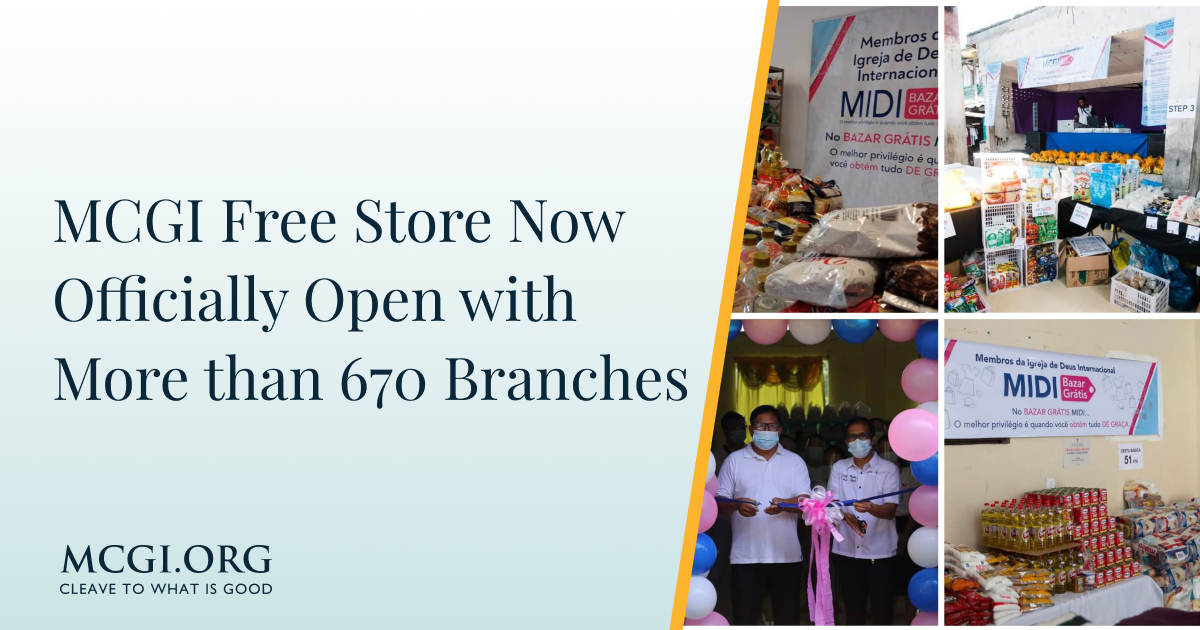 In the spirit of public service and charity, the Members Church of God International (MCGI) held on March 14 the global launch of its MCGI Free Store project, opening more than 670 branches from different parts of the globe. 
Guided by the words in the Holy Scriptures, Bro. Eli Soriano and Bro. Daniel Razon conceptualized the MCGI Free Store, which was originally exclusive for the members of the Church. 
Unlike in ordinary relief operations marked by the distribution of pre-packed goods, and the contents of each pack had been predetermined by donating organization, the MCGI Free Store gives the beneficiaries the liberty to choose the items or products they need. Coupons with designated number of points are used to purchase items. The items found in MCGI Free Stores, such as used clothes, foot wears, kitchenware, appliances, produce, grocery items, rice, and other basic needs, are purely donations of brethren in the Church.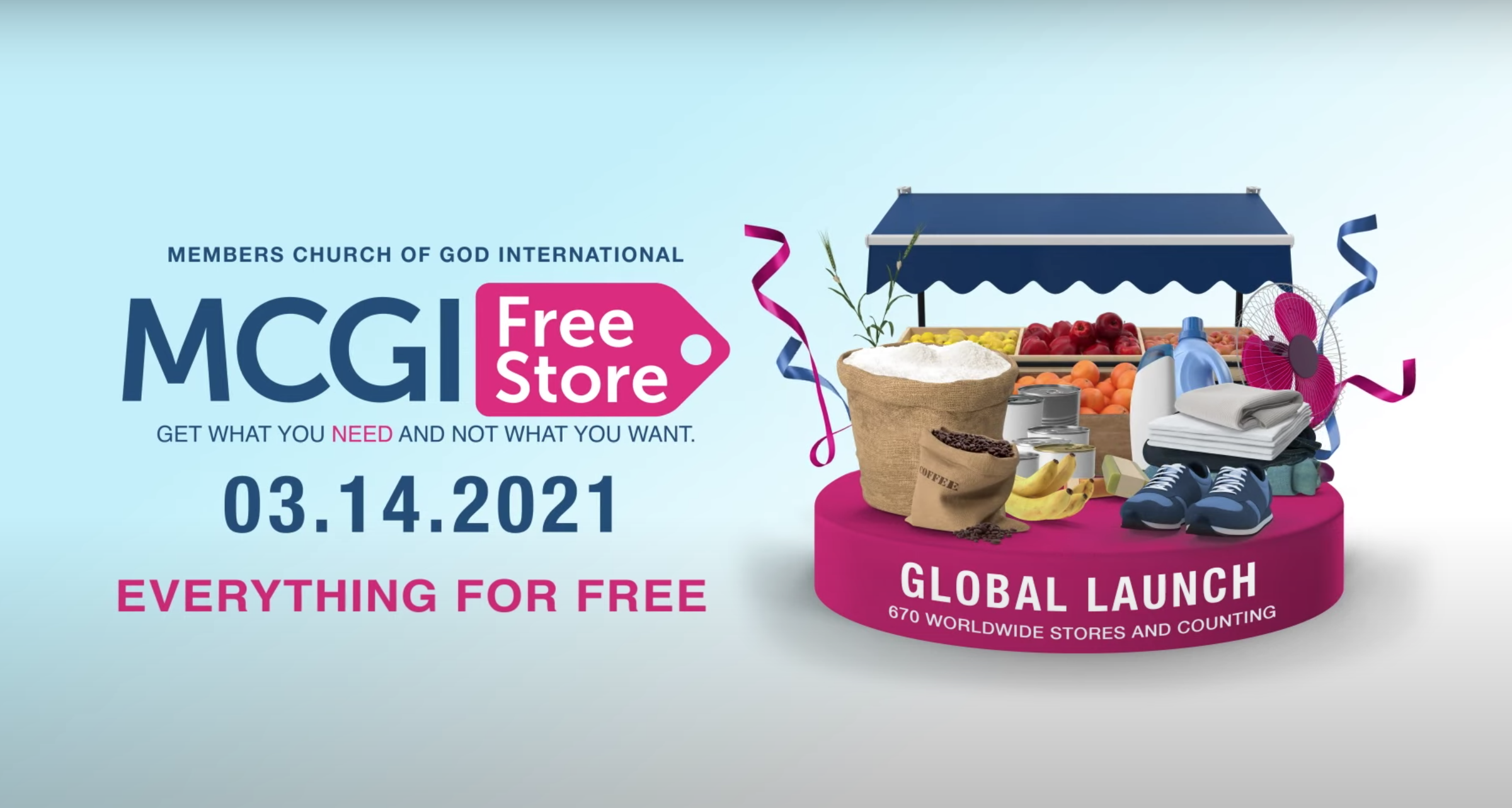 "We will not stop. We are here to serve 24/7." 
In his short speech during the MCGI Free Store launch, the Department of Social Welfare and Development (DSWD) NCR regional director, Vicente Gregorio B. Tomas, stressed how timely and relevant the event was. 
The DSWD-NCR regional director shared: "We will not stop. We are here to serve 24/7. That's the instruction of President Rodrigo Duterte to all the government workers. We will not stop reaching out to our fellowmen who are in need." 
Mr. Tomas also expressed his gratitude to MCGI, other partner agencies, NGOs, and barangay officials who continuously guide and assist them in navigating through the pandemic's terrain. 
"The reason why we're here is to respond to a commandment of God which is to love everyone," Bro. Danny Navales said during the short program held in Brgy. Socorro, Cubao, Quezon City.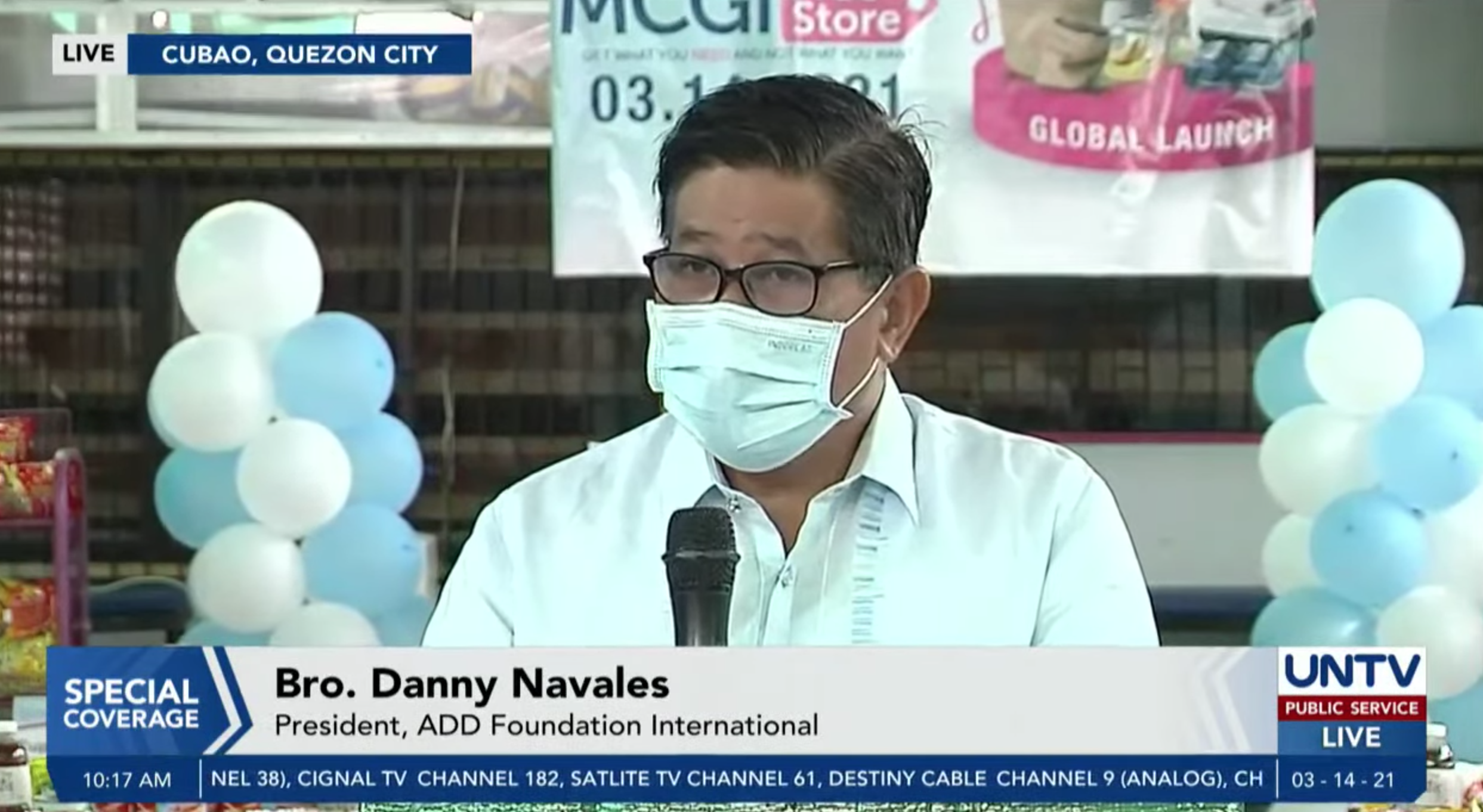 Bro. Danny Navales tackled the value of teamwork during the MCGI Free Store global launch on March 14, 2021. Image courtesy of UNTV News and Rescue.
President of ADD Foundation International and Minister in MCGI, Bro. Danny discussed the importance of collaborative efforts during the launch. He echoed what the health experts have been saying all along: "Covid-19 will not easily vanish if we will not join our hands together. That's why we, at MCGI, are one with the government in searching for more effective means for us not to transmit, not to be infected, not to infect others."
As for the successful global launch of MCGI Free Store, Bro. Danny added, "As Kuya Daniel said, we won't have much trouble in accomplishing something if we work together. That is exactly what we did to carry out this project."
Meanwhile, Kamanggagawa Foundation President, Dodie Cobin, presented insights about MCGI and its advocacy in his talk: "Kamanggagawa Foundation is affiliated with ADD Foundation, which in turn is under Members Church of God International where the brethren are always taught to do good unto all men while there is still the opportunity, especially unto them who are of the household of faith." 
"Expect that, with God's help and mercy, this project will continue," Bro. Dodie said.
The MCGI Free Store served more than thirty-seven thousand beneficiaries from Asia, South America, and other regions of the world. The minimum health standards and protocols to prevent the spread of Covid-19 were strictly observed before and throughout the duration of store hours.