MCGI ARTICLE
MCGI's Mass Blood Drive Advocacy Honored in First Dugong Quezon Awards
Lucena City, Quezon Province (August 16, 2016) — The Members Church of God International (MCGI) received the Hall of Fame award in the first ever Dugong Quezon Awards held at the Quezon Convention Center in the city of Lucena, Quezon.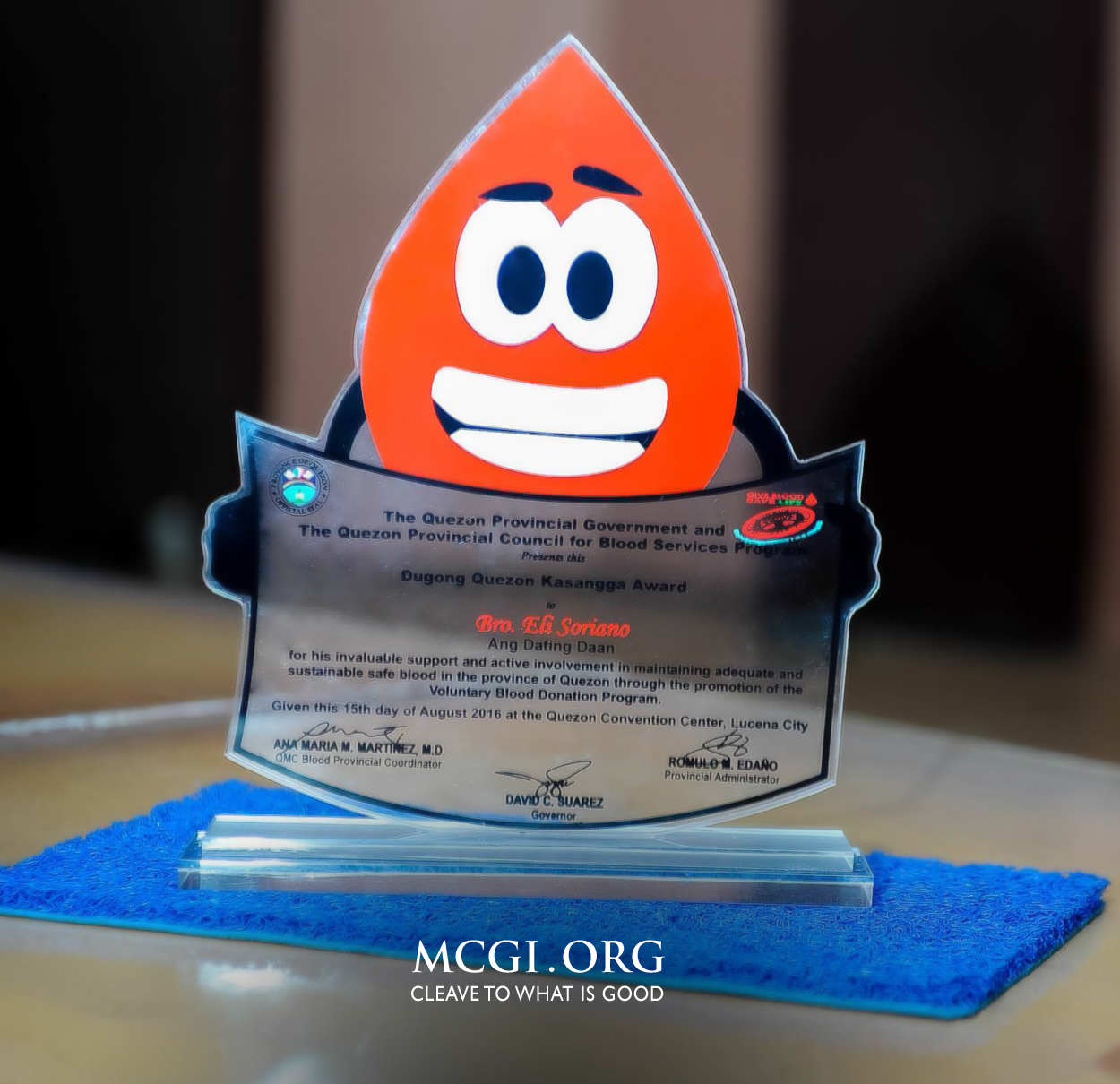 Bro. Danny Navales, Assistant Helper of the Ministry, received the award on behalf of the Church, and expressed gratitude to God for continuously giving the group a chance to help our fellowmen in need of blood.
"We are happy to know that as our bodies benefit from the act of donating blood, many of our fellowmen in need benefit as well. This is not a one-time event, but a continuous program spearheaded by Bro. Daniel and Bro. Eli," said Bro. Navales.
Aside from the Hall of Fame award given to the religious organization, 23 of its members received the Galloner Award from the Quezon Provincial Government on the same evening.
"It is a really great feeling to receive this award, and to take part in a great advocacy initiated by Bro. Eli and Bro. Daniel — to be able to donate blood to help those in need," remarked Galloner Awardee, Bro. Richard Ricamara.
Quezon Province Provincial Administrator Rommel Edaño expressed his gratitude to the group for their continuous blood donation efforts.
"I would like to take this opportunity to express my heartfelt gratitude to MCGI, spearheaded by Bro. Eli. In coordination with our province's blood council, your group provides continuous assistance," Edaño told UNTV News and Rescue in an interview.
Here's the complete list of the 23 MCGI members who were each given the Galloner Award:
Sis. Mary Jane Andrade
Bro. Aldrin Cablaida
Bro. Anselmo De Raya
Bro. Timothy Adajar
Bro. Rico Badidles
Bro. Valente Bernal
Bro. Ramon Cada
Bro. Fortunato Cabarliza
Bro. Japhet Cablaida
Bro. Jimmy Cerezo
Sis. Jenny Cerezo
Bro. Gregorio Constantino
Bro. Francisco Dalawampu
Bro. Crodualdo Leonidas
Bro. Librado Dayo
Bro. Randy Monterey
Bro. Sixto Ocado
Sis. Helen Ramos
Sis. Judilyn Silva
Bro. Jessie Tacliad
Bro. Joshua Villanueva
Bro. Jose Guevarra
Bro. Richard Ricamara
Written by Sis Pol Arellano