MCGI ARTICLE
MCGI.org Launches Italian Translation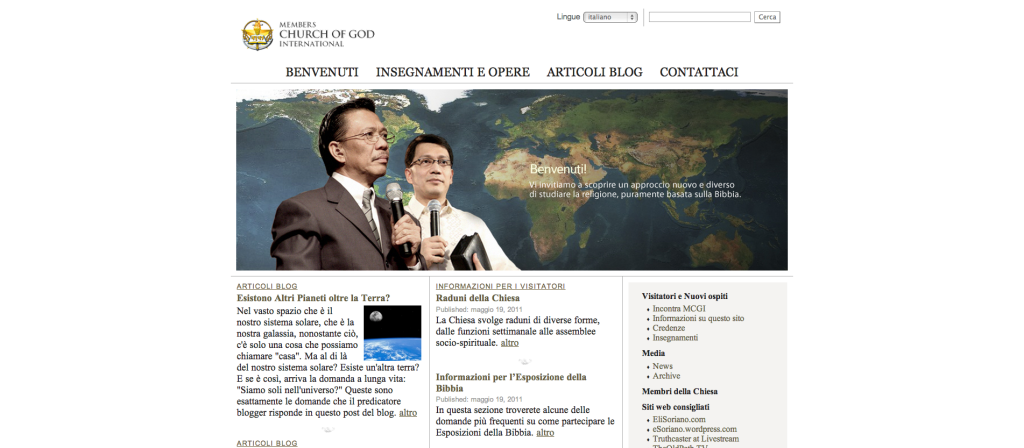 Apalit, Philippines – The official website of the Members Church of God International recently launched its Italian translation on the World Wide Web via www.mcgi.org/it/, in addition to its Portuguese translation. This is part of the organization's continuing efforts to further the Church's evangelization by expanding translations of the award-winning website.
The Italian translation of the Members Church of God International's (MCGI) website aims to help make spiritual awareness understood better by the Italian-speaking populace the world over. According to a 2005 United Nations report, there is an estimated 57.2 million Italian-speaking natives in Italy alone.
Speakers of the language are also largely present in the United States, Canada and Europe. They are also present in South American countries like Argentina, with 1.5 million speakers, and Uruguay, with between 28,000 and 30,000 speakers, reside.
Incidentally, Argentina and Uruguay are two of several South American countries where MCGI holds religious TV broadcasts and live Web stream broadcasts, hosted by Presiding Minister to MCGI Bro. Eli Soriano.
While the Portuguese-speakers of South American countries benefit from the ever-growing number of MCGI TV broadcasts there, the Italian speakers in the continent will get to benefit from the Italian translation of the website.
With these new developments, Italian-speaking Web users can now read Church information, basic doctrines and works as well as visitor information on the website. Bro. Eli Soriano's religious and scientific blogs straight from esoriano.wordpress.com are also translated in Italian and may be readily accessed on the website.
MCGI.org, the official website of the Members Church of God International, is a Philippine Web Awards winner for the year 2011.
(Written by: Pol Arellano)