MCGI ARTICLE
MCGI Receives Philippine Red Cross Blood Donor Award, Testimonial Plaque
The Members Church of God International (MCGI) received the Top Donor award in the Religious Groups category of the Philippine Red Cross (PRC) during the awarding ceremony held recently at the La Parilla Hotel, in Cabanatuan City, Nueva Ecija.
MCGI, also known as the Ang Dating Daan group, received the "First Bloodiest Award" in its category for its continuous support in blood donating endeavors.
Led by Bro. Eliseo Soriano and Bro. Daniel Razon, the group actively initiates and maintains public service efforts such as nationwide quarterly blood donations events.
"The Red Cross family thanks Bro. Eli and greets our brothers and sisters of the Ang Dating Daan [group] for your continued and unfaltering support for our programs in the Red Cross," said PRC Asst. Secretary General Neil Andrew Nocon.
"Apart from our blood [donation] programs and also for other services being offered by the Philippine Red Cross, Ang Dating Daan and UNTV are always there as our partners and stakeholders," continued Nocon.
Aside from the giving of awards to groups who have helped PRC and made an impact in blood donation, the event's participants were also given the chance to sign a commitment pledge showing their support for PRC's programs.
PRC Nueva Ecija Board of Director Chairman Thomas Joson III lauded MCGI for their commitment in giving a helping a hand, and showed his appreciation of the religious group.
"As Chairman, I am counting on you [MCGI] to always support our endeavors since it is clear that your group always wants to be of help," said Joson. "Maybe in the future, we can also train your group to be responders during calamities."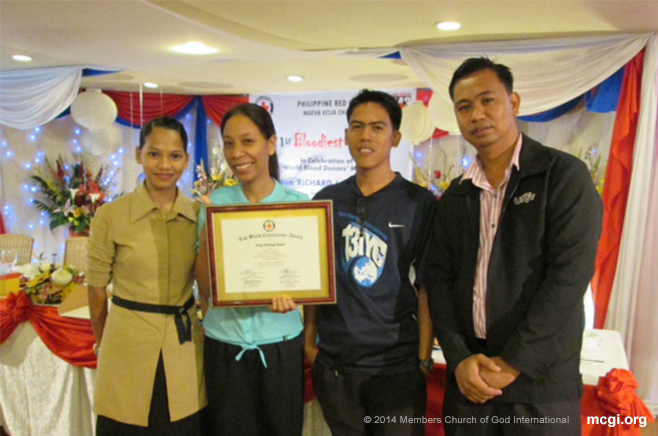 The Top Donor Award is one of the recognitions received by MCGI from the PRC recently. This August, the PRC also granted MCGI Central Visayas chapter the Testimonial Plaque in recognition of the group's ten years of unwavering support for blood donation programs.
Previous citations received by the group were from the Dugong Bayani Awards, the 5th Dugong Bicol Awards and the citation from the Department of Health for the nationwide blood donation drive last year.
(Written by Rona Valdez)