MCGI ARTICLE
MCGI TV Shows Get 5 Anak TV Seal of Approval in 2016
Manila, Philippines – Led by "Truth in Focus" hosted by Bro. Eli Soriano, four (4) other television programming produced by the Members Church of God International (MCGI) aiming to spread God's words and charity, received Anak TV seals of approval on February 23, 2016.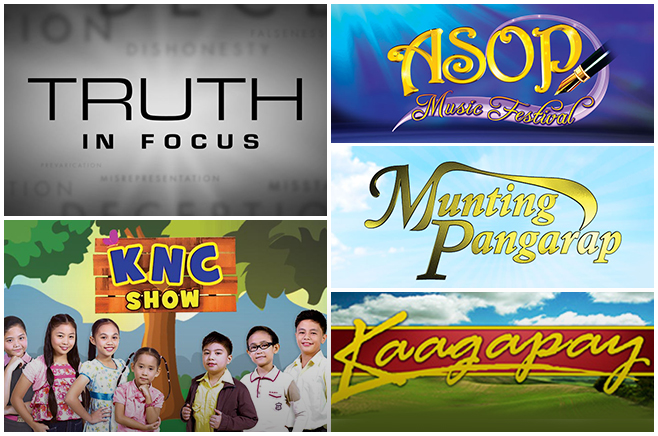 Award-winning praise song competition "A Song of Praise" (ASOP), charitable program for the marginalized sector of society "Munting Pangarap" (Small Wish), as well as public service show "Kaagapay" each take home an Anak TV seal award.
Anak TV also gave its stamp of approval to Philippine television's "Bible school on air," the KNC Show.
Receiving the awards for the said shows, Kaagapay host Ms. Annie Rentoy spoke about Kuya Daniel Razon, the UNTV-BMPI Chairman and CEO, for coming up with these original programming on UNTV.
"I would like to thank God for Kuya Daniel Razon, because he is always there," started Ms. Rentoy, adding that the veteran media personality is the brain behind these programs who "always takes into consideration the welfare of our viewers, regardless of age – but first and foremost the welfare of children."
"Truth In Focus" is MCGI Overall Servant Bro. Eli Soriano's English-format expository program about God's truth written in the Holy Scriptures.
This is the seventh consecutive time that MCGI shows received recognition from the Anak TV Foundation.
These MCGI programs are being aired on UNTV Life UHF Channel 37, together with other shows such as Bread N' Butter, Cook Eat Right, Doctors on TV, Easy Lang 'Yan, Frontliners, Justice on Air, Quick Action Team, Rise N' Shine, Rotary In Action, and Spotlight, which also receive seals of approval from the Anak TV foundation.
The youth-oriented program "Klasrum," which aims to equip teens with a useful and fun guide to help them with different life situations which range from academics to social responsibility, also received an Anak TV seal of approval.
"We thank God for all the opportunities that He gives us. It's our first year [on air], yet [the Anak TV foundation] already gave us this award and recognized our efforts. Thank you so much, Anak TV and Kuya Daniel," remarked Klasrum host Joshua Dionisio.
The Anak TV Seal of approval is given to Philippine television shows and hosts who promote media literacy and advocate for child-sensitive and family-friendly programming. MCGI television programs airing on UNTV Life have been receiving Anak TV awards since 2009.#
(Written by Pauline Arellano)