MCGI ARTICLE
MCGI Welcomes Hebrew Year 5772 With Overnight Thanksgiving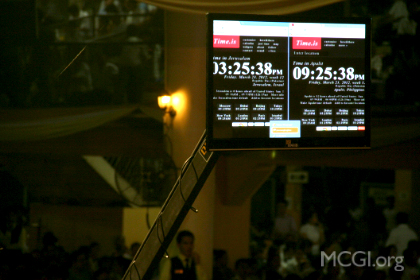 Just before midnight in the Philippines and sunset in Israel on March 23, the Members Church of God International (MCGI) welcomed the new year in the Hebrew calendar with a Thanksgiving service that lasted until the next morning.
A day in the calendar observed by the Israelites begins when the sun sets. This year, Nisan 1, 5772 clocked at exactly 11:53 Philippine time. Members gathered at the ADD Convention Center in Luzon and elsewhere in the country and the world via Internet and satellite facilities and altogether started the year with prayers and songs to the Lord.
As MCGI Presiding Minister Bro. Eli Soriano explained, MCGI follows the Hebrew calendar because it was the one observed by the Lord Jesus Christ. Bro. Eli also pointed out that it is the same calendar that the Israelites used, as commanded by God in Exodus 12:2.
MCGI celebrated the new year with Thanksgiving, a weekly service that regularly falls on a Saturday where members sing songs of thanks to God and study biblical topics.
Bro. Daniel Razon, MCGI Vice Presiding Minister, delivered the first part of the topic as well as a yearend report of MCGI's accomplishments with God's help. He gave news on the total number of souls baptized, on the total number of people served by daily medical missions and other public services, as well as new Ang Dating Daan or The Old Path broadcasts around the world.
The event started at 8 in the evening and ended at about 5 in the morning the next day. MCGI's next Thanksgiving will return as regularly scheduled following the Bible Exposition on March 30 at all MCGI coordinating centers.