MCGI ARTICLE
MCGI Youth Ministry Join DepEd's 'Brigada Eskwela 2014'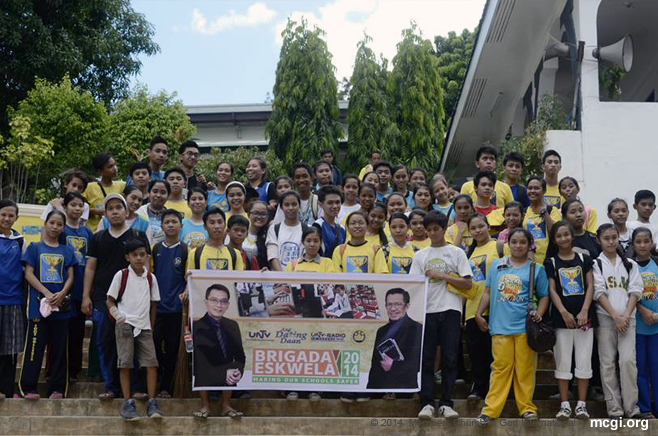 The Members Church of God International (MCGI) deployed its youth members across the country to assist in the Department of Education's nationwide school maintenance program dubbed as "Brigada Eskwela" recently.
The week-long community-development project ran from May 20-25 this year.
"Holding clean-ups and maintenance like this "Brigada Eskwela" is very important because it helps us prepare for the coming school year," commented Mr. Bayani Enriquez, principal of Jacobo Z. Gonzales Memorial National Highschool in Laguna.
"That is why we are extremely grateful to Bro. Eli and Bro. Daniel, as well as to the youth of MCGI who volunteered." He added.
Some of the schools that MCGI Youth members helped clean up and maintain include Bato Elementary School in Cebu, Vicente Hizon Elementary School in Davao and Ramon Avancena High School in Quiapo, Manila, to name a few. 

Aside from the cleaning of classrooms and wall repainting, the MCGI youth, together with teachers, parents, and other fellow volunteers, also provided assistance for such activities like basic repairs of broken chairs, doors and ceilings.
The essence of grabbing opportunities to do good is being instilled in MCGI youth volunteers, whereby getting involved in a productive activity like Brigada Eskwela for the youth during summer is encouraged.
"It may be tiring in the beginning, but it is worth it in the end," explained Israel Hermosura, a youth volunteer from Laguna when it comes to his experience as a regular participant of Brigada Eskwela.
"It is a great way to spend our summer wisely. We are grateful to God that Bro. Eli and Bro. Daniel conceived the idea of the youth helping out to the community," remarked Hermosura.
(Written by Sis. Yanna Faye Ferrera
)