MCGI ARTICLE
MCGI's 3-Day International Thanksgiving to God Highlights Thousands of Newly Baptized, Growth of Ministry Works Abroad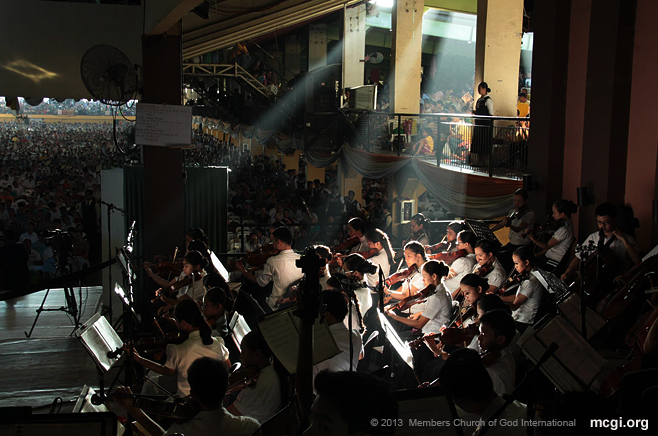 The ADD Orchestra leads the brethren in praise through playing of their instruments in the early hours of the morning of the International Thanksgiving.
Apalit, Pampanga – Simultaneously rejoicing with the congregants in the ADD Convention Center are the continuously growing believers all over the world who celebrated for three days their International Thanksgiving to God.
In the Members Church of God International's (MCGI) celebration, there are 1,197 remote points in various countries that joined the bulk of the congregants in Apalit, Pampanga on September 27-29 of this year.
Bro. Eliseo Soriano, Presiding Minister to MCGI, reported before the congregants through live streaming broadcast the growing number of newly baptized brethren, majority from the Philippines and from abroad.
Bro. Eli said during the first day that in less than a year or nine months period, more than 13,000 souls received baptism. MCGI holds weekly baptisms in the Philippines and abroad.
Also remarkable during the past quarter of the year was the launch of satellite system to carry broadcasts of The Old Path in different parts of Latin America. Through new broadcast means – leading to the continuous spread of the gospel – followed the establishment of more than 150 coordinating centers in both South and Central America.
To help oversee Church works in these countries, Bro. Eli and Bro. Daniel Razon, the Vice-Presiding Minister to MCGI, deployed few batches of Church workers from the Philippines to the respective coordinating centers.
As with all International Thanksgiving celebrations, this quarter teemed with new biblical wisdom through the topics delivered by Bro. Eli and Bro. Daniel. Topics range from the true meaning of the Lord's Prayer to the differences between the Mosaic laws of faith with Jesus' law of faith, among others.
Various activities held, which are part of the three-day celebration, are aimed at serving the congregants the world over. One include the consultation sessions, which Bro. Eli held during break time, to answer brethren's questions and address their concerns.
Different Church ministries and groups sang and danced along songs of praises to God all throughout the three-day feast as well.
The Members, Church of God International celebrates their International Thanksgiving to God or Pasalamat ng Katawan (PNK) ceremonies every quarter.
(Words by Yanna Faye Ferrera)
(Photos by Rovic Balunsay)