MCGI ARTICLE
MCGI Holds 3-Day International Thanksgiving on March 28 to 30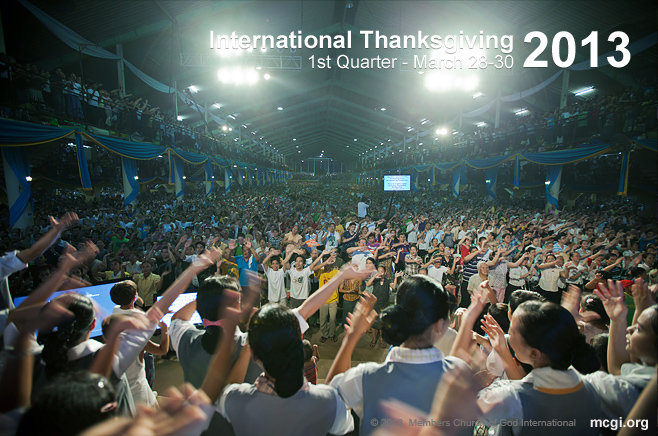 As the quarter spanning the months from January to March ends, the whole congregation of the Members Church of God International (MCGI) is all set to celebrate the International Thanksgiving of the Body (Church) for various reasons, including the newly-baptized non-Filipino members from South and Central American countries.
Bro. Eli Soriano and Bro Daniel Razon, the Presiding Minister and Vice-Presiding Minister to the MCGI respectively, will lead and welcome the tens of thousands of members, including guests, from Africa, Asia, Australia, Europe, North America and South America in the three-day gathering on March 28 to 30, this year.
The Ang Dating Daan Convention Center, the organization's primary headquarters in the Philippines located in Apalit, Pampanga, is already seeing members and guests from the different cities and provinces in Luzon, Visayas and Mindanao, including those who flew from abroad, flock one of North Luzon's biggest covered function halls as early as this week.
In its regular weekly thanksgiving, the estimated number of members who flock the ADD Convention Center pile up to 10,000, while that figure balloon more than double or triple during International Thanksgiving every quarter. There are, however, those who attend the International Thanksgiving in coordinating centers nationwide, especially for the indigents and poor members of the Church.
Members of the congregation are taught by MCGI Leaders to be thankful and grateful of everything, even if the reasons are good or may seem to be bad (I Thessalonians 5:18). Among the activities during thanksgiving include the singing of songs of thanksgiving and praise to God, consultation, listening to new topics prepared by Bro. Eli and the offering of the sacrifice of thanksgiving.
There is another reason the Congregation is thankful of – the growing number of non-Filipino members across the world, particularly in the South of the Americas.  Proofs of the productive quarter is evident from the number of newly-baptized, requests for the establishment of new coordinating centers, and the number of video presentations of thanksgiving by new African, Brazilians, Portuguese, Hondurans, Venezuelans, Chilean, and more.
The Congregation of MCGI is also offering thanksgiving to God because of its continuing charitable works doled out and organized during the last quarter. On a daily basis, the Church maintains public service and charity works through its charitable arm, ADD Foundation International and through its consistent media partner, the Public Service Channel, UNTV. The organization organized its annual nationwide medical mission and mass blood donation drive in February and March, respectively.
Other government-led and non-government organizations like the Philippine National Red Cross, Department of Social Welfare and Development, Department of Education are among the main beneficiaries of some of these social charity projects by MCGI.
(Written by Apple  Arco)
(Photography by Rovic Balunsay)