MCGI ARTICLE
MCGI's Mass Blood Drive A "Great Help" – Philippine Blood Center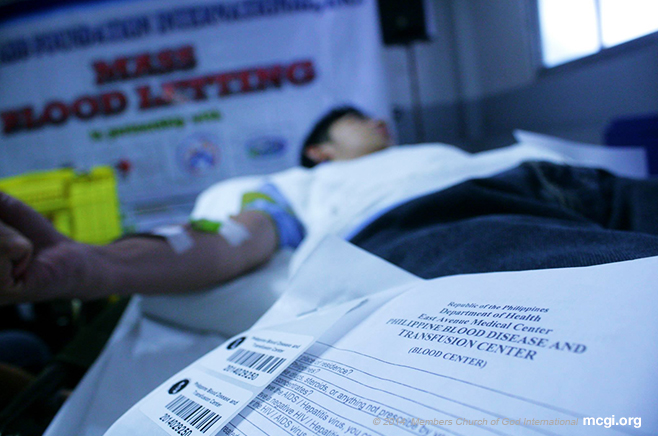 The Philippine Blood Center (PBC) commended the regular blood donation program of the Members Church of God International (MCGI), saying its mass blood donation drive is of "great help."
"Majority here in the Church of God, about 70-80%, are previous donors, [to] a project that is of great help, especially now that many hospitals are in need of blood," said PBC representative Dr. Sergio Denoga Jr.
MCGI started its blood donation run for this quarter on September 12 until September 21, five days before the Church's International Thanksgiving to God celebration.
MCGI Representative Bro. Danny Navales said that this endeavor by Bro. Eli Soriano and Bro. Daniel Razon will continue as many people benefit from it. "We support it wholeheartedly," he added.
"Because it [donating blood] has many benefits for the body. Also, it's holiness. If life can be given, how much more blood?," said Church of God member Bro. Jonathan Fajilan upon donating his blood on September 14, 2014 at a coordinating center in Manila.
MCGI's blood donation efforts have been cited by both the Philippine Blood Center and Philippine Red Cross, as well as by health organizations in Singapore and Canada.
According to the International Federation of Red Cross and Red Crescent Societies (IFRC) site, there is a need for a stable supply of safe blood donors as "there are chronic shortages of safe blood and blood products in many countries."
Regular blood donation is one of MCGI's advocacies to extend help and the lives of others. To know more about MCGI's charities, please read here.
(Written by Rigor Arellano)