MCGI ARTICLE
MCGI's Worldwide Bible Exposition Attendance Up By 250%
The Worldwide Bible Exposition of the Members Church of God International (MCGI) on August 7 has registered a 253% jump in attendance compared to last month's figure. This was brought about by Bro. Daniel Razon's Project 1-1 (one is to one).
From 23,587 attendees in the last Bible Exposition in July this year, the event saw 50,423 people in its coordinating centers in different parts of the globe.
"With God's mercy, our guests last night (August 7) were 18,455," said Bro. Daniel in an MCGI regular Thanksgiving service the following day (August 8). The Supporting Overall Servant to MCGI then urged members to continue supporting "Project 1-1".
"Of course, it doesn't mean that they will become members already or that we will force them to join as it is not like that in our congregation," Bro. Daniel continued. "We just want them to hear the word of God."
Ask Bro. Eli. The Bible Will Answer
The program proper of the Worldwide Bible Exposition features Bro. Eli's popular "Itanong Mo Kay Soriano. Biblia Ang Sasagot" question-and-answer forum, where guests get to ask the international evangelist live via satellite.
Eleven remote points from Sorsogon province to Kuwait asked the MCGI Servants while over 1,360 centers monitored the proceedings.
"Is it God's will for homosexuals to exist? How can they be saved?" asked John Lery Bucad, in Filipino, and was one of the night's more memorable queries.
"God shows versatility in His creation," replied Overall Servant to MCGI Bro. Eli Soriano. Reading John 9:1-3 afterwards, Bro. Soriano stressed the Lord Jesus Christ's words in Verse 3: Neither hath this man sinned, nor his parents: but that the works of God should be made manifest in him (KJV).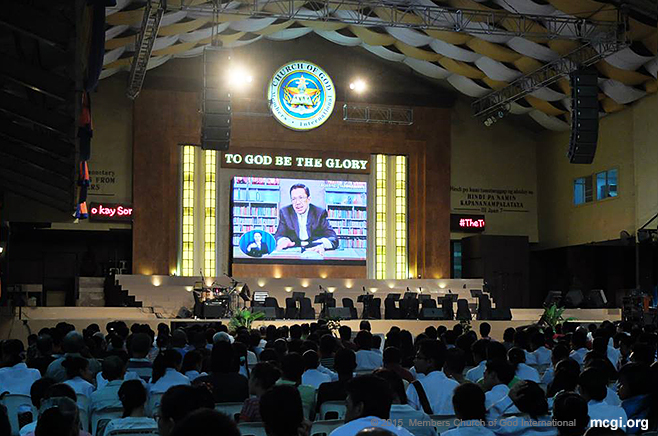 "Sometimes, we don't see that being blind has its advantages," Bro. Eli continued. Giving an example to expound on his point, the international evangelist said that unlike people with sight, blind people are free from the lust of the eyes.
MCGI's Bible Expositions
"It is a great thing for people's minds to be enlightened through the teachings of God that Bro. Eli preaches, and for them to hear the righteousness read from the Bible."
Bro. Daniel came up with the concept behind the Bible Exposition in the early 90s. What started in a humble venue where guests were invited to have a free meal and listen to Bro. Eli is now an event of the same idea but of far greater extent.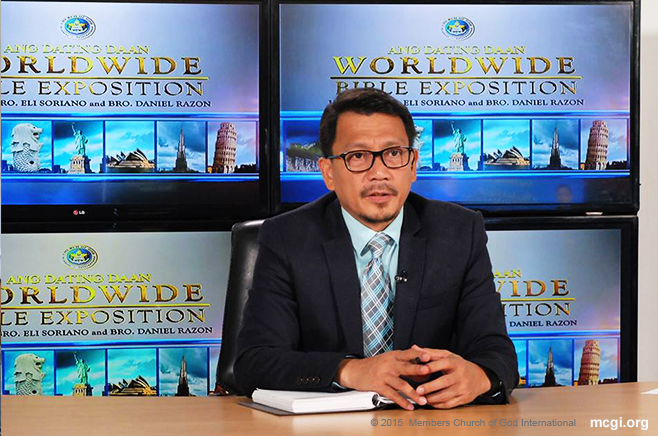 Apart from the monthly Bible Exposition in Filipino, MCGI also conducts it in Spanish, Portuguese (broadcast on Youtube) and English weekly.
"So once again, to God belong all the honor and glory. We thank Him for His guidance in works like this," remarked Bro. Razon.
Meanwhile, Bro. Razon announced that MCGI will host a Bible Exposition in Africa on August 26, which will start at 1 a.m. Philippine time.
(Written by Rigor Arellano)