MCGI ARTICLE
MCGI Introduces Redesigned AngDatingDaan.org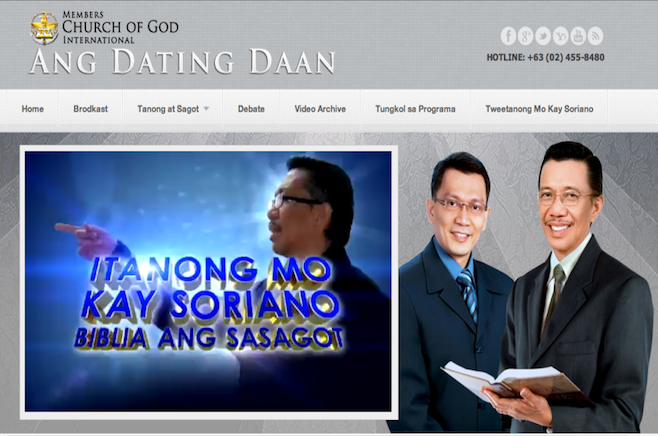 There's no stopping the award-winning website of the longest-running Bible-based program, Ang Dating Daan (The Old Path) on Philippine airwaves from evolving into something better. The AngDatingDaan.org will sport a new design that promises to be program-focused and dynamic starting September this year to coincide with its 11th anniversary online.
According to the MCGI's Broadcast Division's IT representative, "the new [Ang Dating Daan] site will be a lot different from the old one. It will now provide a wealth of updated information and news on Bro. Eli's worldwide programming not just on TV, but also on the web."
The new program site of the Ang Dating Daan will provide a new layout as well as a new and enhanced structure that is both dynamic and flexible. With clearer layout, finding information at the site will be easier.
The new and improved website will showcase the program's public service commitments such as those being shown on UNTV's public service morning show, "Good Morning, Kuya!" Aside from this, the Ang Dating Daan site will also feature the program's foray into satellite television via the TOP Channel on Dream Satellite TV.
The Ang Dating Daan website was previously the local online presence of the Members Church of God International (MCGI), a religious organization that started out in the Philippines that has now taken over a worldwide scope.
"Ang Dating Daan or ADD," which stemmed out from Jeremiah 6:16, has become so popular in the Philippines that MCGI is almost always equated with the program's name. And since year 1999, the Church and its program have shared a common website — AngDatingDaan.org.
But now that the Church's official website, MCGI.org, is already in full swing, the revamped AngDatingDaan.org is out on a mission to help the propagation of God's Word as the program's official online home.
Taking into great consideration a multitude of audiences, the website's developers indicated that the new AngDatingDaan.org will cater to all types of Internet users – from the youngest to the oldest of Truth-seeking souls.  With its navigation-friendlier features and television-program-centered content, AngDatingDaan.org becomes more accessible to a wider range of publics.
In a few weeks' time, the website's makeover will be complete, and it is hoped the improvement will produce its most-promising effects so far. "We are always hopeful with God's help that these two sites [AngDatingDaan.org and MCGI.org] will be windows to learn about the Church and the teachings that we believe in through our preacher, Bro Eli," the Broadcast Division's IT representative said.
AngDatingDaan.org, which made its foray online in 1999, is an award-winning Philippine religious website, earning from the Philippine Web Awards the "Most Popular Website Award" from 2002 to 2006. The website cemented its status as the most honored religious website from the Philippines.
(Written by: Pol Arellano)