MCGI ARTICLE
New Crop of Church Worker Hopefuls: High Point of Youth Convention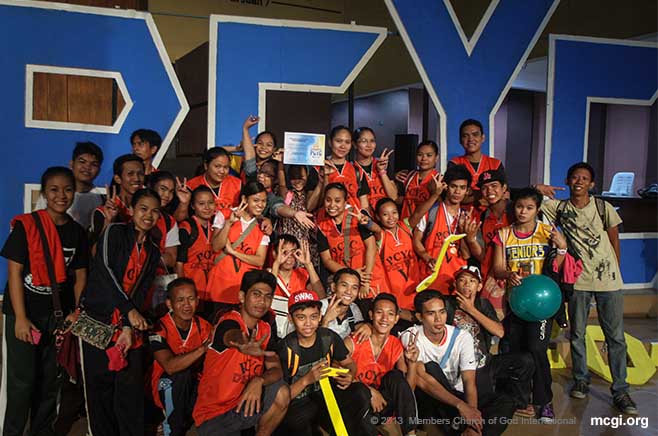 About 140 youths expressed their intent to be Church Workers during the Pampanga and Central Division Youth Convention on May 27, 2013. MCGI Leaders recently made fresh calls on the youth members to take part in the global evangelization works.
Apart from games and physical exercise, organizers conducted activities to inspire youth members from Central Apalit and Pampanga Division to become workers and help Bro. Eli Soriano and Bro. Daniel Razon with the preaching of the Gospel and attending to the brethren.
The leaders of the Members Church of God International (MCGI) have recently called out to the youths in the Church to fill its large need for workers, especially in Latin America.
In May 2013, El Camino Antiguo (The Old Path) launched on national television in Costa Rica via Canal Nueve – the latest addition to MCGI's worldwide broadcast listing.
In a Thanksgiving service, a Church minister based in Costa Rica told congregants that after just a week of broadcast in the country, inquiries have been flooding their emails and phone lines as to where people can attend gatherings.
The youths will be trained by the MCGI Leaders via live video streaming through Internet and satellite facilities of the Church.
New Songs of Praise for All Ages
Capping the day was the A Song of Praise or ASOP Pampanga Eliminations night.
Both entertaining the youth and gearing up for the Luzon Region Finals on June 9, 2013, ASOP interpreters sang new songs of praise made by members from the Pampanga Division.
"Alay Sa'Yo" (My Offering to You) by Sis. Dalisay Painaga emerged as the chosen song entry for the ASOP Luzon Region Finals come June 9, 2013. The song talks about offering one's whole heart, mind and soul to God for the light and love He has shown in his life.
The event came a day after the annual International Music Summit where choir groups comprised of youths Church-wide also presented new songs about duty in the Church.
(Written by Rigor Arellano)
(Photography by Kenji Hasegawa)