MCGI ARTICLE
On MCGI's 2nd International Mothers' Convention, Mothers Receive Spiritual, Physical Training
Apalit, Pampanga (21 April 2016) – Around 1,900 mothers from different parts of Luzon convened in the Ang Dating Daan Convention Center to receive spiritual and practical training in the 2nd International Mothers' Convention of the Members Church of God International (MCGI) held last April 10, 2016.
Bro. Eli Soriano, Overall Servant to MCGI, kicked off the event with welcome remarks and a consultation session with the participants. Mothers from farther locations in the Philippines and abroad also joined the event via live video streaming.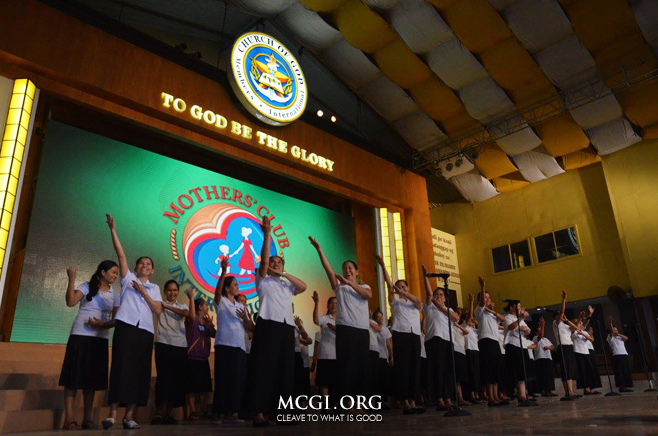 "Have fear in God and be faithful to Him; become good housewives so that the Lord can do miracles in your lives. Let us be prayerful, because I believe that the Lord will heal our spiritual illness," said Bro. Soriano.
After several hours of answering the participants' questions ranging from health, family concerns to spirituality, the international televangelist, who also gave financial assistance to several in attendance, gave an important spiritual reminder to all the mothers.
"Fear of God," he went on as he was saying goodbye, "being obedient to God and being prayerful are enough to save you from the adversities of this life."
Full-packed Activities for Moms
The participating moms were treated to a day full of fun and informative activities, ranging from Zumba lessons, to informational and livelihood seminars and trainings. Guest speakers from different governmental and nonprofit organizations joined the event. Here are some of the highlights:
❏ Philippine National Police Chief Inspector Lerma Tiraña discussed the various modus operandi of different organized crime organizations that are targeting unsuspecting housewives at home and on the streets. Moms were taught what to do on certain dangerous situations that may pose risks, not only to their property, but also and most importantly, to their lives.
❏ Government Service Insurance System Staff Officer 3 Michelle E. Reyes, on other hand, informed the moms of how to secure loans and process pensions, and provided other information on utilizing their benefits wisely.
❏ Philhealth Social Insurance Officer III Ferdinand M. Guinto informed the mothers of what the government is doing to ensure that each Filipino gets medical coverage in times of need.
❏ PAG-IBIG Funds Information Officer Angelic D. Yambing gave one of the biggest news for the day, as he expressed the agency's intents to partner with MCGI in providing means for its members to secure their first homes using the agency's financing programs.
❏ As a livelihood treat, "Live for Others Movement" President Lito Gualdajara, spent his entire speaking time teaching the participants on how to grow mushrooms from home and how they can profit from it.
❏ National Council on Disability Affairs Chief Rizalino R. Sanchez taught all participating moms how to correctly refer to the differently abled members of the society and what they can do to help them.
❏ The UNTV News and Rescue Team provided a short training on first aid and rescue, after which Dr. Napoleon Borje of UNTV's Clinic ni Kuya reaffirmed to the crowd the public services that Bro. Eli and Kuya Daniel are continually providing.
❏ The MCGI's Social Media team discussed about responsible use of social media, such as Facebook and Twitter.
❏ Lawyers of MCGI's Law Center provided legal assistance in the Ang Dating Daan Convention Center all day while the program was ongoing.
Aside from the informational trainings and seminars, participant mothers presented their talents in singing and dancing onstage to keep the crowd entertained.
The Mothers Club of the Members Church of God International (MCGI) is one of the largest groups of the Church, composed of mothers from different parts of the Philippines and abroad. Most of their functions include being part of the chorale, ushering, and food committees, to name a few.
(Written by Maria Theresa Carcamo)