MCGI ARTICLE
Amidst Covid-19 Threat: MCGI Goes Online for 1st Quarter Thanksgiving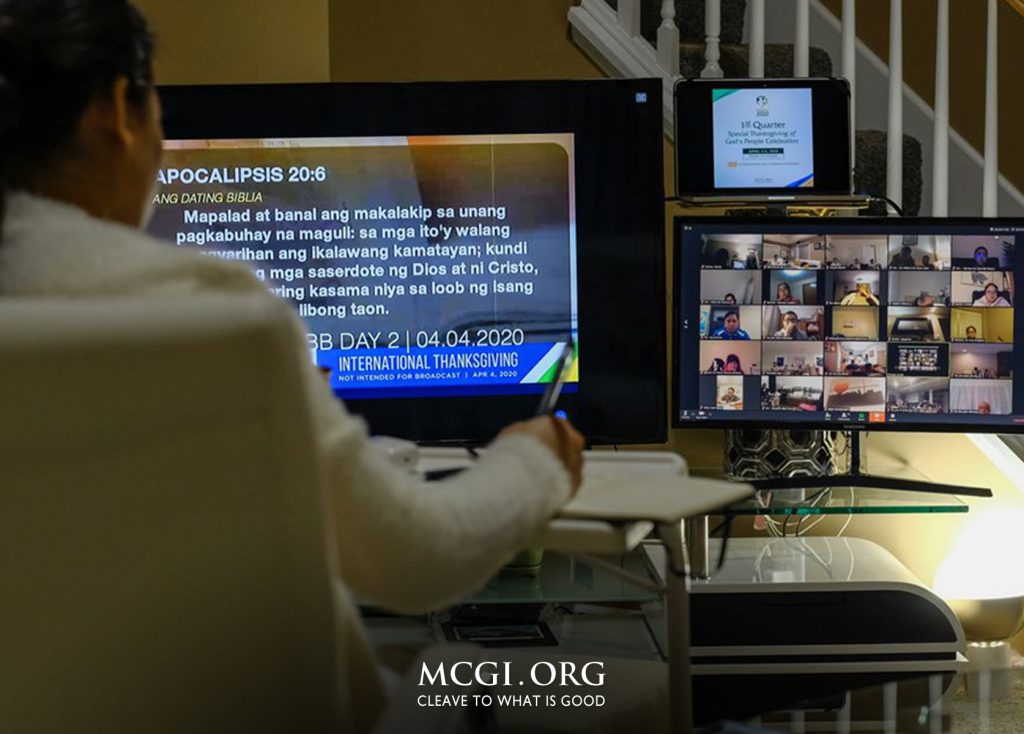 Members Church of God International (MCGI) celebrated its first quarter International Thanksgiving last April 3 to 5. Brethren around the globe convened through satellite and internet technology, and, at the confines of their homes, offered songs of praise, messages of thanksgiving, and prayers of hope for God's continuous love and care for the Church. Bro. Eli Soriano and Bro. Daniel Razon opened each Thanksgiving day with words of love, inspiration, and newfound wisdom from the Bible.
God's Love: From Eternity to Eternity
According to Bro. Eli, everything that God made was made out of love. "Great is God's love and compassion for us," he expressed.
The preacher explained that because of God's faithfulness and great compassion, He awaits those who have sinned to turn back to Him and ask for forgiveness. This he supported with a verse from 1 Timothy 2:3-4 which tells that God wants all men to be saved.
Bro. Eli also pointed out that God's love transcends from eternity to eternity. In an act of pure benevolence, He gave His only begotten Son to carry our burdens and cover our shortcomings.
For this, MCGI was encouraged to give thanks to God in every opportunity given. "We should exist to give our Creator His pleasure," Bro. Eli said. "Let us allow God's will, and follow what He wants us to do," he added.
Hope in God's Words
As the world continues to deal with the onslaught of the Covid-19 pandemic, Bro. Eli and Bro. Daniel carry on the task of reaching out to offer words of encouragement through biblical wisdom.
Bro. Eli emphasized that "hope is in God who can turn these [unpleasant] events to our favor." These, he noted, had been foreseen by the prophets in the Bible. But despite these happenings, God's words offer solace and assurance that all things work together for the good of those who love God, as written in Romans 8:28.
"When God makes a promise, He keeps it. Although we are insignificant and worthless, our greatest treasure in life is if we need something, there is a God who listens to us," Bro. Eli said.
God Prepared A Way
The spread of Covid-19 across the globe had not only affected the regular affairs or the 'norm' of the majority of the world's population. It also made a substantial change in mobility across continents, forcing people to stay at home to avoid further transmission of the disease. This meant the closure of establishments, like factories, firms, schools, and even churches.
MCGI was not exempt. But prior to the containment measures imposed in many countries, Bro. Eli had already directed a massive clean-up and disinfection of all locales used for gatherings and other services. Members were taken their temperature before being admitted inside the locales and major coordinating centers. Those who were feverish and sick were sent home and were supplied with medical needs.
Before the quarantine began, members were asked to wear face masks while inside the locales. Rubbing alcohol and hand sanitizers were also provided, and seats were arranged one meter apart each so that members will be prevented from having close contact with each other.
The challenge came when, as the cases of Covid-19 infections sharply rose and the lockdown began, Bro. Eli had to order the temporary closure of all locales to keep the congregation safe from the possibility of getting sick. "It will grieve me if a brother or a sister will acquire the disease," he said as he wiped tears while he spoke to the congregation via an exclusive broadcast.
But with God's help, MCGI continues to congregate and engage in Bible lessons while observing home quarantine. How was it done?
Online Social Distancing: The New Norm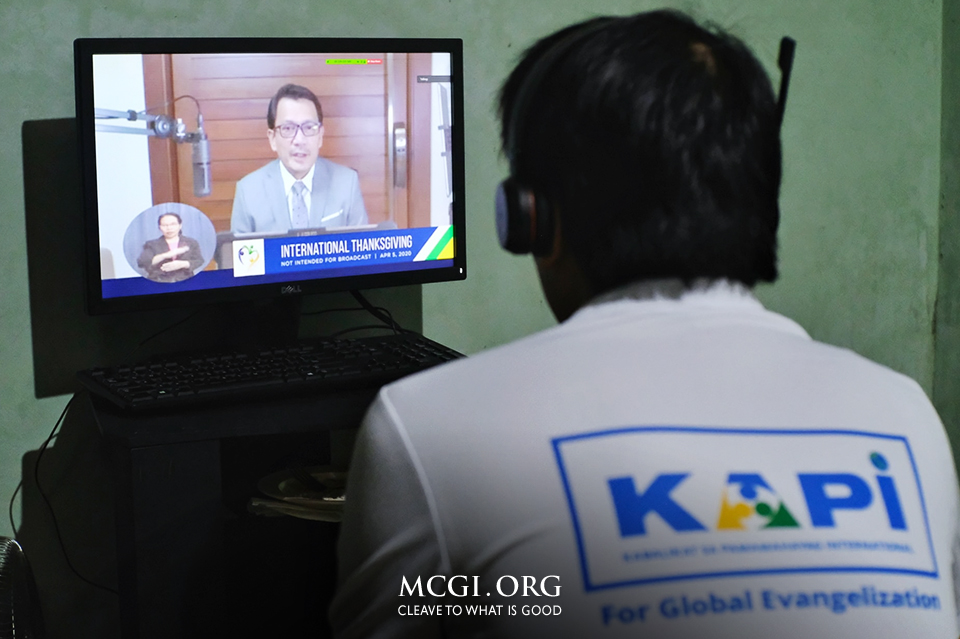 To give some background, MCGI had been doing Gospel propagation globally through its 24/7 streaming services since 1999. Bro. Daniel Razon, Bro. Eli's assistant to the congregation, laid out the system using all accessible technologies and platforms that were available at that time.
With his vast knowledge and experience in mass communication coupled with a strong leaning for the latest in technology, Bro. Daniel was able to tap measures that widened the scope of MCGI's broadcast reach. Since then, strings of Bible Expositions and Bible Studies were streamed via television and the internet throughout the continents, and more audiences from different countries were seeing Bro. Eli's preaching for the first time.
After breaking into the global broadcast scene, Bro. Eli received numerous invitations to speak before crowds interested to learn more about the Bible, particularly in South America. But accommodating an outpour of people became a slight problem. There were simply not enough closed-door facilities that can house people flocking in. In most venues where Bible Expositions were held, people were literally jamming doorways, all seats were taken, and halls were filled to the brim.
Given the bulk of invitations Bro. Eli receives on a daily basis, most falling on the same dates and times but in different places, and venues getting overcrowded during Bible Expositions, a solution was set to ease the problem: video teleconferencing.
As soon as the online platforms were established, Bro. Eli and his technical team began an almost non-stop work of live streaming Bible Studies, Bible Expositions, and Mass Indoctrinations. Within a few months after video teleconferencing was used, the number of online participants increased. Thousands were attending without choking a single venue. They were either viewing in MCGI locales or watching in their homes.
This system was replicated in other countries where transport and location were a bit of a problem. Soon, there were more audiences coming in from Africa, Europe, Asia, and the Pacific, all connected in real-time via satellite and wired networks. From then on, more platforms had to be introduced, particularly for non-English speakers who would like to hear the preaching in their native language.
Bro. Daniel's efforts of establishing online streaming modalities for preaching the Gospel found an extended use today, now that Covid-19 has brought along a host of problems, aside from claiming the lives of thousands and restricting the movement of people.
MCGI's religious gatherings are done online. Members do not have to leave their houses to congregate. Through teleconferencing modes, members can access exclusive and secure connections to be able to participate in all the gatherings that used to be attended on a personal basis.
Bro. Eli and Bro. Daniel, who themselves are following strict quarantine protocols in their respective places, are able to reach homes and interact with more members. This system also invited more audiences outside MCGI to interact with Bro. Eli and Bro. Daniel during Bible Studies, Bible Expositions, and nightly broadcasts on KDR TV.
All these measures, as Bro. Eli and Bro. Daniel would often say, became possible because of God's help and mercy.