MCGI ARTICLE
#OurGODWeThankYouFor Trends Worldwide As MCGI Holds 3-Day ITG for the 4th Quarter
The #OurGodWeThankYouFor hashtag, launched by the Members Church of God International (MCGI) on Twitter, appeared on worldwide trends status that began on Wednesday night (December 24 in the Philippines). The campaign, which earned No. 5 in the Worldwide Trends, aimed to encourage congregants to share their testimony of thanksgiving using social media.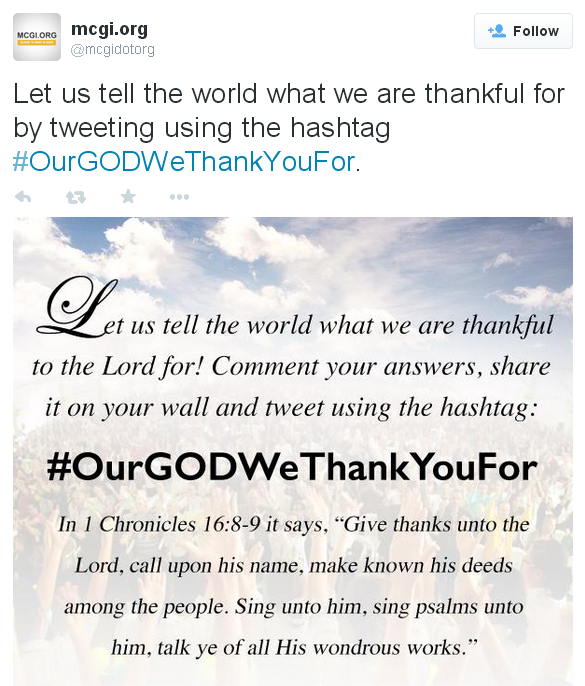 Since Thursday afternoon (December 25), it continued to trend with over 2,000 users tweeting and retweeting the hashtag while earning more than 16,000 tweets using it as of this writing. In the Philippine Trends, #OurGodWeThankYouFor landed in the second spot since Wednesday evening.
Observers note how social media has transformed the way Church members express their anticipation and excitement to the upcoming International Thanksgiving to God (ITG), held from December 26 to 28 this year.
Bro. Eliseo F. Soriano and Bro. Daniel Razon, MCGI Overall Servants, respectively, spearheaded the three-day occasion.
The Ang Dating Daan Convention Center in Pampanga served as the main gathering point for the brethren in the Northern and Southern Luzon, Philippines. Some Church members from neighboring countries flew home to join the event live in its hosting place.
Meanwhile, major MCGI locales and coordinating centers also geared up across the country to accommodate brethren who cannot physically assemble at the Convention Center. Key locations also served as gathering points abroad like major coordinating centers in Tokyo, Sydney and Rio de Janeiro, to name a few.
A few weeks ago, MCGI launched a separate campaign, the countdown for the upcoming ITG which highlighted brethren from around the world who shared their reasons and preparations for the coming celebration. The hashtags for this campaign were #HappyPNK and #HappyITG.
(Written by: Yanna Faye Ferrera)