MCGI ARTICLE
PH Quake and War Victims Beneficiaries of 1st UNTV Cup Winners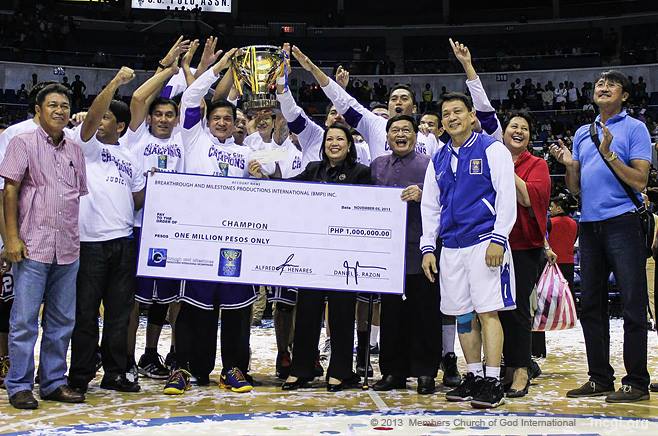 Manila, Philippines — Bagging the top prize in the first UNTV Cup on November 5, 2013, Team Judiciary won P1-Million for quake and war victims in Cebu, Bohol, and Zamboanga.
The one-of-a-kind basketball tourney conceptualized by UNTV CEO Daniel Razon united different government sectors to play and win tax-free prizes for their charities of choice.
Kuya Daniel is Vice-Presiding Minister to Members Church of God International (MCGI).
Team Judiciary won against the Philippine National Police or PNP, 86-83, who battled under the Smart-Araneta Coliseum or The Big Dome. The PNP received P500,000 as second-placer. Their prize will go to the benefit of crippled children in the country.
In third place was the Armed Forces of the Philippines (AFP) who got P250,000 for the orphaned children of fallen soldiers through the AFP Educational Benefits System Office.
Team Philhealth, in fourth place, will be donating their P150,000 to the Cancer Warriors Foundation.
Cheering for Charity
Supporting the basketball tournament for a cause and rooting for the winning team was the Chief Justice herself, Hon. Maria Lourdes P.A. Sereno.
"Well, the boys we're really inspiring. You saw their hard work. I think they deserved it. The PNP gave us a very good fight," remarked CJ Sereno.
Bro. Daniel thanked the organization for their support from the cup's kickoff to its culmination.
"These innovations would not have been possible without your support, and all who believe in this cause," said Bro. Daniel.
Bro. Razon also thanked the primary supporter of all of UNTV's public services, MCGI Presiding Minister Bro. Eliseo F. Soriano.
"Thanks to all the judiciary staff and the PNP who work just to make a contribution for the poor," remarked the international evangelist Bro. Eli via live video streaming.
Bro. Eli also expressed his gratitude to MCGI, and to all the teams who participated "in this endeavor by Bro. Daniel to do good to our poor fellowmen." 
(Words by Art Cruz)