MCGI ARTICLE
From the Philippines to Brazil: MCGI's Last Quarter of 2014's Big Events and Recognitions
From The Old Path's 34th anniversary to citations in the Philippines and Brazil, the Members Church of God International (MCGI) left the last quarter of 2014 with much to remember by.
34 Years of Religious Service
Marking the 34th year of its flagship program Ang Dating Daan (The Old Path), MCGI held a month-long celebration of good works. MCGI congregants in different parts of the globe lead public service endeavors like cleanup drives and medical missions. This is apart from the Church's day-to-day humanitarian activities.
Members in New York launched a clean-up drive in the city's Belvedere Park. Liberians welcomed patients of MCGI's free clinic there, while Ghanan members attended to the refugees in its charity home.
In the Philippines similar services took place like the medical missions in Cavite and Bicol provinces, which benefitted about 5,000 indigents.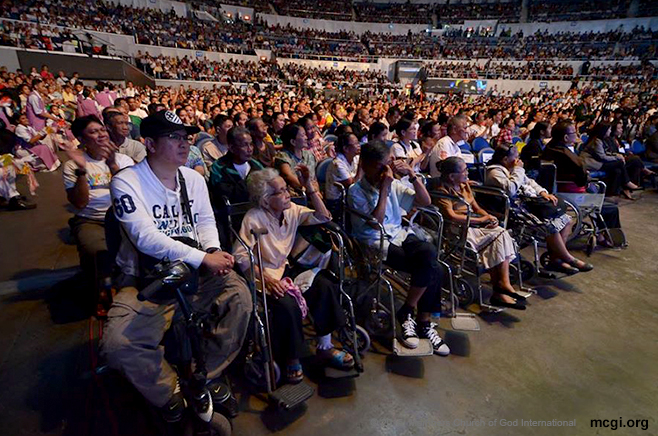 MCGI topped of its celebration of good works with a Worldwide Bible Exposition on October 30, 2014 that once again challenged The Big Dome's 20,000-plus seating limits.
A Song of Praise (ASOP) interpreters like Frenchy Dy, Gerald Santos and Beverly Caimen to name a few, welcomed the massive crowd with a slew of winning songs from the Philippines' first-ever Gospel songwriting tilt on television.
Bro. Daniel Razon then delivered a keynote speech on the worldwide reach of The Old Path in its 34 years of programming before giving the floor to Bro. Eli Soriano. Soon afterwards, Itanong Mo Kay Soriano, Biblia Ang Sasagot (The Bible Will Answer. Ask Bro. Eli), the trademark question-and-answer segment of the program, took off. Guests at the coliseum and from more than 1,360 remote points across the globe asked their questions of faith live to the MCGI Overall Servants.
Philippine Pride
In the same month, MCGI together with media partner UNTV, received a citation from the Philippine Embassy in Brazil for their extensive aid to their fellow Filipinos and Brazilenos.
"MCGI or The Old Path is of great help to the embassy because of your widespread outreach to this place, which is seldom reached by our people," expressed Philippine Ambassador to Brazil Eva G. Betita to an MCGI representative.
The attaché added that with the aid of UNTV, the country's consular services in the region reaches as many people as possible. The year saw many succesful Filipino registrants for the upcoming national elections, one of the joint efforts of the embassy and UNTV.
The MCGI brethren in Brazil on the other hand have been recognized for their public services to their fellow Brasileiros. Like their Filipino counterparts, Brazilian members are active in donating blood and in caring for the elderly.
"When you sang and dance for them and they clapped, it is different for them… to them it is very satisfying," told Jeruza Mogarte, Corner of Old administrator of an elderly home in Porto Alegre when MCGI and UNTV visited the residents in their place. [Links to Youtube video about it]
Dugong Bayani Award
For donating over 10,750 blood bags in 2014 alone, MCGI received the Jose Rizal Award from the Department of Health for the third consecutive year.
Philippine Blood Disease and Transfusion Center OIC and Executive Director Dr. Ma. Victoria Abesamis told that MCGI's efforts are "unceasing". MCGI conducts blood drives quarterly every year as part of its commitment to saving lives.
In the same breath, church members support UNTV's pioneering and breakthrough advocacy of Rescue First, Report Later, which puts public safety first before breaking news. [Links to DSR site article about it]
The first ever news-and-rescue team in the Philippines was conceptualized and formed by BMPI Chairman and CEO Kuya Daniel in 2010. BMPI, which stands for Breakthrough and Milestones Productions International (BMPI), is content provider of The Public Service Channel UNTV.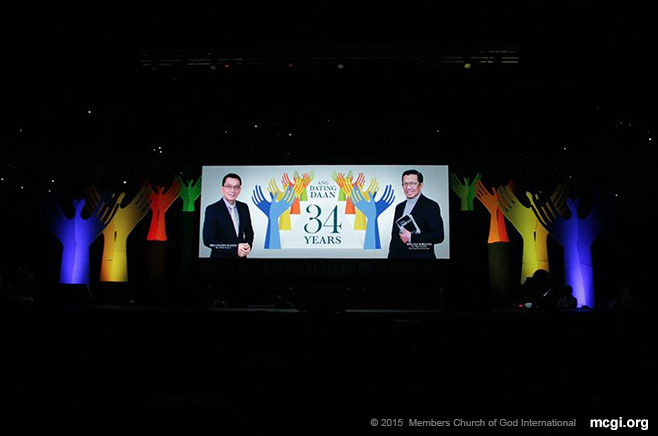 Marking his 31st birthday in the spirit on November 28, 2014, Bro. Daniel held a dinner concert for charity three days earlier to help further MCGI and UNTV's various public services.
Bro. Daniel sang standards together with Bro. Eli Soriano via live video streaming in a concert aptly called "Double" at the Manila Hotel.
MCGI Overall Servants spearhead the funding of many humanitarian endeavors that the organization has launched in the country and abroad. Doing good to all regardless of race or religion is part of MCGI doctrine (Gal. 6:10).
In the words of the Amb. Eva Betita, "To Bro. Eli and Bro. Daniel, we are delighted of what you are doing. May God Almighty bless you that you may be able to continue your good works."
(Written by Rigor Arellano)