MCGI ARTICLE
Song Entries from North and South America Share ASOP Music Fest Mid-Year (5774) Top Prize
Laging Nariyan Ka (You're Always There) by Bro. Aaron Romero from North America and Kaya Ikaw Ang Dios (Because You Are God) by Sis. Loida Dumandan-Del Rosario from South America shared the A Song of Praise Music Festival of the Mid-year (5774) "Song of the Year" prize.
Both first and second runners-up came from the Luzon Region: Sasambahin Lagi (I Will Always Worship You) by Bro. Nestor Torres and Dinggin Mo (Do Hear) by Sis. Dalisay Painaga, respectively.
Moreover, Walang Hanggan Kitang Mamahalin (I Will Love You Forever) by Bro. Jojit Angon from the Asia-Oceania Division took the third-runner up prize during the finals night of the songs of praise writing festival.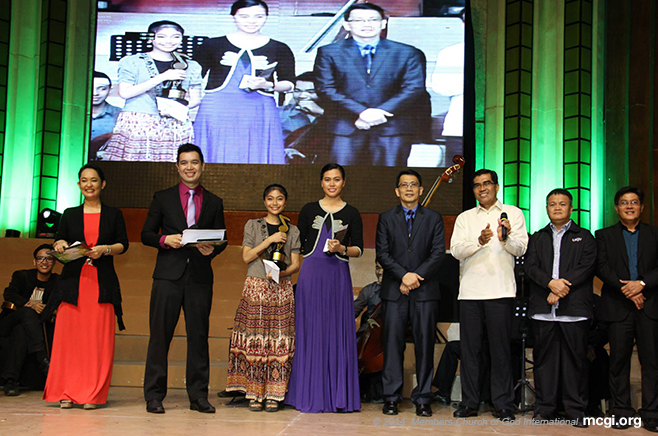 Meanwhile, the Best Interpreter Award saw a triple tie: Sis. May Checa, Bro. Abigail John Operario and Sis. Lady Leoncio who interpreted Bro. Torres' composition.
Bro. Eliseo F. Soriano and Bro. Daniel S. Razon, the Presiding Minister and Vice-Presiding Minister to Members Church of God International (MCGI), respectively, served as main judges during the ASOP grand finals night at the ADD Convention Center on September 29, 2014.
MCGI follows the calendar observed by the Lord Jesus Christ and the Apostles (Exo. 12:1-2; Matt. 26:1-57).
The MCGI Leaders started ASOP in 2004 in an effort to produce original songs of praise for the Almighty. To date, about 250 songs have been written by Church members in different languages and Philippine dialects.
A Group Effort
The winning song entries will then be recorded for MCGI brethren to listen to. Then in every upcoming ASOP finals, the Music Ministry will assist in the arrangement of each song entry.
In addition, Bro. Eli tasked the Helpers of the Ministry Bro. Danny Navales and Bro. Mel Magdaraog to take charge in improving their lyrics.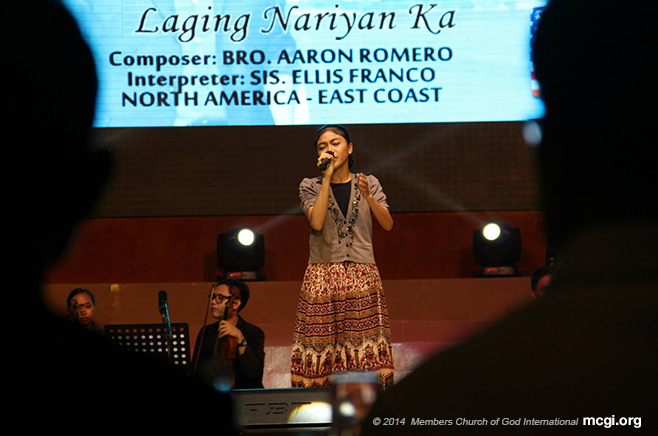 As Bro. Eli further announced, a group of composers who will craft songs for the Church will be launched soon.
ASOP finals entries come from various Church Divisions, wherein different eliminations are held to select their respective region's participating song.
Introducing Songs of Admonition
Meanwhile, Bro. Eli announced the addition of a new song category: songs of admonition in future ASOP.
Citing Col. 3:16, The Old Path host explained that songs may serve as a reminder of God's laws to people, like those telling husbands to love their wives or children to obey their parents. "That's why I seek wisdom in songs," the international evangelist added.
In his closing remarks, Bro. Eli invited all composers in the Church to submit entries, and stressed once more the importance of quality time and efforts to making the perfect songs of praise, "to be dedicated to the greatest person in the universe. And that is our Creator."
ASOP Mid-Year 5774 Full List of Winners and Interpreter:
Song of the Mid-Year: Laging Nariyan Ka, Bro. Aaron Romero (Composer/Lyricist), Sis. Ellis Franco (Interpreter)
Song of the Mid-Year: Kaya Ikaw Ang Aking Dios, Sis. Loida Dumandan-Del Rosario (Composer/Lyricist), Sis. Joanne Sandrino (Interpreter)
1st Runner-Up: Sasambahin Lagi, Bro. Nestor Torres (Composer/Lyricist), Sis. Lady Leoncio (Interpreter)
2nd Runner-Up: Dinggin Mo, Sis. Dalisay Painaga (Composer/Lyricist/Interpreter)
3rd Runner-Up: Walang Hanggan Kitang Mamahalin, Bro. Jojit Angon (Composer/Lyricist), Sis. Lheng De Matos (Interpreter)
Best Interpreters: Sis. May Checa, Bro. Abigail John Operario, Sis. Lady Leoncio
(Written by Rigor Arellano)