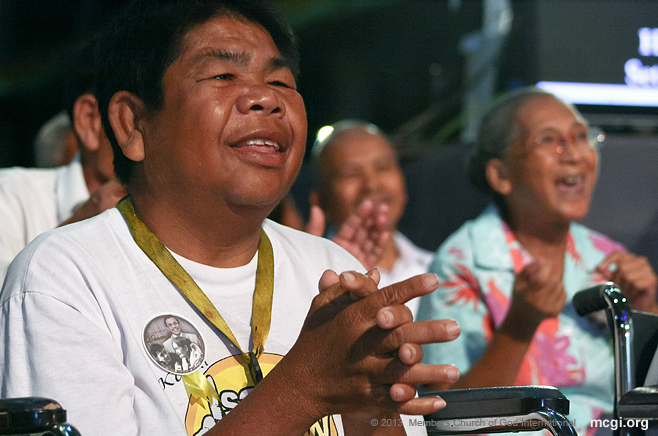 As part of the celebration of the 33rd anniversary of Ang Dating Daan religious radio and television show, a concert dedicated for the elderly and persons with disability was held on October 29 this year.
While the ADD Convention Center served as the main venue, major coordinating centers across the Philippines and abroad attended through web streaming and satellite feeds.
In the Members Church of God International (MCGI), senior citizens and persons with disability or Very Important Disabled Persons (VIDP) are regarded with high concern and respect.
Presiding Minister to MCGI Bro. Eli Soriano said that the religious program Ang Dating Daan that is now 33 years in broadcasting started as a radio program.
"To all our brothers and sisters abroad, we are commemorating the 33rd anniversary of the program, Ang Dating Daan," said Bro. Eli. "With God's help and inspiration, we started this program 33 years ago in radio, in a radio station in the Philippines."
For his part, Bro. Daniel Razon, the Vice-Presiding Minister to MCGI, asked the elderly and the members of the VIDP to pray to God for more help in reaching out the brethren in need and fellowmen.
"We hope that you'll help us pray to God for guidance and help in order in order to render more help to our brethren and fellowmen," said Bro. Daniel during the "Concert By Demand: For Our Dearly Beloved Elderlies".
The event was aired by UNTV-37 last November 10, 2013 at 8 p.m.
Both Bro. Eli and Bro Daniel serenaded the crowd with musical classics while home-grown musical talents and some invited celebrity artists also performed oldies songs and played classical musical instruments.
Another highlight of the concert was Kuya Daniel's special number with the elderly. Also known as Kuya Daniel for his broadcast works, he called some audience to sing their favorite songs on stage and performed a duet with him.
"For us older people, this is a great delight," remarked Teresa Vargas, one of the elderly who attended the concert, then continued, "because even though I'm in a sickly state, I was still given a chance to have fun."
Bro. Razon announced next anniversary theme of UNTV as "Caring for the Elderly."
(Words by Regine Recede)