The Members Church of God International (MCGI) took part in UNTV Life's 11th year anniversary, embarking on multiple public service initiatives from across the Philippines to different parts of the world.
Members in Bataan, Iloilo, and Bulacan, to state a few, participated in cleanup drives in barangays, which also served as an anti-dengue activity by clearing out possible mosquito-breeding areas.
Video: More than 500 fruit-bearing tree seedlings planted in Nueva Ecija
In Nueva Ecija, members took part in planting 500 seedlings of fruit-bearing trees on a mountain in Brgy. Sto. Niño. The effort is part of MCGI and UNTV's tree-planting advocacy to help fight climate change.
"I hope that there will be more agencies or groups like this that show concern for the environment," said Brgy. Chairperson Romeo Mangaliman of Mulawin, Orani, Bataan about UNTV and MCGI's efforts.
Video: 1,000 mangrove seedlings planted in Masbate
Meanwhile, about 1,000 mangrove seedlings were planted in Masbate City in Southern Philippines, where its residents rely mostly on fishing as their income source.
Mangroves serve as an abode and birthplace of fish. However, a series of floods and super-typhoons like Ruby and Yolanda have destroyed the mangrove ecosystem in the area, greatly affecting their livelihood.
From Community to Elderly Care, Locally and Globally
Over 200 residents of elderly care facilities in Bogota, Medellin, and Bucaramanga in Colombia received a warm visit, free meals and gifts from MCGI and UNTV volunteers.
Video: MCGI and UNTV Visit Over 200 Elderlies in Colombia
Carlos Julio Aguilar Alvarez, 74, is a two-year resident of Fundacion de Albeiro Vargas y Angel Custodio. He told the UNTV news team in Colombia that he seldom sees his loved ones, and thanked the channel for giving what elderlies like him need.
"On their 11th anniversary, they chose to help the elderly. This deed is something valuable," said Albeiro Vargas, the foundation's founder.
Video: Elders in Brazil Receive Entertainment, Gifts, Meals from UNTV and MCGI
"We thank God, and we are honored to help and to take part in this kind of endeavor that UNTV has started in the Philippines, and now, we have it here in Brazil too," expressed Bro. Jander Ferreira Toledo, an MCGI member in Brazil.
Helping the Homeless and the Hungry
In the USA, MCGI and the broadcast network also helped at Habitat for Humanity in Maryland. The volunteers lent their hands in lifting and shelving the organization's merchandize and construction materials, which the same uses to help build affordable and environment-friendly homes for the marginalized.
Video: Lending Helping Hands for Habitat for Humanity
"They've come together and done an amazing job as a team, and helped Habitat for Humanity, ReStore, make some more money to help more families," said its manager, Heather Cummings.
"Happy 11th anniversary to UNTV!" she greeted.
Meanwhile in Texas, MCGI parents and children spent their family day to help out at the Houston Food Bank by boxing food items for shipment to hunger-relief charities.
Video: Volunteering at Houston Food Bank
The collective effort of the MCGI and UNTV volunteers resulted to a total of 900 boxes.
Volunteer manager Jim Day said of the effort, "I'd like to thank Bro. Eli and Bro. Daniel for mobilizing volunteers here to us today at the Houston Food Bank."
Known as the Philippines Public service Channel, UNTV Life offers a variety of services including a free clinic and pharmacy (Clinic ni Kuya); and free land, sea, and air rides (Libreng Sakay).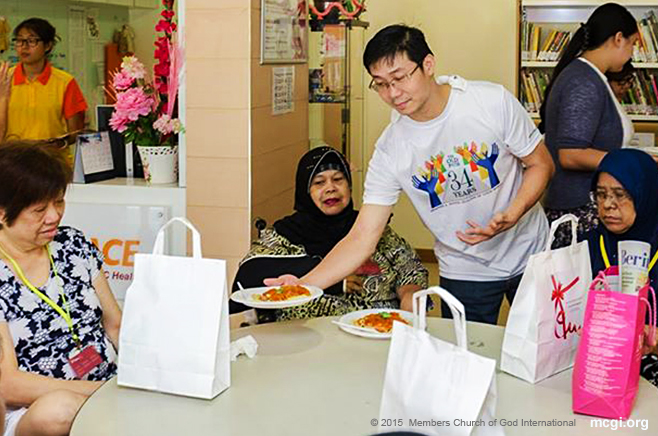 UNTV, now UNTV Life, started in 2004 under the helm of veteran broadcast journalist Daniel Razon. Razon is Assistant to the Overall Servant of MCGI, Bro. Eli Soriano.
Through the leadership of the MCGI Overall Servants, the religious organization has been supporting the network's various good works throughout the years.
(Written by Rigor Arellano)