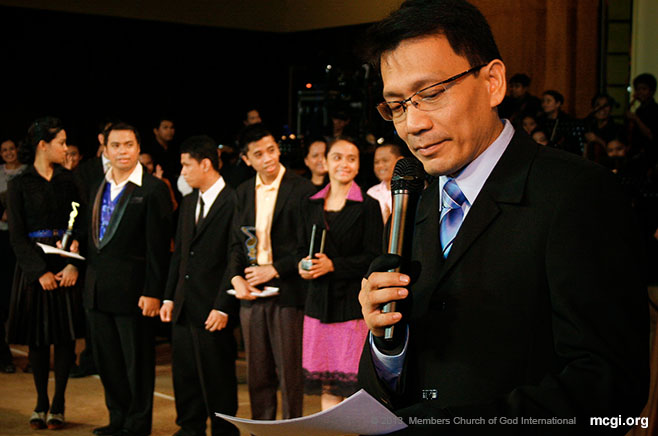 The A Song of Praise (ASOP) Music Festival, a much-awaited musical event of the year by the Members Church of God International (MCGI), will hold its Mid-Year Finals Night on July 8 this year, immediately following the three-day International Thanksgiving to God.  
A total of 15 songs of praise locally and internationally will be presented in this twice-a-year praise songwriting festival at 7 p.m. of Monday (Philippine time) in Apalit, Pampanga.
ASOP organizer Sis. Girlie Arce said that 15 fresh and sublime songs pass thorough their stringent screening process. These finalists were subjected to series of elimination rounds in their respective district, region and division levels. 
Selected songs for the mid-year finals night took another round of final revisions under the supervision of the Katulong ng Pangangasiwa and Tagapangasiwang Pampook in their respective divisions and with the assistance of division musicians.
Majority of the praise songs included in this edition of ASOP emerged from outside the Philippines. Four entries namely "Aliping Walang Kabuluhan", "Your Servant's Prayer", "Lahat ng Dahilan", and "Walang Hanggan Kitang Sasambahin" are from the Asia-Oceania Division.
"To His Highest Majesty" and "I Live for You", comes from the Europe Division while North America's "Now I Can Worship You" and South America's "Aliping Walang Kabuluhan" and "You're My Everything" round up the foreign entries.
Finalists from the Philippine are led by Luzon's "Salamat sa Pagkakataong Umiral" and "Alay sa 'Yo". Visayas are represented by "Salamat Ama sa Pagtawag" and "Ang Awit Alay Sa 'Yo" while Mindanao has one song finalist, "We'll be Home", and NCR also has one, "Tungkuling Pinahiram". 
Sis. Arce quoted Bro. Eliseo Soriano for the preacher's advice derived from the previous edition of the music festival for the new crop of hopeful composers about joining ASOP.  "Several preparations should be done before writing a praise song. A masterpiece cannot be done overnight," said Bro. Eli. "Prayers, fasting, self-preparations are needed. Above all, always seek God's help to produce the best songs."
Bro. Eli, Presiding Minister to MCGI, together with Bro. Daniel Razon, Vice-Presiding Minister, are two regular judges of ASOP Music Festival.
ASOP is a bi-annual songwriting event which debuted in 2004. It is the MCGI Leaders who spearheaded this songwriting competition that aims to produce original praise songs for our Creator.
(Written by: Jojie-Ann Alabarca)
(Photo by: Rovic Balunsay)